Community Connections and Outreach
How we're serving LA County and Southern California
The LA Phil, the Los Angeles County Department of Parks and Recreation, the County Supervisor, and City Council member representing the people who live in communities surrounding the Hollywood Bowl are committed to ongoing and robust communication to assure that the concerns of neighbors are taken into account while ensuring the iconic cultural venue is accessible and serving people well throughout the County and Southland. It is to everyone's benefit that people near and far experience the Bowl as an attractive venue to hear live music, from the beginning of the evening to its conclusion.
Expanded Neighborhood Outreach
In 2018, the LA Phil re-created a Community Advisory group with the help of Supervisorial District 3 (now 5) and Council District 4. The group comprises presidents of the surrounding neighborhood associations—Hollywood Hills West Neighborhood Council, Cahuenga Pass Association, Hollywood Dell Civic Association, Whitley Heights Civic Association, Hollywood Heights Association, Outpost Neighborhood Association and Hollywood Knolls Community Club—plus representatives from SD3, CD4, the Department of Parks & Recreation, LADOT, the Hollywood Bowl, and the Los Angeles Philharmonic Association. The group meets quarterly.

The LA Phil:

Hired a dedicated community liaison (Stratiscope) to field questions and concerns from neighbors, share information with residents, and represent the LA Phil at neighborhood events and meetings.

Hired a transportation consultant, Gibson Transportation, to study and advise on traffic mitigations for Bowl concert nights.

Hired a sound consultant, Meridien, to study and advise on sound mitigation efforts.

Launched a neighborhood newsletter sent to over 1,500 residents providing event schedule and anticipated traffic flow impacts as well as other relevant community information. Sign up for the newsletter here.

Established community input portals for live feedback on traffic and sound.

Mails 5,000 postcards to neighbors at the start of each season notifying them of upcoming activities and where to find additional information for events that occur on a regular basis.

Attends Council District 13 Street Closure/Hollywood Event Committee to advocate for coordination of Hollywood Boulevard closures overlapping with Hollywood Bowl events.

Posts traffic impacts to the Hollywood Partnership website and texts to their 1,000 text subscribers.

Hosts the yearly community pancake breakfasts for over 800 residents.

Hosts hyper-local "Donuts in the Driveway," partnering with local residents to engage in neighborly conversation.

Provides free concert vouchers to residents for select LA Phil concert events.

Facilitates neighborhood association concert group seating as needed.

Participates in community economic development forums for Hollywood Chamber of Commerce.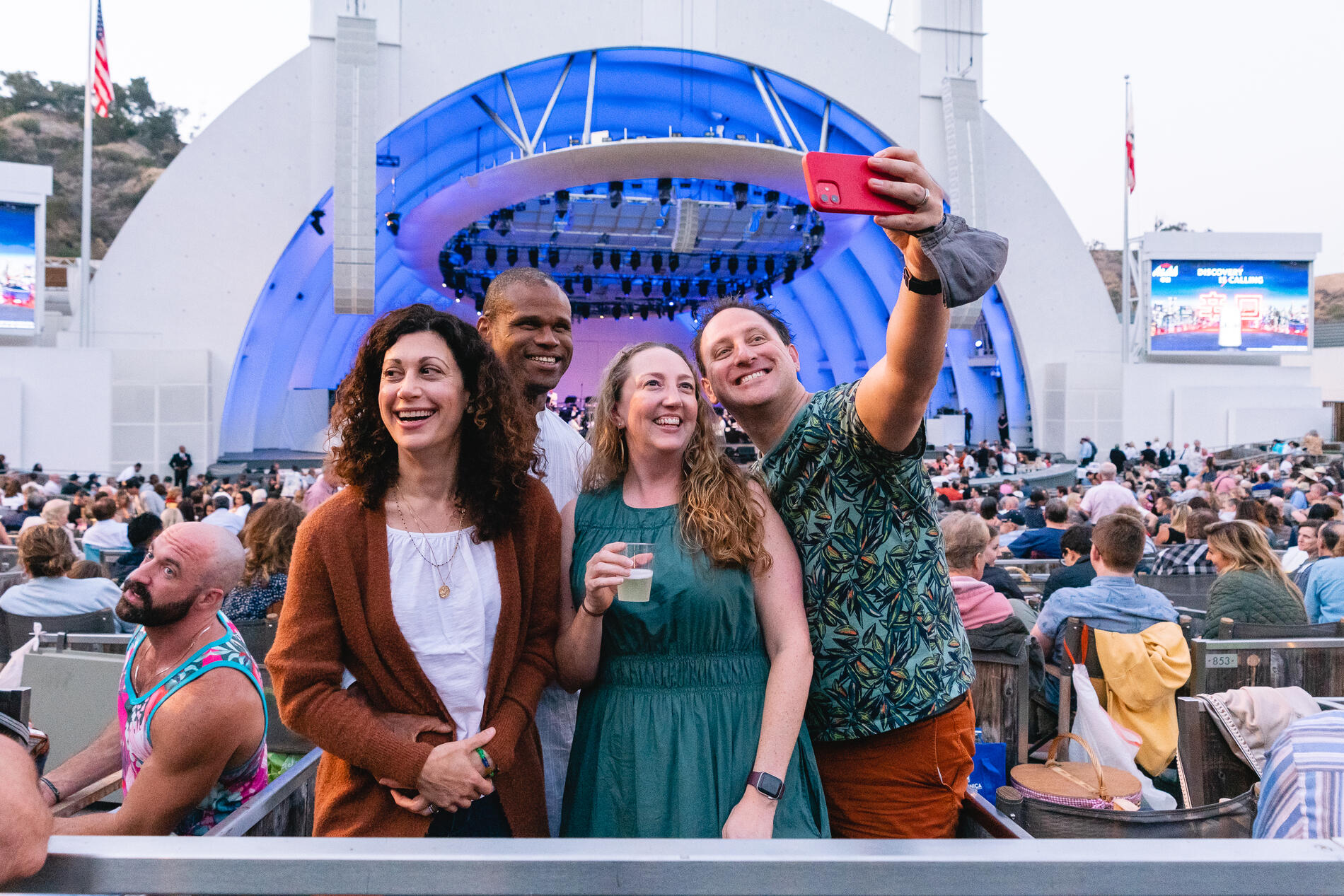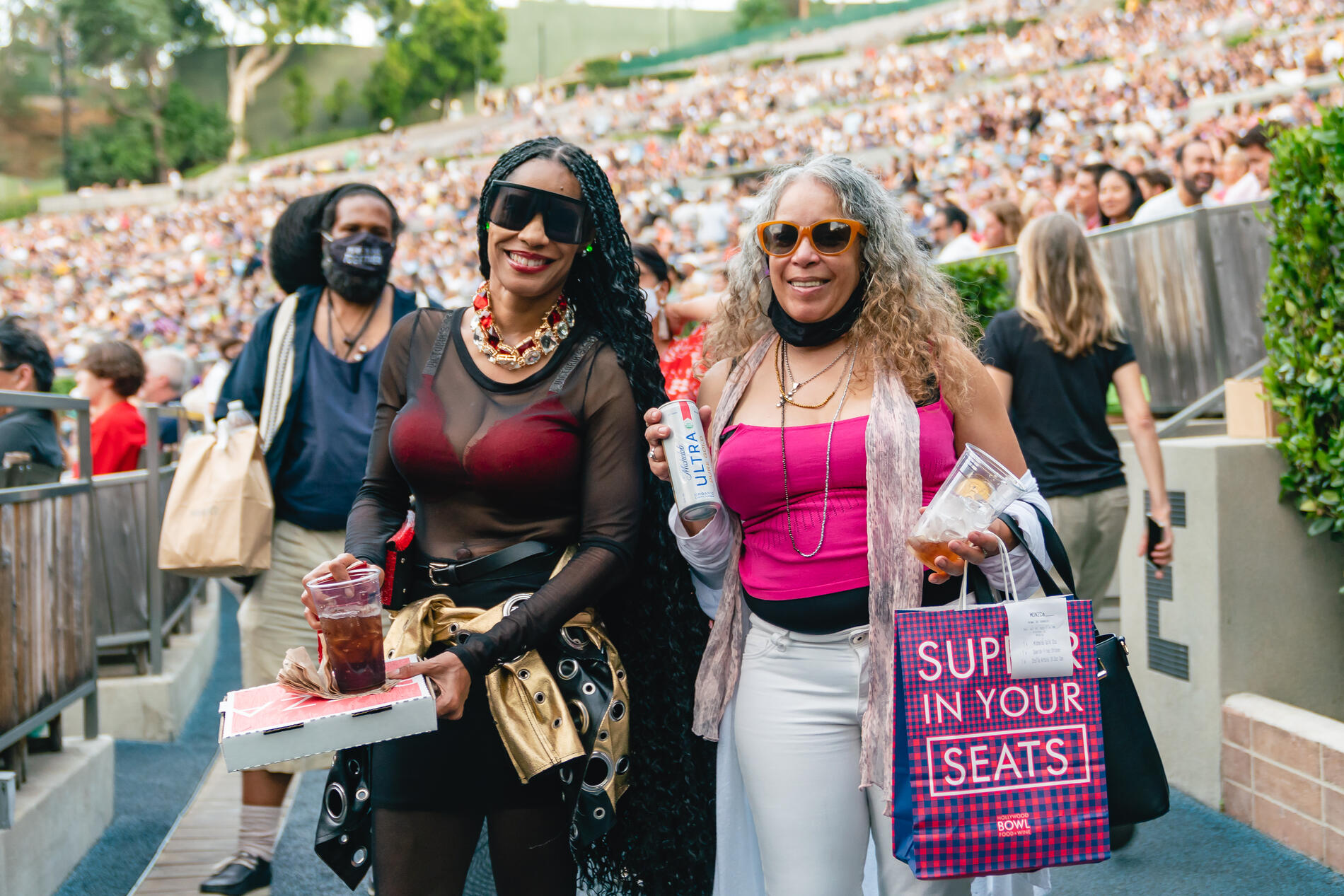 Traffic Mitigation
Gibson Transportation studied traffic mitigation improvement options in 2018.

Community Advisory committee members participated in Traffic Study and engaged the membership of their neighborhood associations. Gibson Transportation solicited input from residents for traffic study mitigation ideas, receiving information from nearly 200 unique responders, who provided suggestions for short- and long-term solutions. As a result, a number of traffic mitigations were enacted.

Gibson conducted an extensive traffic study resulting in elements for improving traffic flow:

Improvements to LADOT signage and staffing deployment.

Replaced neighborhood access barricade signs with "No Hollywood Bowl Access" signs.

Installed permanent pink special event signage signifying "Road Closed Ahead During Hollywood Bowl Events."

Increased LAPD presence at key neighborhood intersections and expanded traffic control officers and barricades at neighborhood entrances, scaling for anticipated audience size.

The Hollywood Bowl enacted a street closure program to prevent cut-through traffic on busy concert nights and allow emergency vehicles to access hillside neighborhoods:

Worked with Councilmember David Ryu (CD4) to create a council motion closure for events of more than 10,000 ticket sales to reduce the impact of vehicles driving through residential neighborhoods guided by mapping apps, closing off two key Highland Ave. access points to keep vehicles from passing through hillside neighborhoods to Highland. As a result, vehicular traffic was reduced on neighborhood streets.

Implemented these street closures on a case-by-case basis.

Reviewed street closure deployment of LADOT officers and LAPD to enhance effectiveness.

LA Phil/Hollywood Bowl staff met met with Waze representatives to find solutions for cut-through hillside routes. Waze representatives would not remove open public streets from their map routes but allowed Hollywood Bowl staff to directly report events and road closures on Waze app.

Parking lot and other improvements:

Partnered with ParkHub to allow credit card sales for on-site parking (formerly cash only).

Created new signage for right turn at Odin Ave. into Lot B.

Reconfigured parking lots for more efficient ingress and egress.

Reconfigured rideshare drop-off and pick-up to speed up ingress and egress.

Added no-stopping pilons along Highland to prevent rideshare drop-off in streets.

Extended reversible lanes on Highland to allow vehicles to ingress earlier and quicker on Highland.

Left-hand turn lane was constructed to create a new turn into Lot B from Highland Ave.:

Rideshare vehicle drop-offs and self-parking patrons slowed the flow of traffic when accessing Hollywood Bowl Parking Lot B. Vehicles traveling northbound on Highland would make a U-turn at the Hollywood Bowl marquee located at Pat Moore Way to get in line for the Lot B entrance. The identified solution included installing a left turn lane and signal feeding into the south entrance of Lot B at Odin Ave. Department of Parks and Recreation and LA City Council District 4 provided funding and guidance to design and install the turn lane, which was completed in 2021.

Expanded Park & Ride program, adding a 14th Park and Ride location in the 2022 season.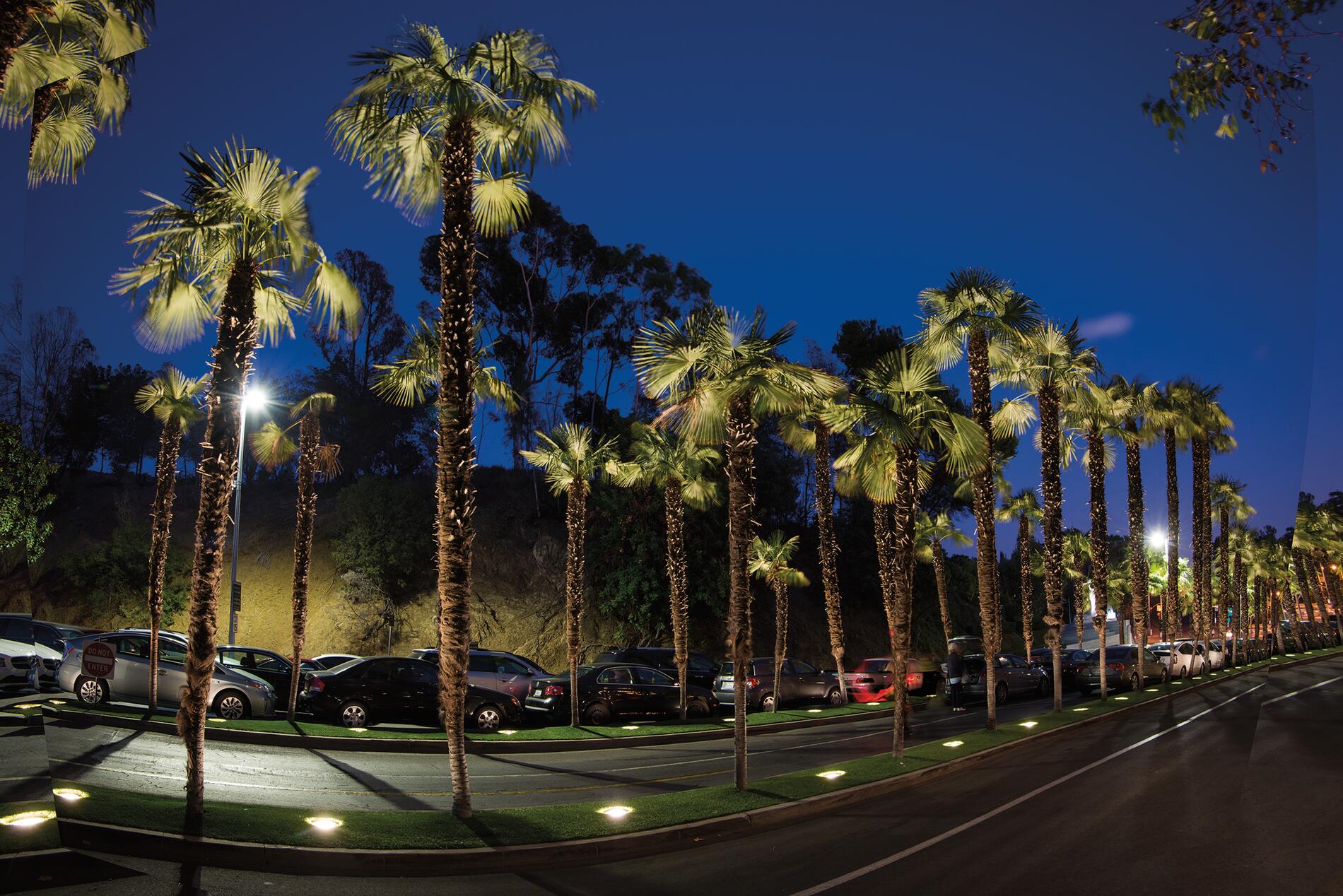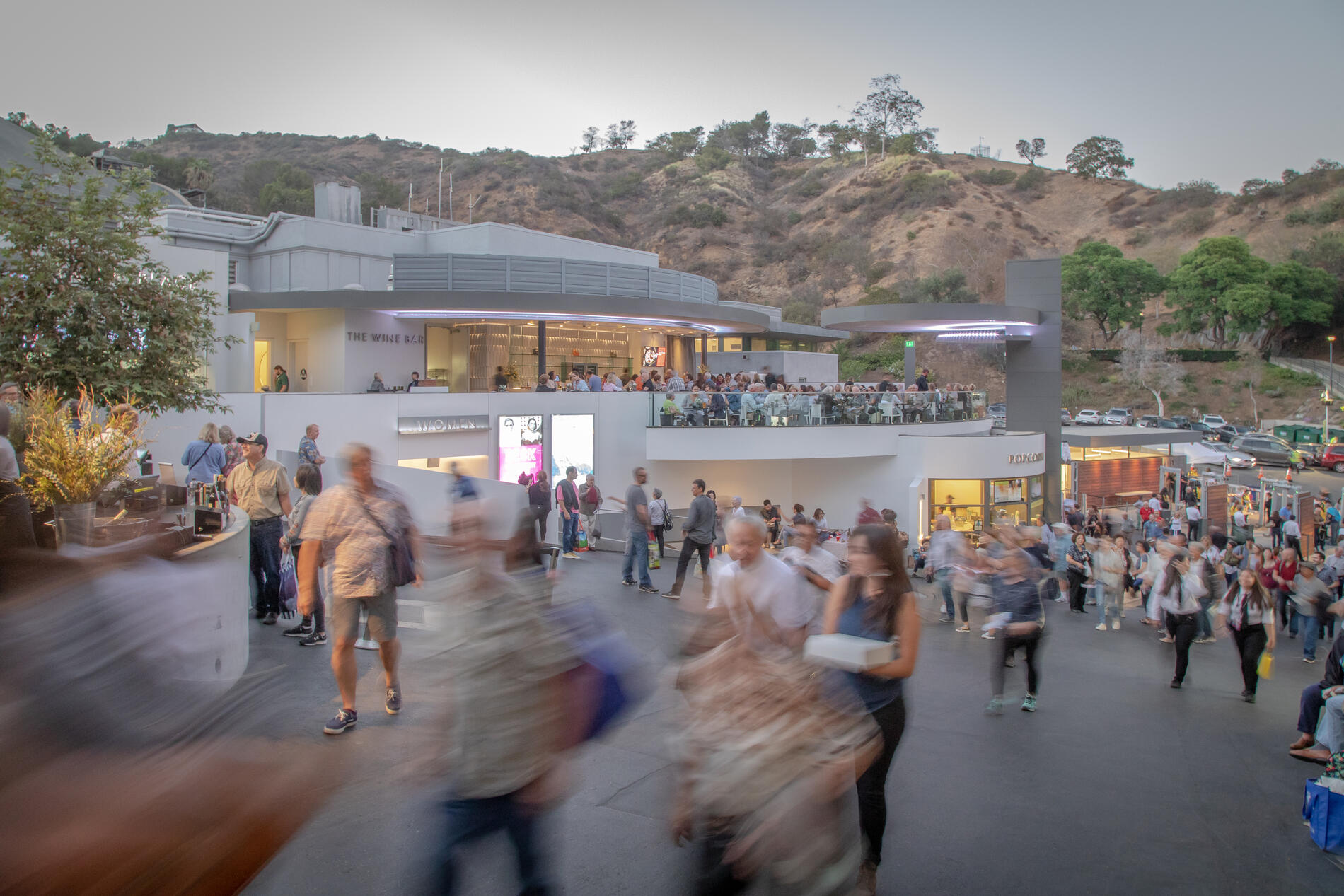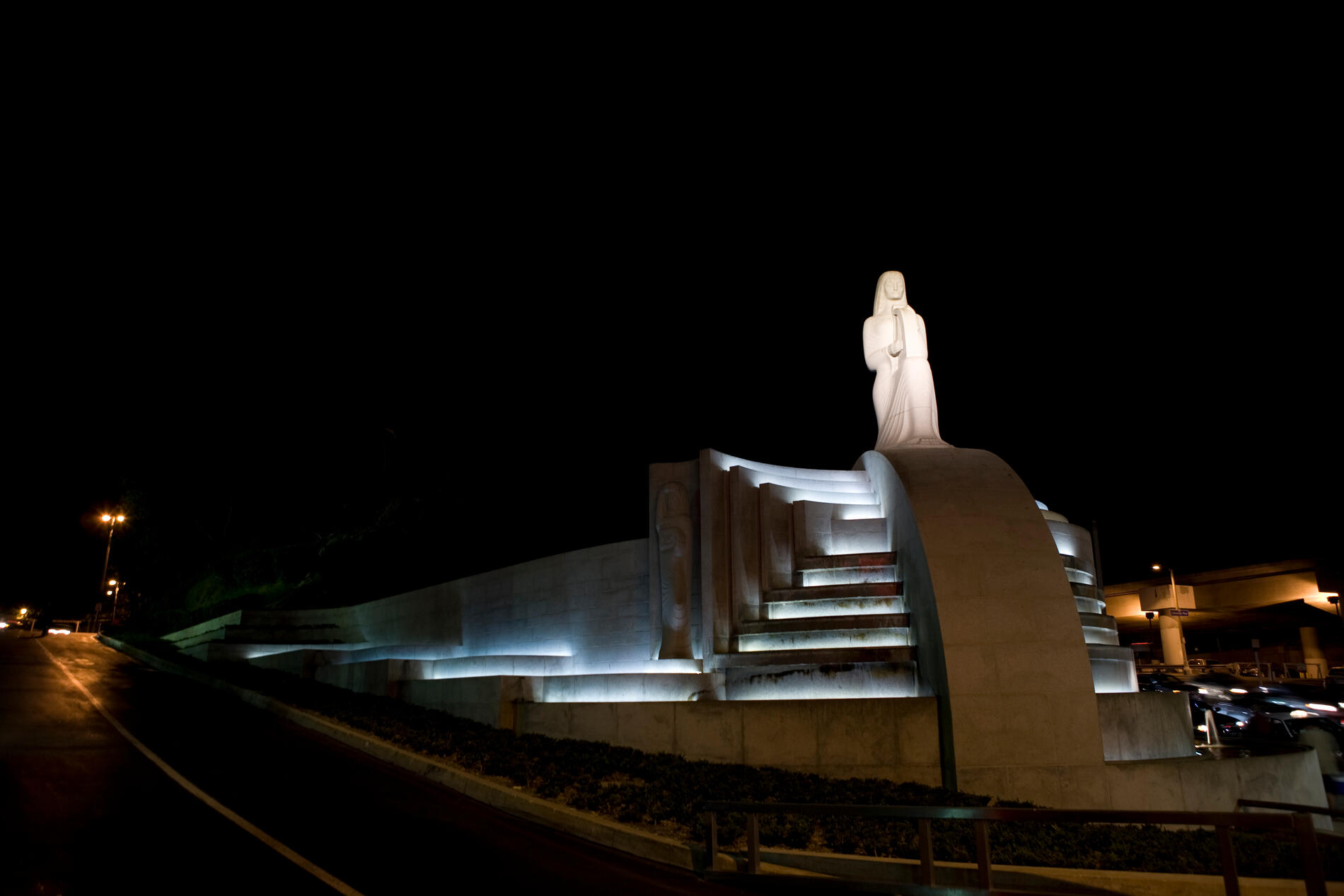 Sound Mitigations
The LA Phil commissioned a sound study from sound engineering firm Meridian, who conducted sound tests within the Bowl facility as well as monitoring sound in adjacent neighborhoods.
Engineers identified adjustments to the sound system, which the LA Phil installed:

Created a mandatory sound package for visiting sound engineers unfamiliar with the Hollywood Bowl sound system to enhance sound control.

Restricted sound volume for afternoon/evening soundchecks.

Focused sound image closer to FOH mix position.

Improved bandshell sound absorption.