The Gipsy Kings' Tonino Baliardo and Nicolas Reyes on the band's legacy, their sons, and what their forefathers might think about Dancing With the Stars.
For thirty years, The Gipsy Kings have put their spin on the traditional flamenco sounds of Spain for audiences around the world. After forming as a small wedding band in the South of France, they hit it big in 1988 with the worldwide pop hit "Bamboléo," and in the years since, they've collaborated with the likes of Joan Baez, seen their music pop up in The Big Lebowski and Toy Story 3, and even performed on Dancing With the Stars, proving both the adaptability of flamenco and their own artistic integrity.
With Gipsy King leaders Tonino Baliardo and Nicolas Reyes preparing for their two-night stand at the Hollywood Bowl, we caught up with them to talk about their incredible legacy.
---
Q: You were one of the first artists to have major international success playing regional folk music. What was it like for you in the early days to discover that flamenco's audience was so large? Were you caught off-guard?
A: Yes, we were caught completely off guard. We play music because we love to play and don't ever realize whether it's going to become big or not. So we were surprised, but music is a very soulful and joyful music, and if you think hard about it, would be enjoyed by a lot of people.
Q: Your music originates partly in Catalan, but it's made an impact worldwide. As French people of Catalonian descent, what what is it like to see how this sound has impacted people all over the world?
A: It is beyond expectations to think what we do is all over the world; it makes us happy that we can go play our music and people get something from that. We take great pleasure from that but we also take that very seriously and we always try, wherever we play our music, to make a positive impact.
Q: You've collaborated with artists like Joan Baez and Ziggy Marley, and have covered The Eagles, Randy Newman, and even Pinocchio! Is it challenging to integrate the sounds of other artists into your work?
A: We look at a song as a song and we respect all artists who have done it before us. But we really just concentrate on the song. If it's good, it works in whatever translation we use. And those are the best songs.
Q: This concert is partially a celebration of your debut album. After thirty years, what do the songs on Gipsy Kings mean to you today? Do you get the same thrill from playing "Bamboleo," or has the feeling you associate with it evolved?
A: We've always gotten the most pleasure from playing our music live more so than in the studio or anywhere else. We've been very fortunate to be doing this for 30 years. Every time we play our songs, we do a different version and that never gets tiring to us. We enjoyed doing it when we first created it and look forward to doing in now at the Hollywood Bowl.
Q: Travel and touring are a big part of the band's identity. How has being on the road and encountering other cultures impacted the music that you make?
A: Traveling is very difficult. It's almost another job, but it is something that comes with this business. As you get older it's even harder, but with that being said, seeing other cultures and how they experience music has only enhanced our ability when creating music. We're appreciative of that. It's always great seeing how other cultures work and create.
Q: You've often spoken of this music as being older than you – that it's the music of your forefathers. Do you view yourselves as being stewards of their legacy? Do you ever wonder what they'd think about you performing on Dancing With the Stars?
A: My goodness! We try not to think about how they would think of us. We are proud of our heritage and what our forefathers have done, and we take that very seriously and respectfully. And we are happy. We only hope that they are happy with us and what we have done.
Q: Your sons now tour with the band, and of course you yourselves are sons of musicians. What does it mean to you to pass your legacy on to your own children, and to share the stage with them?
A: It's one of the greatest gifts of life! Not only to be able to pass on our traditions to our sons but to share the stage. You get to watch your family progress along with you. That's what it's all about. We enjoy that so much and it's one of the reasons we keep doing this!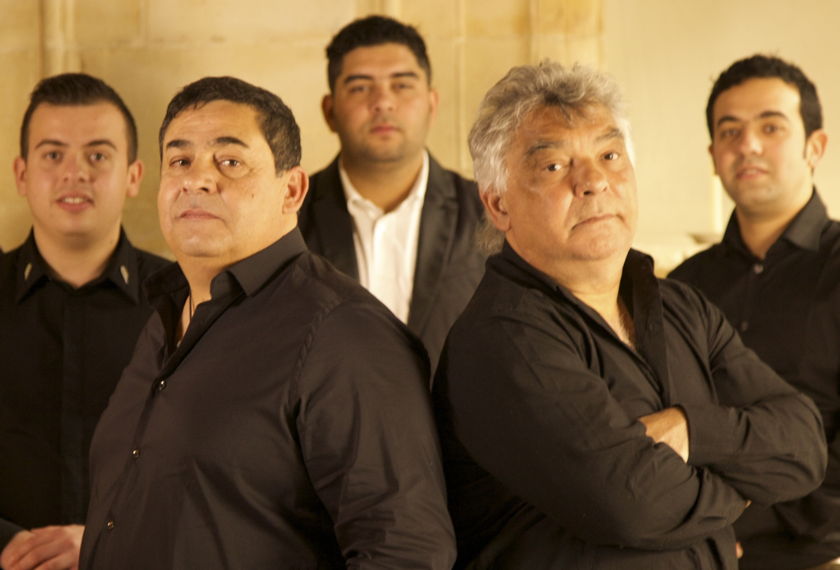 AUG 2–3, 2019 – 8PM
---
The Gipsy Kings
featuring Nicolas Reyes
and Tonino Baliardo
Las Cafeteras
The Grammy-winning flamenco stars from the South of France celebrate their 1988 breakthrough album, plus Afro-Mexican folk-rockers Las Cafeteras bring high-energy guitar thrills.