2017/18
Season Highlights
The season features a vivid array of music from a diverse group of musicians; a stirring mix of adventurous projects that invigorate our minds and traditional favorites that warm our collective hearts. From celebrations of Mozart, Bernstein and Schumann to premieres of Ted Hearne's new opera Place, Andrew Norman's opera A Trip to the Moon, a new orchestral piece by Esa-Pekka Salonen, and a Yuval Sharon staging of Annie Gosfield's new work War of the Worlds, this new season features an exceptional lineup of world-class superstars including Dianne Reeves, Yuja Wang, Martha Argerich with Itzhak Perlman, Herbie Hancock, Zubin Mehta and John Adams.
Leading the music world with its commitment to new works, the LA Phil's new season includes 23 commissions, 22 world premieres, 6 U.S. premieres and 2 West Coast premieres.
Join us at Walt Disney Concert Hall as we begin our countdown to our 100th season!
Celebrated for his deep dives into the music of Romantic giants, Gustavo Dudamel leads the Los Angeles Philharmonic in all four of Robert Schumann's great-hearted symphonies, matched with his sweeping piano and cello concertos. A dramatic video-enhanced production of his poignant oratorio Das Paradies und die Peri completes this enthralling musical portrait.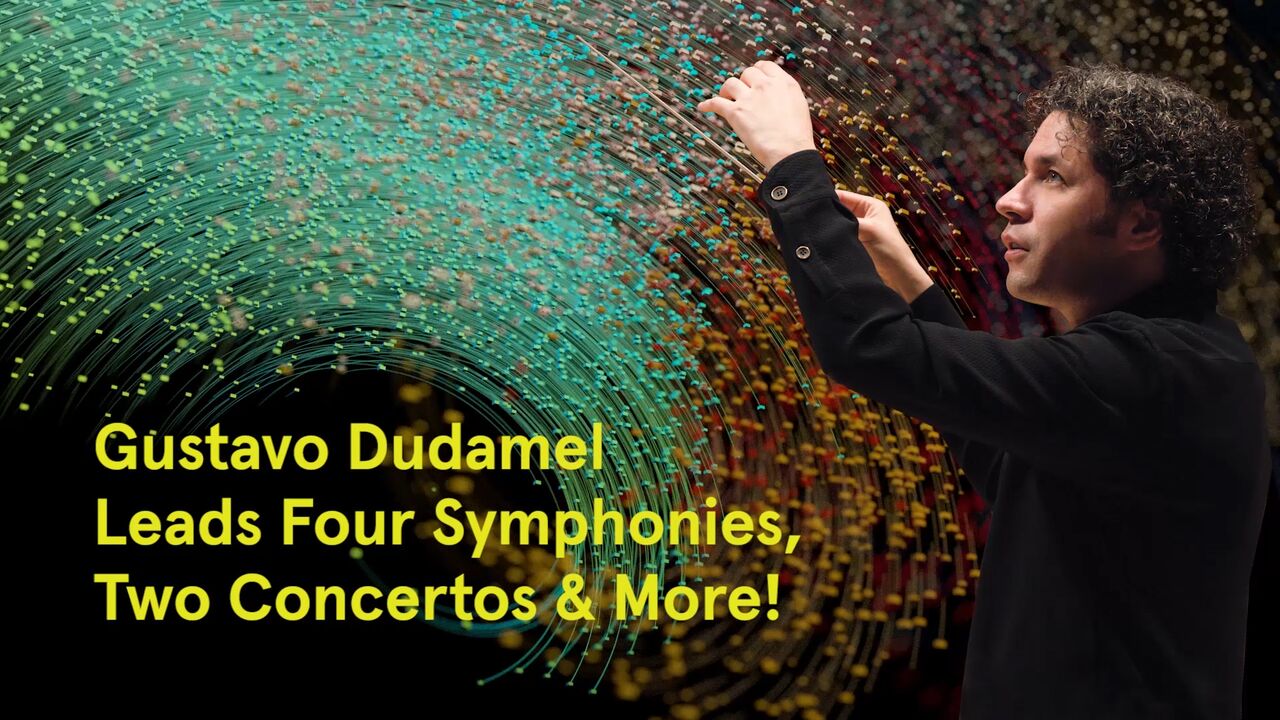 Conductor Laureate Esa-Pekka Salonen returns to conduct three of his concertos with soloists Yefim Bronfman, Leila Josefowicz and Yo-Yo Ma, who will perform the West Coast premiere of Salonen's Cello Concerto. Salonen's newly revised Wing on Wing will be performed in the venue that served as its inspiration, Walt Disney Concert Hall, for the first time since 2009. In addition, Gustavo Dudamel will lead the world premiere of Salonen's new work for orchestra, commissioned by the LA Phil.
During the worldwide centennial celebrations of Leonard Bernstein, the LA Phil will mount a production of his rarely performed Mass, an enormous theatrical piece for singers, players and dancers, conducted by Gustavo Dudamel and staged by director Elkhanah Pulitzer. Programs also include Bernstein's Chichester Psalms, Serenade with Hilary Hahn and two screenings of the multiple Oscar®-winning 1961 film West Side Story with live orchestral accompaniment.
This season marks Susanna Mälkki's first as the LA Phil's Principal Guest Conductor. Mälkki's unique programming will feature a mix of new music and core composers with three subscription weeks and a Green Umbrella concert. Her programs include the U.S. premiere of Zimmermann's concerto for cello and orchestra, choreographed for dancers from the Tero Saarinen Company, and the world premiere of a new work by Marcos Balter.
Yuval Sharon returns for the second year in his residency as Artist-Collaborator, beginning with War of the Worlds, a world-premiere performance piece with music by Annie Gosfield. Sharon adapted the original radio script from Orson Welles' 1938 "fake news" story for an ambitious staging simultaneously inside Walt Disney Concert Hall and at three siren sites in DTLA.
Sharon also stages the U.S. premiere of Andrew Norman's A Trip to the Moon, an opera for the whole family (ages 6 and up) and an LA Phil co-commission. Sharon's second year culminates with a staged production of Mahler's Song of the Earth in collaboration with Chilean theatre company TEATROCINEMA, featuring soloists Russell Thomas and Tamara Mumford and Gustavo Dudamel conducting the orchestra.
The 2017/18 season kicks off in grand fashion with LA Phil Music & Artistic Director Gustavo Dudamel working his magic from the podium, conducting the Los Angeles Philharmonic in an all-Mozart program.
Our thoughts are with all who are affected by the earthquake in Mexico. A portion of our CDMX Festival ticket sales will be donated to UNICEF relief efforts.
Ciudad de Mexico (CDMX), a city of nearly nine million people, has one of the most vibrant contemporary music communities in the world. In October, the LA Phil will offer a window into Mexico City's colorful music scene with a mix of events, including orchestral concerts with Gustavo Dudamel, and artists such as Antonio Sanchez, Natalia Lafourcade, Mexrrissey and Café Tacvba.