The Hollywood Bowl is:
Pollstar Magazine's Best Major Outdoor Venue for the 14th consecutive year!

Named Top Amphitheater at the 2018 Billboard Live Music Awards

The largest natural outdoor amphitheater in the United States

The mecca for summer concerts in Southern California

The summer home of the Los Angeles Philharmonic and home to the Hollywood Bowl Orchestra

A public park with 14 picnic grounds

The perfect place for small and large groups of music lovers to enjoy a night of outstanding music under the stars
Enjoy the best in pop, rock, jazz, classical, Broadway, and world music at Hollywood Bowl, presented by the LA Phil.
From Mozart to The Moody Blues, Steve Winwood to Herbie Hancock, Café Tacvba to John Williams - check out our schedule and find a show you'll love.
To learn more about the history of the Hollywood Bowl, visit the Hollywood Bowl Museum.
Our Guide for Newcomers includes:
How to get to the Bowl
Ticket purchasing
Seat options
Food + Wine at the Bowl
House Rules
How to learn more about classical music
Bringing kids to the Bowl
Contact information
Dress code
Smoking areas
Security
Open morning rehearsals
Park hours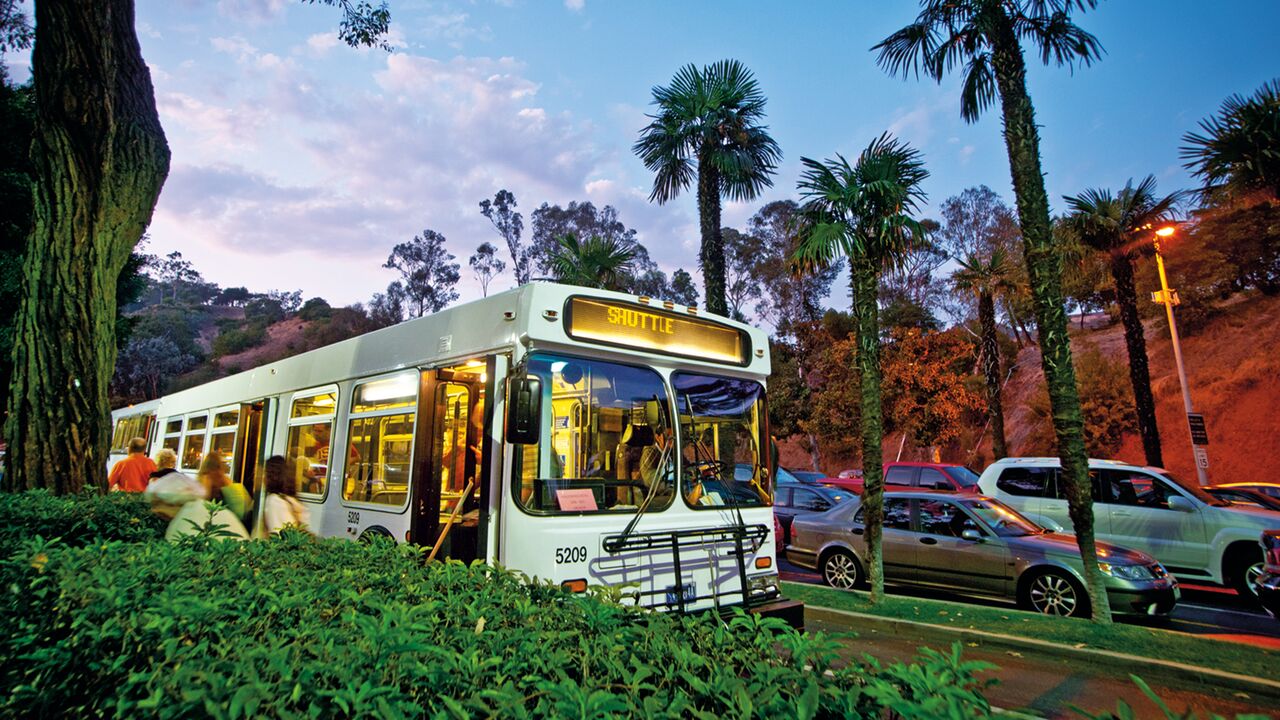 Getting Here
The Bowl is located at 2301 North Highland Avenue, just off the Hollywood Freeway.
Parking is limited. We highly recommend using one of the Park & Ride locations or five Shuttle Bus lots.
If you do decide to drive yourself, please allow plenty of time before the concert begins. We suggest you arrive at least 1 hour prior to your performance.
How do I purchase tickets?
Ticket prices start as low as $1 on many nights for bench seats in the back and rise to upwards of $100 for box seats at the front of the house.
Visit our Tickets and Packages page to see current availability and on-sale dates for Subscriptions, 5 or More and Single Tickets.
There are several ways to reserve your tickets:
Subscription: Packages of 3-10 concerts lock in great seats throughout the season. Subscribers always get first choice of other programs, additional discounts, and exchange privileges (learn more about benefits here). Book online or call 323-850-2000

5 or More: After subscriptions are available, you are able to purchase any 5 concerts and receive a voucher for an additional concert free! Mix and match any concerts based on the music you're passionate about, and when you can come. Book online or call 323 850 2000.

Single Tickets: Tickets for individual shows are available online, at the Box Office or by phone at 323 850 2000. Single Tickets are available after subscriptions and 5 or More are available.

Group Sales: Discounts to many of our concerts are available for groups of 10 or more. To attend a concert with a group, call 323 850 2050

$10 Senior Rush Tickets (with photo ID): available on the day of select Tuesday/Thursday concerts. Call 323-850-2000 for availability.
What are the seat options?
There are three types of seating at the Bowl:
Box Seats: canvas-covered collapsible chairs in groups of 4 or 6 surrounded by wooden partitions
SuperSeats: stadium-style seats with built-in cup holders and set in the center of the audience
Bench Seats: start right next to the Terrace boxes and go all the way to the back of the theater
Large video screens on both sides of the stage provide an intimate experience, no matter where you sit.
Worried about your delicate backside? Ask an usher about seat cushion rentals. They're only $1!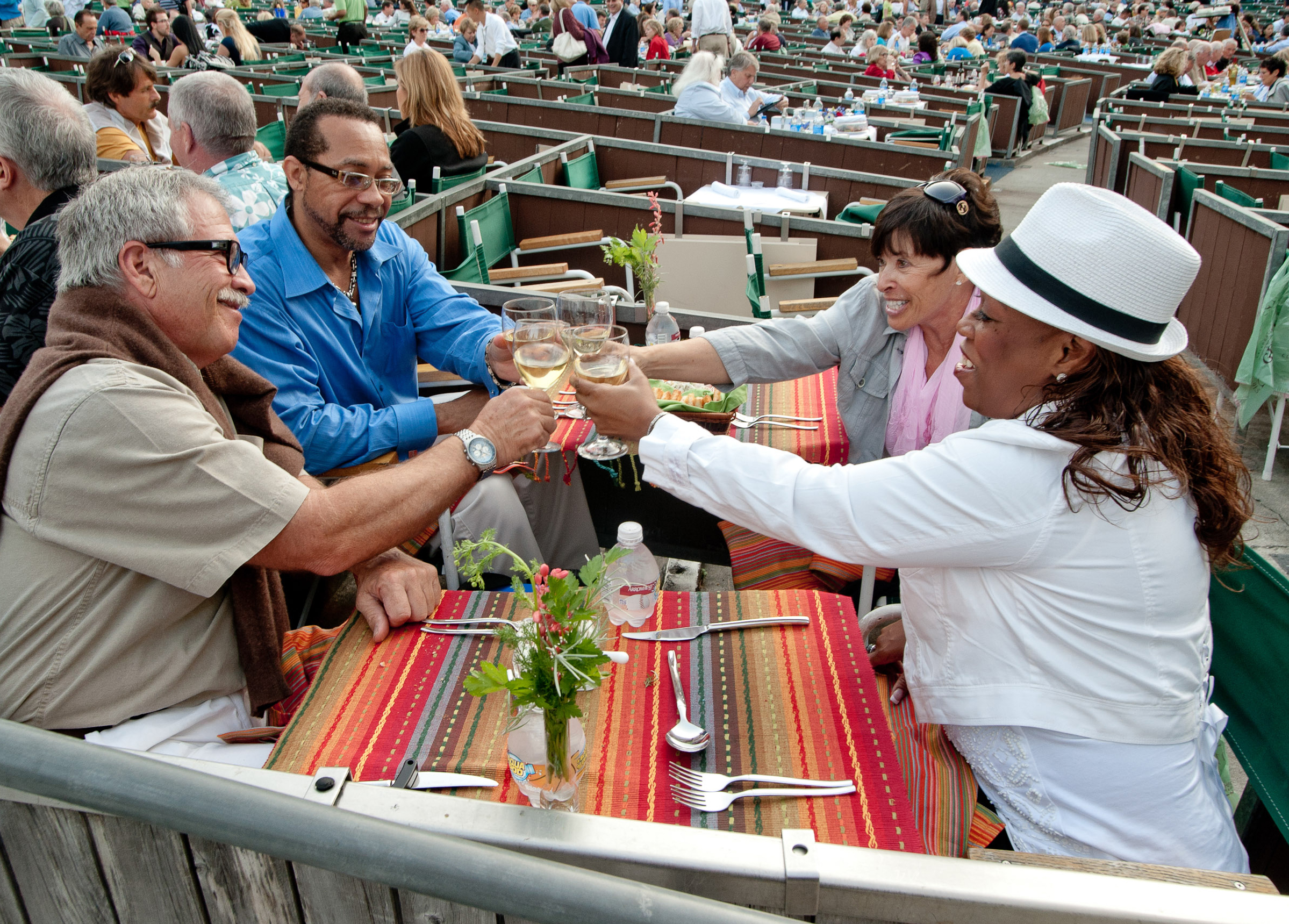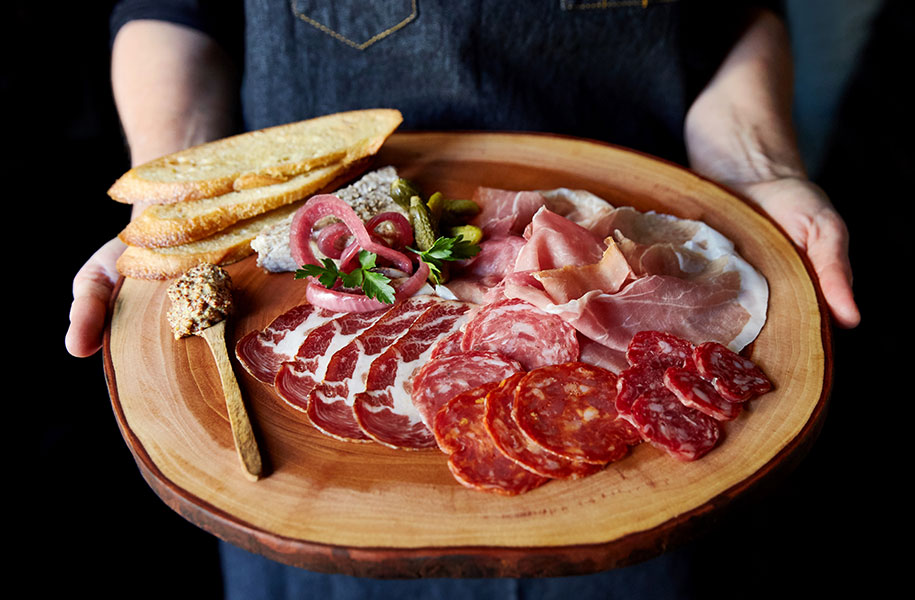 What is Food + Wine?
Bring your own food and drink or buy it here! Options range from gourmet restaurants to street food offerings - all part of our new culinary program brought to life by the creators of such celebrated restaurants as Lucques, a.o.c., Tavern, and The Larder. You can even order dinner in advance to be served at your box!
Eat at your seats (whether box seats, SuperSeats, or bench seats) or at one of the 14 picnic areas scattered around the grounds. Come early. Picnic tables fill up fast!
House Rules
The food and drink you can bring depends on the type of event:

I'm interested in classical music, where do I start?
All the Tuesday and Thursday night classical concerts are designed for everyone, classical music fan or not, so it's hard to go wrong. Tuesdays and Thursdays are a great way to get acquainted with the joys of the Hollywood Bowl; good seats are usually available and it's easier to park than on the weekends.
If you're looking for something in particular, check out our online calendar where you can find concerts featuring your favorite performers, composers, musical styles... Even your favorite instrument.

What's available for kids?
Although there's no minimum age for admittance, many evening concerts aren't suitable for young children. Children ages 2 and up must have a ticket to enter the theater, must sit in the seat indicated on the ticket, and should be able to sit quietly through a concert. (Children under 2 years of age do not need a ticket.) Management may require that baby strollers and carrying devices be checked at the Operations Office.

Contact us
Audience Services representatives are available to assist with all your Bowl-related questions, seven days a week, 10am to 6pm, at 323-850-2000 or information@laphil.org.
Anything else I should know?
Is there a dress code?
We have a casual dress code. Wear whatever's comfortable (but no bare feet, please!) It can get chilly later in the evening - bring a blanket or an extra jacket.
Are there smoking areas?
By law (LACC 17.04.645), smoking is not permitted on the Hollywood Bowl grounds, except in designated areas. Violators are subject to removal. Smoking outside the smoking areas is considered a misdemeanor and could lead to arrest. See a map for Smoking Areas at the Hollywood Bowl.
Security
The security of our patrons is our #1 priority. Due to enhanced security measures, please arrive at least 30 minutes prior to ticketed time. Be safe, if you see something say something. To report an incident discretely during an event,

text keyword BOWL to 69050. For more detail see House Rules.
Open morning Rehearsals
Some morning rehearsals at the Bowl are open to the public. Be sure to call ahead (323 850 2000) for the latest information and to confirm availability. We recommend bringing water, sunscreen, and a hat!
Park hours
Exterior park areas are open sunrise to sunset. Theatre hours are limited: Open 8AM, subject to rehearsal and event closure. The Hollywood Bowl is owned and operated by Los Angeles County Department of Parks and Recreation, and is jointly managed with the Los Angeles Philharmonic Association.