House Rules and Code of Conduct
What Can I Bring? 
You may bring food and drink* to the Hollywood Bowl. 

Alcohol policy: Whether or not you can bring alcohol to your concert is dependent on the type of event you're attending. For LA Phil-presented events, you can bring wine bottles, wine glasses, and beer bottles inside. For Lease Events, alcohol is not permitted. Please note the other prohibited items for Lease Events listed below.

Container sizes: All containers, picnic baskets, and coolers must be able to fit under your seats or within your box. Large containers, picnic baskets, or coolers measuring more than 15" wide, 15" high, or 22" long will not be permitted past the ticket gate.
* Please note the following items are prohibited for third-party Lease Events: 
(ANDREW HEWITT | BILL SILVA PRESENTS | LIVENATION; Mariachi USA; and The Korea Times)
Alcohol and/or controlled substances. You may purchase alcohol inside. (You may bring in factory-sealed plastic bottles with non-alcoholic beverages, one liter or less in size.)

Glass (including drinking glasses) and aluminum cans, regardless of content.

Reusable liquid containers (such as Camelbak or Nalgene bottles).
Look for the 'Special House Rules Apply' tag on our calendar for events that include the above restrictions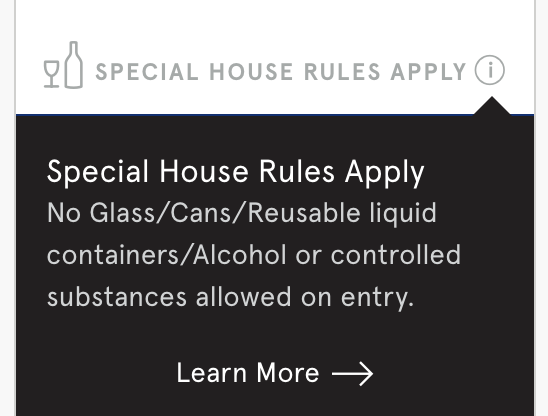 Other prohibited items for all events:
No kegs of any kind are allowed. Tailgating in the parking lots is not permitted.

Weapons are not allowed at the Hollywood Bowl.

Cameras with detachable lenses

Any form of camera stand (monopods included)

Selfie sticks

Audio/video recording devices

Laser pointers/glow sticks

Drones

Umbrellas

Electronic devices such as laptops, computer, and tablets are permitted in the Hollywood Bowl as long as they do not interfere with other patrons' enjoyment of the program. The Hollywood Bowl reserves the right to ask any patron to discontinue use of such devices.
Security
Your safety is our top priority!
To report an incident discreetly during an event, use the Customer Courtesy Line by texting 'BOWL' to 69050.
The Bowl has implemented metal detectors to enhance the safety and overall concert experience for everyone. Please give yourself ample time to get to your seats (arrive at least 30 minutes prior to your ticketed time).
Metal Detectors: There are walk-through metal detectors at all entrance points. This process is like those used in most major stadiums and arenas. When going through the metal detectors, please be aware that bags, hats, cell phones, cameras, tablets, computers, and any large metal items need to be removed and shown to the attendants. Belts, coins, keys, and wallets do not need to be removed from your person or pockets. You will continue to be able to bring picnics and other items you normally bring to concerts.
Customer Code of Conduct
Patrons shall comply with requests from venue staff regarding operational and emergency procedures. Patrons and guests in violation of the Customer Code of Conduct may be subject to ejection, loss of future ticket privileges, and/or arrest.
When attending an event at the Hollywood Bowl you are required to observe the following:
Please arrive at the theater with enough time to take your seats before the scheduled performance.

Please be courteous and respectful to those seated around you and refrain from behavior that interferes with others' ability to enjoy the event.

Patrons who consume alcoholic beverages must do so in a responsible manner. The Bowl reserves the right to deny entrance or eject anyone who appears to be intoxicated.

Remember that every attendee wants to enjoy this event, not just you. Similarly, venue personnel strive to treat all guests in a consistent, professional, and courteous manner.
Concert Etiquette
Different genres of music may encourage different audience responses. Be responsible and be aware of how the audience in general is responding. Here are some suggestions relative to music series or genre of music:
Rock, Jazz, World Music, non-classical performances: patrons may dance and clap if the artist encourages it, but please don't speak loudly out of respect for artists and audience who are there to enjoy the music.

Pops/Weekend Spectacular concerts: In most cases it is expected that you will quietly enjoy the concerts. In some instances, the artist may encourage audience participation. If so, please ensure you do not diminish the enjoyment of the concert for others seated near you.

Classical performances: Please remain seated and quietly enjoy the concert.
Seating
For the safety of all our patrons and to comply with fire regulations, the aisles and walkways of the Hollywood Bowl must be kept clear at all times.

As a courtesy to the performers and the audience, latecomers will not be seated until the earliest appropriate opportunity in the concert at the discretion of management.

Please note that certain programs are performed without intermission. Therefore, no late seating can be offered at those concerts.

Patrons shall only occupy a seat or remain in an area for which they possess a valid ticket and shall provide their ticket upon request.

Patrons shall avoid blocking the view of others. That said, during some concerts, the artist(s) may request that people be permitted to stand immediately in front of their own seats during some parts of the performance. On those occasions, standing may continue but be respectful of others and try to avoid blocking their view.

All patrons two years and older must have a ticket, though there is no minimum age for admittance.

Unnecessary noise or movements during the concert not only distract your fellow audience members, but also performers. Patrons (and their children) who make such disruptions may be removed from the theater.
Smoking
By law (LACC 17.04.645), smoking is not permitted on the Hollywood Bowl grounds, except in designated areas. Violators are subject to removal. Smoking in any other areas could lead to arrest, and this would be considered a misdemeanor. Please refer to the map for the areas at the Bowl designated for smoking.