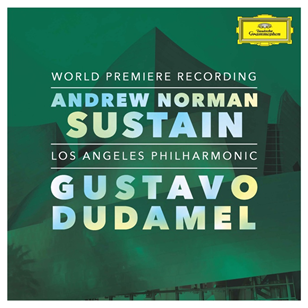 LOS ANGELES (January 26, 2020) – Music & Artistic Director Gustavo Dudamel and the Los Angeles Philharmonic's recording of the world premiere of Andrew Norman's Sustain won the Grammy® Award for Best Orchestral Performance today at the 62nd Annual Grammy Awards.
Sustain was commissioned by the LA Phil, and recorded in partnership with Deutsche Grammophon, to help celebrate the orchestra's Centennial season. Premiered and recorded in October 2018 at Walt Disney Concert Hall, the piece was hailed as "a new American masterpiece" in The New Yorker, "sublime" by The New York Times, and "a near out-of-body acoustic experience that sounds like, and feels like, the future we want" in the Los Angeles Times. Sustain was one of the 2019 Pulitzer Prize Finalists in Music.
"Andrew Norman is an extraordinary talent and vital member of our LA Phil family," stated Dudamel, "and we are all so proud to have been able to commission, premiere and record this magnificent work of his."
"It was an honor and a privilege to collaborate with Gustavo Dudamel and the inspiring musicians of the Los Angeles Philharmonic," stated Norman. "They brought my piece to life in a completely magical way, and I am very grateful for all the work they do to move this art form forward."
Andrew Norman, a member of the faculty at the USC Thornton School of Music and director of the LA Phil's Barry and Nancy Sanders Composer Fellowship Program, is deeply embedded in the L.A. creative music scene. The LA Phil first presented his music in 2010 and has since commissioned and given the world premieres of a number of his major works. He was Musical America's Composer of the Year in 2017 and won the Grawemeyer Award for 2013's Play, the recording of which received a Grammy nomination. This marks the second Grammy for the Los Angeles Philharmonic and Gustavo Dudamel. In 2012, they won Best Orchestral Performance for their recording of Brahms' Symphony No. 4.
EDITORS PLEASE NOTE:
Los Angeles Philharmonic
Gustavo Dudamel, conductor
Andrew NORMAN Sustain (c. 33 minutes)
World premiere, LA Phil commission, with generous support from Lenore S. and Bernard A. Greenberg
Recorded live, October 2018, at Walt Disney Concert Hall
Release Date (Digital Only): Friday, August 30, 2019 on Deutsche Grammophon
For more information, please visit:
https://www.laphil.com/about/watch-listen/la-phil-recordings/andrew-norman-sustain/
Tickets for the Los Angeles Philharmonic's 2019/20 season are available for purchase at laphil.com, in person at the Walt Disney Concert Hall Box Office, or by phone at 323 850 2000. For more information, please visit: laphil.com
About the Los Angeles Philharmonic Association

The Los Angeles Philharmonic Association, under the vibrant leadership of Music & Artistic Director Gustavo Dudamel, presents an inspiring array of live performances – orchestral, pop, rock, country, jazz, blues, latin, world music, opera, chamber, Baroque, organ and celebrity recitals, theatrical performances, explorations of film music, dance, comedy, groundbreaking multimedia productions, and an unmatched commitment to commissioning and performing music from the composers of today – at three of L.A.'s iconic venues, Walt Disney Concert Hall (
laphil.com
), the Hollywood Bowl (
hollywoodbowl.com
) and The Ford. The LA Phil's season at Walt Disney Concert Hall extends from September to June, and at the Hollywood Bowl and the Ford Theatre throughout the summer. With the preeminent Los Angeles Philharmonic at the foundation of its offerings, the LA Phil aims to enrich and transform lives through music, with a robust mix of artistic, education, and community programs.