Special on-air and online series created in response to the COVID-19 pandemic,
featuring selections curated by Gustavo Dudamel and his personal reflections on the music that keeps us
together, even when we're apart

Each week includes five, hour-long programs, four in English and one entirely in Spanish

Series to be nationally syndicated through PRX
View this press release in Spanish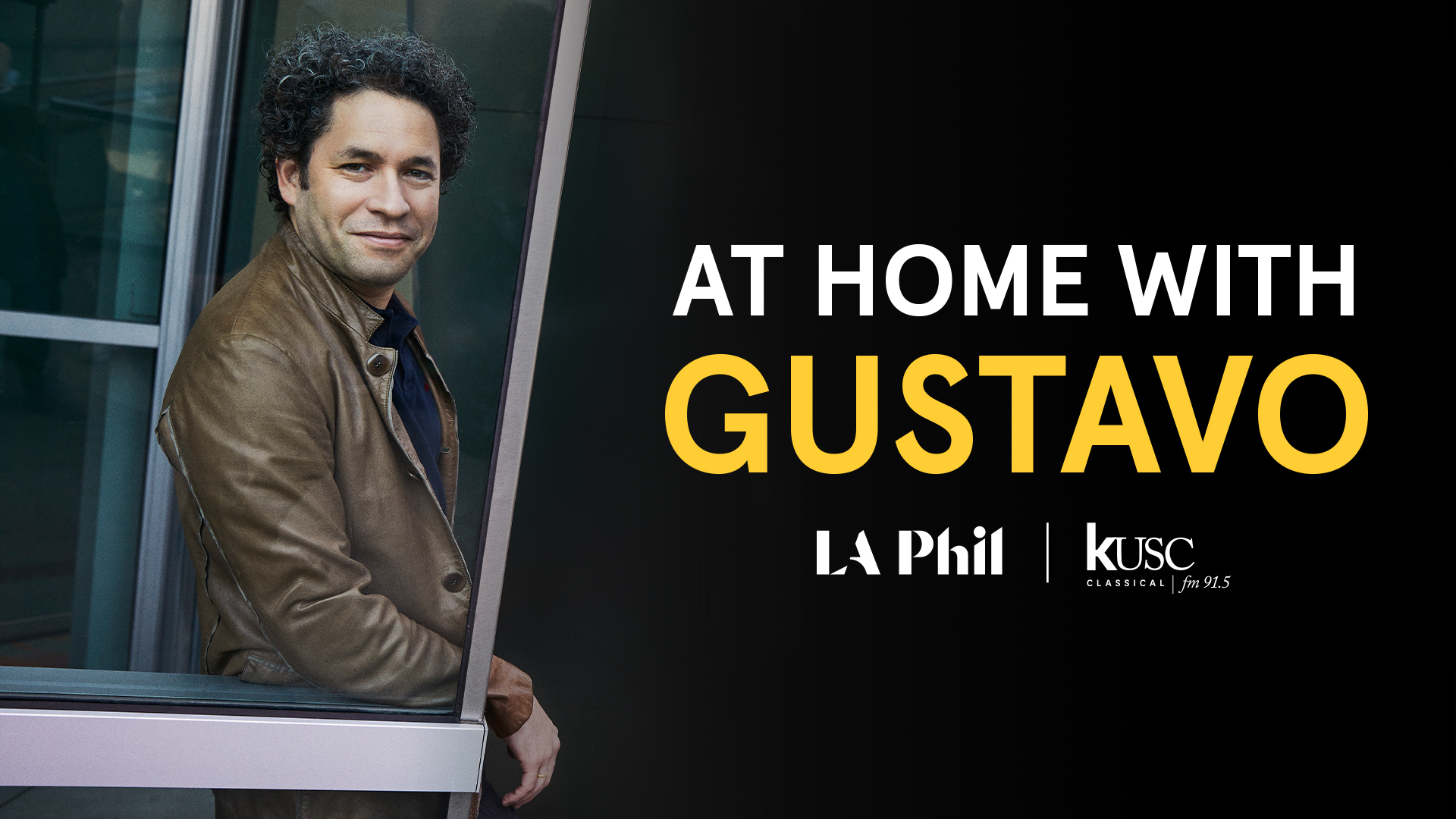 LOS ANGELES (March 27, 2020)– The LA Phil, Gustavo Dudamel, Classical KUSC (Los Angeles), and Classical KDFC (San Francisco) are teaming up remotely to present At Home with Gustavo, a unique series created in response to the COVID-19 pandemic and the temporary closures of cultural venues across the world. Different episodes will be broadcast four times a week in English and once a week in Spanish. The limited-run series will air locally on Classical KUSC, on Classical KDFC and be syndicated nationally through a partnership with PRX, and internationally online.
Born out of Dudamel's desire to continue sharing music with audiences when it's needed most, the series offers the conductor's curated musical selections along with his personal reflections on the music and his experience of our current moment. Interviewed by KUSC's Brian Lauritzen, Dudamel welcomes listeners into a communal experience designed to uplift and inspire during a difficult time, while also offering rare access into his own life in music.
The program is the result of a special partnership between people and organizations that share the conviction that classical music has something unique to offer in this cultural moment, a means to both process our personal experiences and to connect with the community spirit necessary to weather the challenges ahead.
The Spanish-language programs - the first to air on KUSC and KDFC since the 1970s - reflect Gustavo's vital connection to the Hispanic culture in Los Angeles and California, as well as the commitment of the stations, the LA Phil, and Gustavo himself, to ensure that both the music and messages of the series include as many people as possible.
"For me, and I imagine for a lot of you," says Gustavo, "music has been the thing that brings people together, even when we are apart. It's important, maybe now more than ever, that we find ways to connect and find comfort and inspiration. While I can't perform for you right now, I am excited about a new way that I can share music. Starting next Tuesday, I will be partnering with KUSC in Los Angeles and KDFC in San Francisco on a new radio show that I will record right here in my home. I will be talking with my friend Brian Lauritzen and sharing with him, and you, some of my favorite recordings. And unlike in a concert, I get to talk directly to you about why I love this music and why I think you will, too. Some shows will be in English, some in Spanish, but the music needs no translation."
At Home with Gustavo can be heard Tuesday through Friday, 6pm-7pm on KUSC and KDFC, with an additional Spanish-language broadcast on KUSC Sundays, 7pm-8pm and on KDFC Sundays, 6pm-7pm. Listen to KUSC over the air on 91.5 FM and beyond, streaming live on KUSC.org, on the free iOS and Android apps, and via smart speaker. Find all the ways to listen at KUSC.org. KDFC can be heard all across the Bay Area, streaming live at KDFC.com, on KDFC's free iOS and Android apps, and smart speakers. Learn more at KDFC.com.The series will be syndicated nationally by PRX. Check local listings at PRX.org.
EDITORS PLEASE NOTE:
At Home with Gustavo
Gustavo Dudamel, Music & Artistic Director, Los Angeles Philharmonic
Interview and production by Brian Lauritzen, KUSC Host
Debut show: Tuesday, March 31, at 6PM
Additional episodes:
Wednesday, April 1, at 6pm
Thursday, April 2, at 6pm
Friday, April 3, at 6pm
Sunday (in Spanish), April 5, at 7pm on KUSC, at 6pm on KDFC
Tuesday, April 7, at 6pm
Wednesday, April 8, at 6pm
Thursday, April 9, at 6pm
Friday, April 10, at 6pm
Sunday (in Spanish), April 12, at 7pm on KUSC, at 6pm on KDFC
For more information, please visit: laphil.com/athomewithgustavo
###
Gustavo Dudamel is driven by the belief that music has the power to transform lives, to inspire, and to change the world. Through his dynamic presence on the podium and his tireless advocacy for arts education, Dudamel has introduced classical music to new audiences around the world and has helped to provide access to the arts for countless people in underserved communities. A lifelong advocate for music education and social development through art, Dudamel himself was shaped by his childhood experience with El Sistema, the extraordinary program and philosophy initiated in 1975 by Maestro José Antonio Abreu. Inspired by El Sistema, in 2007, Dudamel, the LA Phil, and its community partners founded YOLA (Youth Orchestra Los Angeles) which now serves more than 1,200 musicians and provides young people with free instruments, intensive music instruction, academic support, and leadership training. In the 2020/21 season, YOLA will open its own permanent, purpose-built facility: The Judith and Thomas L. Beckmen YOLA Center at Inglewood, designed by architect Frank Gehry.


Brian Lauritzen is an award-winning host for Classical KUSC. Brian can be heard Monday to Thursday on Classical KUSC from 3 pm to 7 pm. He is also the host of the Sunday program, A Joyful Noise. Additionally, Brian, writes and produces features for KUSC's concert broadcasts each year including the Los Angeles Philharmonic, Los Angeles Opera, Los Angeles Chamber Orchestra, Los Angeles Master Chorale, and Piano Spheres. His work as part of these series has been broadcast internationally by NPR, American Public Media, and the WFMT Radio Network. During his tenure at Classical KUSC, Brian has interviewed dozens of top classical musicians and artists. Among them are Gustavo Dudamel, Itzhak Perlman, Dawn Upshaw, Valery Gergiev, Plácido Domingo, John Adams, and many others. Brian is also the host of several critically acclaimed podcasts: Behind the Curtain at LA Opera, the Los Angeles Chamber Orchestra podcasts, and Concrete Voices—real stories from the streets of Hollywood.


The
Los Angeles Philharmonic Association
, under the vibrant leadership of Music & Artistic Director Gustavo Dudamel, presents an inspiring array of live performances – orchestral, pop, rock, country, jazz, blues, Latin, world music, opera, chamber, Baroque, organ and celebrity recitals, theatrical performances, explorations of film music, dance, comedy, groundbreaking multimedia productions, and an unmatched commitment to commissioning and performing music from the composers of today – at three of L.A.'s iconic venues: Walt Disney Concert Hall (
laphil.com
), the Hollywood Bowl (
hollywoodbowl.com
) and The Ford. The LA Phil's season at Walt Disney Concert Hall extends from September to June, and at the Hollywood Bowl and The Ford throughout the summer. With the preeminent Los Angeles Philharmonic at the foundation of its offerings, the LA Phil aims to enrich and transform lives through music with a robust mix of artistic, learning, and community programs.
Classical KUSC FM and Classical KDFC FM nurture a love of classical music, inspiring people to make it an enduring part of their lives across California and beyond. The stations curate beautiful music, create compelling experiences and welcome all on the journey. The stations are listener-supported, reach the largest audience in the US with over a million weekly listeners, and are a broadcast service of the University of Southern California. Tune in at 91.5 FM in Los Angeles and Santa Clarita, 88.5 in Palm Springs, 91.1 in Thousand Oaks, 93.7 in Santa Barbara, 99.7 in San Luis Obispo, 89.9 in Napa, 90.3 in San Francisco, 104.9 in Silicon Valley and 103.9 in Monterey/Carmel. The smartphone apps and live streams at KUSC.org and KDFC.com attract local listeners and music lovers from around the globe.


PRX is a public media organization shaping the future of audio by producing and distributing content, building technology, and training talented, independent producers. With an award-winning portfolio ranging from iconic public radio programs such as The World, This American Life, The Moth Radio Hour, The Takeaway, and Reveal, as well as a growing body of podcast-first productions, including the Radiotopia podcast network, PRX reaches more than 28.5 million listeners and generates more than 70 million podcast downloads per month.