LOS ANGELES PHILHARMONIC ASSOCIATION ANNOUNCES ADDITION TO THE
HOLLYWOOD BOWL 2023 SUMMER SEASON
KCRW FESTIVAL
LOS FABULOSOS CADILLACS
Sunday, September 24, at 7 p.m.
Single tickets on sale May 2 at 10 a.m. PT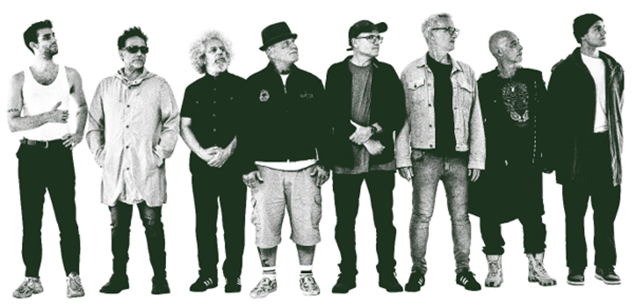 WHO: The Los Angeles Philharmonic Association (LA Phil) today announced an addition to the Hollywood Bowl summer 2023 KCRW Festival: the legendary and constantly evolving Los Fabulosos Cadillacs, celebrating the 30th anniversary of their mega-hit "Matador," make their Hollywood Bowl debut.
WHAT: Los Fabulosos Cadillacs are a force in Latin American music. Over nearly four decades, they've constantly evolved, moving through and incorporating sounds from the worlds of ska, reggae, rock, rap and salsa. There is, quite simply, nobody who sounds like them, and they've collaborated with everyone from Celia Cruz and Rubén Blades to Mick Jones of The Clash. On their El León del Ritmo tour, they celebrate the 30th anniversary of their mega-hit "Matador," a barreling anthem that blew the doors off of MTV Latino when it debuted.
The celebration of Argentina also features previously announced rockers Los Auténticos Decadentes, who became one of the Americas' greatest bands by forging a wide-open style that encompasses ska, cumbia, reggae, bolero and more. That open-mindedness has made them one of Latin America's most influential groups and won them a multi-generational fanbase that's drawn to their high-energy, joyful cathartic sounds.
WHEN: Los Fabulosos Cadillacs, KCRW Festival, Sunday, September 24, at 7 p.m.
WHERE: Hollywood Bowl, 2301 N. Highland Ave., Los Angeles, CA 90068.
TICKETS: Single tickets will go on sale Tuesday, May 2, at 10 a.m. PT. Create your own packages are currently available online at hollywoodbowl.com or by phone at 323 850 2000. Programs, artists, dates, prices and availability are subject to change.
# # #
About the Hollywood Bowl
One of the largest natural amphitheaters in the world, with a seating capacity of nearly 18,000, the Hollywood Bowl has been the summer home of the Los Angeles Philharmonic since its official opening in 1922 and plays host to the finest artists from all genres of music, offering something for everyone. It remains one of the best deals anywhere in Los Angeles; to this day, $1 buys a seat at the top of the Bowl for many classical and jazz performances. In February 2023 the venue was named the Outdoor Concert Venue of the Year at the 34th Annual Pollstar Awards, an honor bestowed 15 previous times. The Hollywood Bowl was also named Amphitheater of the Decade at the 32nd Annual Pollstar Awards as well as Top Amphitheater at the 2017 and 2018 Billboard Touring Awards. For millions of music lovers across Southern California, the Hollywood Bowl is synonymous with summer. hollywoodbowl.com