Los Angeles Philharmonic Announces
YOLA National Festival
At Pepperdine University, Malibu
July 7-16, 2023
Festival Closing Performance July 15
at Walt Disney Concert Hall conducted by
Gustavo Dudamel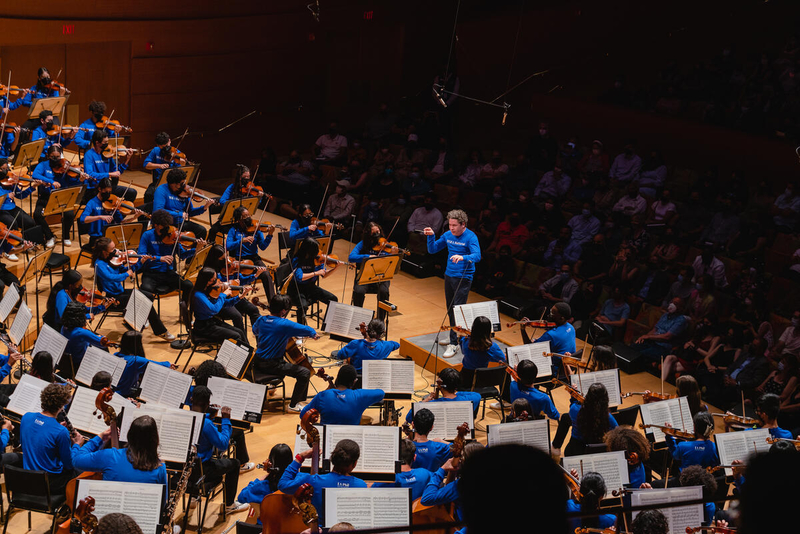 Los Angeles, CA (June 1, 2023) – The Los Angeles Philharmonic Association (LA Phil) today announced the return of YOLA National Festival, July 7-16 at Pepperdine University, Malibu. YOLA National Festival stems from the LA Phil's YOLA (Youth Orchestra Los Angeles) program, Gustavo Dudamel's signature initiative through which the LA Phil aims to empower young people from diverse communities, especially those that have been historically excluded from access to comprehensive and intensive musical training. The program focuses on building a community of musicians and educators committed to social justice, locally, nationally and internationally.
YOLA National Festival is an intensive summer orchestra program with a focus on rigorous artistic development. It is an opportunity for students from programs inspired by El Sistema and programs similarly invested in youth and community development through music. The Festival's ultimate aim is to create a civic-minded community of young musicians from diverse regions across the country, while developing a model that will positively shape progressive music education nationwide.
This year, YOLA National Festival musicians are comprised of 177 students ages 12 to 18 from 62 programs across 46 cities, 28 states and one US Territory. From July 7 to 16, the musicians will convene in Southern California at Pepperdine University in Malibu for a 9-day period of learning and performance with world-renowned conductors and faculty. Other LA Phil venues involved in the festival include the Beckmen YOLA Center, Hollywood Bowl, The Ford and Walt Disney Concert Hall. Participation is free – travel, lodging, meals, and programming are provided to students at no cost. The 2023 program will feature two ensembles: the Symphony Orchestra for 105 musicians aged 14-18 and the Chamber Orchestra for 72 musicians aged 12-14.
This year, Symphony Orchestra musicians will work with Venezuelan conductor Andrés González, Music Director of Play On Philly. González is one of the young talents who emerged from the renowned social and musical program known as El Sistema. He began his musical studies at the age of two in the Jacinto Lara Conservatory and, at only three years old, he raised the baton for the first time to conduct Ode to Joy along with the Children's Orchestra and Choir of the Lara State. González has devoted most of his musical career to the academic education of Venezuelan children and young musicians, always committed to the deep progress of culture through communities. He is also Principal Trumpet for the Miami Symphony Orchestra.
The Chamber Orchestra musicians will be led by LaSaundra Booth. An accomplished conductor, teaching artist, arts administrator, educator and entrepreneur, she is currently Lecturer (Music Education) at the University of North Carolina at Chapel Hill where she prepares the next generation of educators to lead culturally inclusive arts education programs. Booth is also a Sphinx LEADer known for making public school orchestra programs more equitable, diverse and inclusive to all students.
Performances on July 15 at Walt Disney Concert Hall include the YOLA National Chamber Orchestra and the YOLA National Symphony Orchestra conducted by Gustavo Dudamel.
More information about the YOLA National programs can be found here.
Free tickets for July 15 at Walt Disney Concert Hall are available online at or by phone at 323 850 2000. Programs, artists, dates, prices and availability are subject to change.
###
About the LA Phil
Under the leadership of Music & Artistic Director Gustavo Dudamel, the LA Phil offers live performances, media initiatives and learning programs that inspire and strengthen communities in Los Angeles and beyond. The Los Angeles Philharmonic orchestra is the foundation of the LA Phil's offerings, which also include a multi-genre, multidisciplinary presenting program and such youth development programs as YOLA (Youth Orchestra Los Angeles). Performances are offered on three historic stages—Walt Disney Concert Hall, the Hollywood Bowl and The Ford—as well as through a variety of media platforms. In all its endeavors, the LA Phil seeks to enrich the lives of individuals and communities through musical, artistic and learning experiences that resonate in our world today.
YOLA (Youth Orchestra Los Angeles)
Through YOLA (Youth Orchestra Los Angeles), inspired by Gustavo Dudamel's own training as a young musician, the LA Phil and its community partners provide free instruments, intensive music training, and academic support to over 1500 young musicians, empowering them to become vital citizens, leaders, and agents of change. YOLA provides players, from 6 to 18, with a strong musical and social foundation through participation in 12–15 hours of programming each week.
Fifteen years ago, the LA Phil and its community partners launched YOLA with 80 students at the EXPO Center in South LA. Today there are 5 sites in South L.A., the Rampart District, Westlake/MacArthur Park, East L.A., and Inglewood. YOLA engages players from more than 200 schools from culturally vibrant and ethnically diverse communities across LA County. Music study is complemented by leadership development opportunities, workshops, and performances. YOLA's young musicians have performed on great stages all over the world, including the LA Phil's two iconic venues – the Hollywood Bowl and Walt Disney Concert Hall – in many other locations throughout Southern California, on national and international television broadcasts, and alongside the greatest artists.
On October 15, 2021, the Los Angeles Philharmonic opened the Judith and Thomas L. Beckmen YOLA Center at Inglewood, designed by Gehry Partners, LLC, the first permanent, purpose-built facility for YOLA.
For more information, please visit laphil.com/yola.