LOS ANGELES PHILHARMONIC ASSOCIATION NAMES
RODOLFO BARRÁEZ
ASSISTANT CONDUCTOR, ANN RONUS CHAIR
ANNA HANDLER, ROSS JAMIE COLLINS, CARLOS ÁGREDA AND MICHELLE DI RUSSO SELECTED FOR THE LA PHIL'S 2023/24
DUDAMEL FELLOWSHIP PROGRAM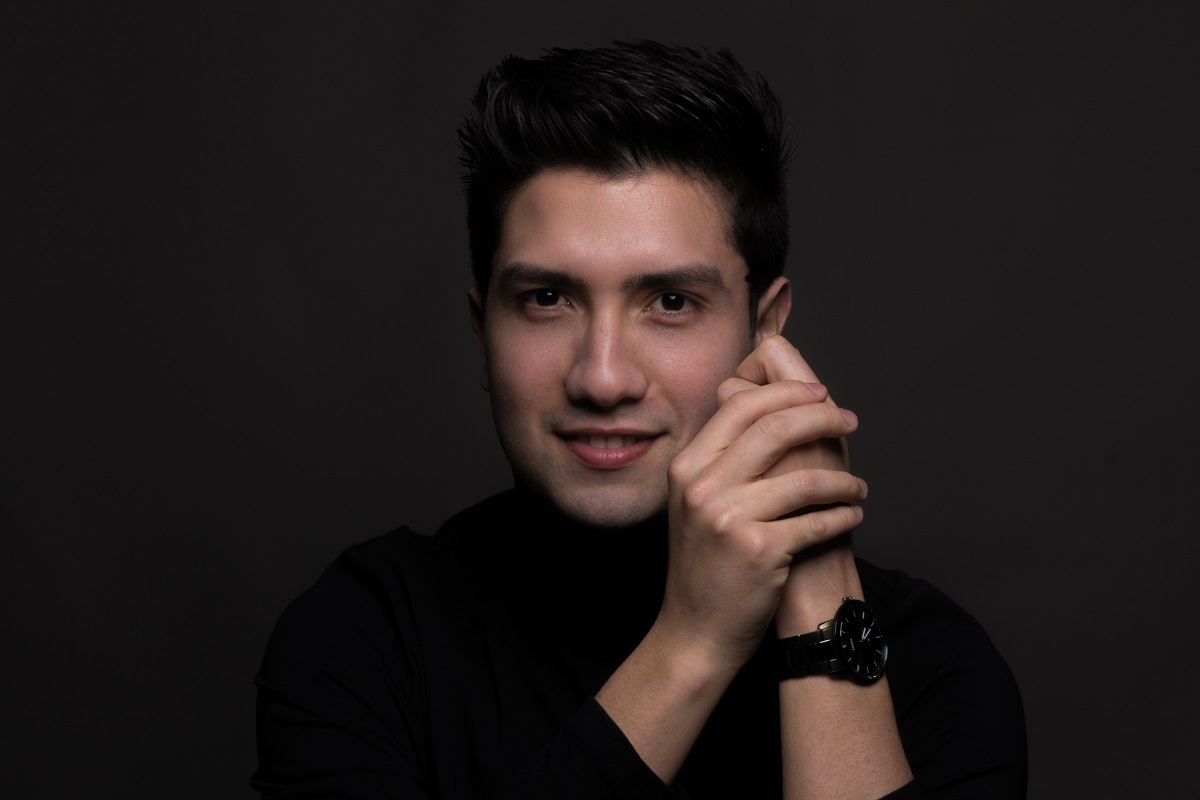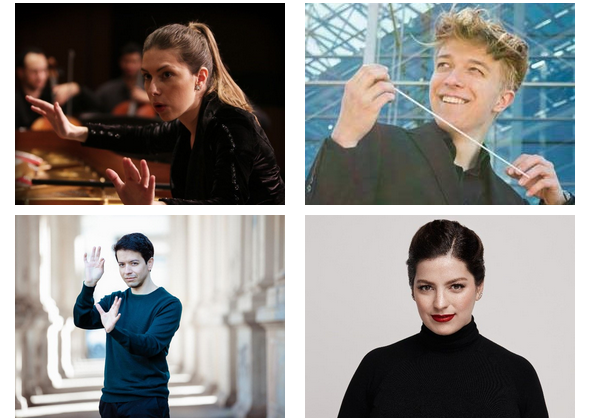 LOS ANGELES, July 11, 2023—The Los Angeles Philharmonic Association (LA Phil) today announced the appointment of former Dudamel Fellow Rodolfo Barráez as Assistant Conductor, Ann Ronus Chair, of the LA Phil for the 2023/24 season. As part of his duties, Barráez will serve as the cover conductor for Gustavo Dudamel and guest conductors throughout the orchestra's subscription season and on tour. He will also make his Hollywood Bowl debut in 2024.
The Los Angeles Philharmonic Association has also announced the 2023/24 Dudamel Fellows: Anna Handler, Ross Jamie Collins, Carlos Ágreda and Michelle Di Russo. The four Dudamel Fellows selected for this year's class are rising international conductors chosen by Music & Artistic Director Gustavo Dudamel and the LA Phil. Anna Handler (Colombia/Germany) recently made her debut at the Salzburg Festival as director of the Káťa Kabanová Camp; Ross Jamie Collins (Finland/United Kingdom) is a member of the inaugural class of Salonen Fellows in the Negaunee Conducting Program at the Colburn Conservatory of Music; Carlos Ágreda (Colombia) recently conducted the Filarmónica Joven de Colombia at the Rheingau Musik Festival in Germany; and Michelle Di Russo (Argentina) recently made her debut with the Portland (Maine) Symphony Orchestra and Vermont Symphony Orchestra and is in her second season as Associate Conductor with the North Carolina Symphony.
Gustavo Dudamel, together with the LA Phil, created the Dudamel Fellowship Program in 2009 to provide a unique opportunity for promising young conductors from around the world to develop their craft and enrich their musical experience through personal mentorship and participation in the LA Phil's orchestral, education and community programs. The Fellows work alongside Dudamel and musicians of the LA Phil, as well as visiting artists and conductors, to hone their skills through observation and application, participating as both cover conductors and as featured conductors, and serving as mentors themselves through participation in programs such as YOLA (Youth Orchestra Los Angeles).

Dudamel said, "It is with deep pride that we welcome the upcoming season's Dudamel Fellows to Los Angeles, in our 13th year of this program, where we share music and provide mentoring to the next generation of extraordinary artists. Watching these young conductors grow during their time with us, and then continue to expand their artistic vision in the years that follow, is one of my greatest joys. Through their talent and hard work, we are helping to build a socially conscious, global music community, and together, we are expanding the very nature of what an orchestra can be."

Ross Jamie Collins will lead the LA Phil in Symphonies for Youth concerts, conducting Esa-Pekka Salonen's Wing on Wing, on Oct. 21 and 28. Michelle Di Russo will lead the LA Phil in a Symphonies for Youth program, Beyond Volume: Music and Deafness, on Feb. 3 and 10, 2024. Carlos Ágreda will conduct the LA Phil in Symphonies for Schools concerts Feb. 29 and March 1. Anna Handler will conduct Swan Lake: Reimagined as part of Symphonies for Youth on March 9 and 23, as well as the LA Phil's Symphonies for Schools series.
The 2023/24 Los Angeles Philharmonic Assistant Conductor, Ann Ronus Chair:
About Rodolfo Barráez
Berlin-based Venezuelan conductor Rodolfo Barráez brings remarkable vivacity, sensitivity and zeal to his artistry. The 2023/24 season sees him join the Los Angeles Philharmonic as Assistant Conductor, as well as begin his second season as Associate Conductor of the Singapore Symphony Orchestra. He also joins the Paris Opera as Conductor-in-Residence.
Awarded first prize at the 2023 Hong Kong International Conducting Competition, Barráez also won first prize at the 2018 Universidad Nacional Autónoma de México International Conducting Competition (OFUNAM) and second prize at the 2020 Siemens-Hallé International Conductors Competition in Manchester, England.
The 2022/23 season saw Barráez give debuts with the Los Angeles Philharmonic at Walt Disney Concert Hall, conducting Stravinsky's Firebird Suite, the Münchener Kammerorchester on its tour of South America and the Appassionato Orchestra at the Verbier Festival 2022. He made his European debut at the Philharmonie Berlin in 2019 with the Hauptstadt Sinfonie-Orchester. Other recent highlights include debuts with the Konzerthausorchester Berlin, Hallé Orchestra, Symphony Orchestra of the Principality of Asturias, RTVE Symphony Orchestra, Simón Bolívar Symphony, Bogotá Philharmonic, Yucatán Philharmonic, Querétaro Philharmonic Orchestra, UNAM Philharmonic Orchestra and Minería Symphony Orchestra.
Future performances include the Hong Kong Sinfonietta, RTVE Symphony Orchestra, Gävle Symphony Orchestra, Paris Opera and the Simón Bolívar Symphony on tour in Asia.
Having completed a bachelor's degree in conducting at the Universidad Nacional Experimental de las Artes de Venezuela, Barráez also earned bachelor's and master's degrees in conducting at Hochschule für Musik Hanns Eisler in Berlin. Strongly influenced by his own remarkable education as part of El Sistema under the guidance of José Antonio Abreu and Teresa Hernández, Barráez is committed to contributing to music education. In 2019, he founded the Falcón Conducting Workshop, an organization that nurtures and supports the development of emerging conductors through master-class and workshop series in his hometown as well as worldwide at renowned institutions such as the Universidad Nacional de Colombia and Universidad Autónoma de Zacatecas. In addition, as part of El Sistema Greece and supported by the Hilti Foundation, Barráez provided performance training to young musicians from under-resourced communities in Greece, furthering his passion for bringing young people together through music performance and education.
Rodolfo Barráez formed the intrinsic roots of his conducting career as an eminent violinist. Previously a member of the Teresa Carreño Symphony Orchestra, Barráez has performed under Sir Simon Rattle, Claudio Abbado and Gustavo Dudamel at venues such as Teatro alla Scala Milan, London's Royal Festival Hall, Salzburg Festival and Tokyo Metropolitan Art Space.


The 2023/24 Dudamel Fellows


About Anna Handler
Anna Handler is a German-Colombian conductor and pianist who grew up in Munich. She returns to the Salzburg Festival this summer, conducting a full production of L'enfant et les sortilèges. This follows her debut last summer as director of the Káťa Kabanová opera camp, after which she received an immediate re-invitation. Highlights next season include her debut with the BBC Philharmonic, Grazer Philharmoniker and the Münchner Rundfunkorchester. The 2022/23 season saw her debut with the Deutsches Symphonie Orchester Berlin, the Sinfonieorchester Liechtenstein, the OFUNAM Orchestra in Mexico and the Mecklenburgische Staatskapelle Schwerin.
Handler has worked as an assistant to renowned conductors such as Kirill Petrenko, conducting the incidental music for the concert opera production Mazeppa with the Berliner Philharmoniker. She has assisted Daniel Harding with the Symphonieorchester des Bayerischen Rundfunks as well as Barbara Hannigan, Manfred Honeck, Mei-Ann Chen and Jeffrey Milarsky. At the Bayerische Staatsoper, she assisted Oksana Lyniv in the opera productions Mauerschau and Greek and took over the musical direction of the youth production Eve and Adam, which premiered as part of the 2019 Munich Opera Festival.
As founder and director of the ensemble Enigma Classica, she has performed with notable soloists such as violinist Arabella Steinbacher, cellist Daniel Müller Schott and clarinetist Sabine Meyer. Together with her team at Enigma Classica, Handler presented an interdisciplinary project on music education, using video animations in real time at the Young Artist Festival Bayreuth in August 2022. She was awarded the Maria Ladenburger Förderpreis in cooperation with WDR, the Cusanuswerk Foundation and Deutsche Grammophon. She also received the Rising Star Award from the European Cultural Foundation Europamusicale.
Handler studied piano at the Hochschule für Musik und Theater München, the Accademia Pianistica di Imola and the Folkwang University of the Arts, working with professors such as Ingrid Fliter, Pavel Gililov and Henri Sigfridsson. She went on to study orchestral conducting with Nicolás Pasquet and Ekhart Wycik at the Hochschule für Musik "Franz Liszt" Weimar between 2018 and 2021.
About Ross Jamie Collins
Finnish-British conductor Ross Jamie Collins is part of the inaugural class of Salonen Fellows in the Negaunee Conducting Program at the Colburn Conservatory of Music. Collins was a student of Jorma Panula at the Panula Academy in Finland and began his studies with Esa-Pekka Salonen at Colburn in 2019.
Born in Nottingham, England, Collins moved to Helsinki, Finland, where he began conducting studies at the age of 14 with Klaus Mäkelä. In 2017, he founded his own orchestra, Symphony Orchestra ROSSO. He was a laureate of the VII International Jorma Panula Conducting Competition in 2018.
Highlights of the 2022/23 season included debuts with the Iceland Symphony Orchestra and San Francisco Symphony's SoundBox series, a return to conduct the Turku Philharmonic after his debut in December 2021 and performances at Colburn. He assisted Salonen, pianist Yuja Wang and violinist Johan Dalene on a European tour with the San Francisco Symphony and assisted conductors Courtney Lewis and Simone Menezes with the Colburn Orchestra.
Collins has conducted the Kuopio Symphony Orchestra, Vaasa City Orchestra, Sinfonietta Cracovia, MÁV Symphony Orchestra, Bohuslav Martinů Philharmonic Orchestra, Lappeenranta City Orchestra, South Denmark Philharmonic, Kirkkonummi Chamber Orchestra, St. Michel Strings, The Camerata Antonio Soler, the Colburn Orchestra and Academy Virtuosi.
He has worked alongside Sir Andrew Davis, Jukka-Pekka Saraste, Edo de Waart, James Conlon, Ludovic Morlot, Rossen Milanov, Peter Oundjian, Peter Sellars, Grant Gershon, Yehuda Gilad, Yuja Wang and Ray Chen. As a student of Esa-Pekka Salonen, Collins has assisted him with the Philharmonia Orchestra, NDR Elbphilharmonie Orchester, Helsinki Philharmonic Orchestra, Orchestre de Paris, Houston Symphony Orchestra, Philadelphia Orchestra and San Francisco Symphony. He is currently on the conducting staff of the San Francisco Symphony, participated in the London Philharmonia's Emerging Artists program and is a Colburn Artist.
About Carlos Ágreda
Carlos Ágreda is a conductor from Colombia developing a promising international career in the United States, Europe and Latin America who is quickly gaining attention for his expressive musicianship and his charismatic leadership on and off the podium.
Ágreda first came to international attention when he reached the third round in the Cadaqués Orchestra International Conducting Competition at the age of 22. He was formerly a conducting fellow at the Curtis Institute of Music under the mentorship of Yannick Nézet-Séguin and later became Music Director of the Empire State Youth Orchestra in Schenectady, New York. Most recently, Carlos Ágreda was selected as a Designate Winner in the first edition of the International Conducting Competition Rotterdam, where he conducted the Rotterdam Philharmonic, Sinfonia Rotterdam.
Carlos Ágreda conducted leading orchestras in his home country, including the Sinfónica Nacional de Colombia, Orquesta Filarmónica de Bogotá and Orquesta Filarmónica de Medellín, and he recently conducted the Filarmónica Joven de Colombia at the Rheingau Musik Festival in Germany, stepping in at the last minute to conduct the orchestra's 2022 Colombia National Tour. Past appearances include Opera Philadelphia, Manchester Camerata, BBC Philharmonic and Curtis Opera Theater. He has worked closely with world-renowned conductors Juanjo Mena, Andrés Orozco-Estrada, Cristian Măcelaru, Michael Tilson Thomas, Sir Andrew Davis and Leonard Slatkin, to name a few.
Ágreda has lived in Colombia, England, the United States and Germany. He was born in Bogotá, where he studied conducting, piano and composition at Juan N. Corpas University. He holds a master's degree from the prestigious conducting program at the Royal Northern College of Music. He also holds a post-baccalaureate diploma from the Curtis Institute of Music. Ágreda's repertoire and musical interests range from not only the vast spectrum of symphonic music across the Classical and Romantic eras and the 20th century, but also opera, choral music, contemporary music, electronic music, improvisation and music from the Americas. Carlos Ágreda's approach to new music has been developed not only by being an award-winning composer, but also by collaborating with numerous composers and conducting more than 30 world premieres as well as performing in new-music festivals.
About Michelle Di Russo
A graceful yet powerful force on the podium, Argentinian-Italian conductor Michelle Di Russo is known for her compelling interpretations, passionate musicality and championing of contemporary music. Currently serving as Associate Conductor in her second season with the North Carolina Symphony, Michelle Di Russo is a former conducting fellow of Chicago Sinfonietta's Project Inclusion program and The Dallas Opera Hart Institute as well as a recipient of the Richard S. Weinert Award from Concert Artists Guild.
Highlights of Michelle Di Russo's 2022/23 season include guest conducting debuts with the Portland (Maine) and Vermont symphony orchestras as well as cover conductor engagements with the St. Louis Symphony, National Symphony Orchestra, Minnesota Orchestra and Arizona Musicfest. The 2023/24 season will see debuts with the Knoxville Symphony Orchestra and Delaware Symphony Orchestra. Recently, Di Russo was a Joel Revzen Fellow at Festival Napa Valley, where she led the orchestra in concert cycles and the staging rehearsals for a production of L'elisir d'amore.
Di Russo recently served as Interim Director of Orchestras at Cornell University, Assistant Conductor for the Phoenix Youth Symphony Orchestra and cover conductor for the San Diego Symphony, Ballet Arizona and the Phoenix Symphony. She has also been a recipient of the American Austrian Foundation/Faber Young Conductors Fellowship (selected by members of the Vienna Philharmonic) and a Bruno Walter Memorial Foundation Conducting Scholarship at the Cabrillo Music Festival of Contemporary Music. She was a conducting fellow at the Cortona Sessions for New Music in Italy.
Michelle Di Russo is a co-founder of Girls Who Conduct, an organization dedicated to bridging the gap between women and men in the conducting field and encouraging younger generations of women and non-binary conductors to overcome any obstacles based on gender.


About the LA Phil
Under the leadership of Music & Artistic Director
Gustavo Dudamel
, the
LA Phil
offers live performances, media initiatives and learning programs that inspire and strengthen communities in Los Angeles and beyond. The Los Angeles Philharmonic orchestra is the foundation of the LA Phil's offerings, which also include a multi-genre, multidisciplinary presenting program and such youth development programs as
YOLA
(Youth Orchestra Los Angeles). Performances are offered on three historic stages—
Walt Disney Concert Hall
, the
Hollywood Bowl
and
The Ford
—as well as through a variety of media platforms. In all its endeavors, the LA Phil seeks to enrich the lives of individuals and communities through musical, artistic and learning experiences that resonate in our world today.