Hollywood Bowl 100:
The First 100 Years of Music
Available Now!
This stunning 7-LP collection includes nearly 100 years of recordings from the Hollywood Bowl, featuring classical, pop, rock, film music, jazz, Broadway, and selections from the American Songbook.
The vast majority of the set's tracks have rarely, if ever, been heard after their initial live performance! More than 70 iconic musicians and musical ensembles are featured in this limited-edition collection, many of them giving performances they later deemed as career-defining moments.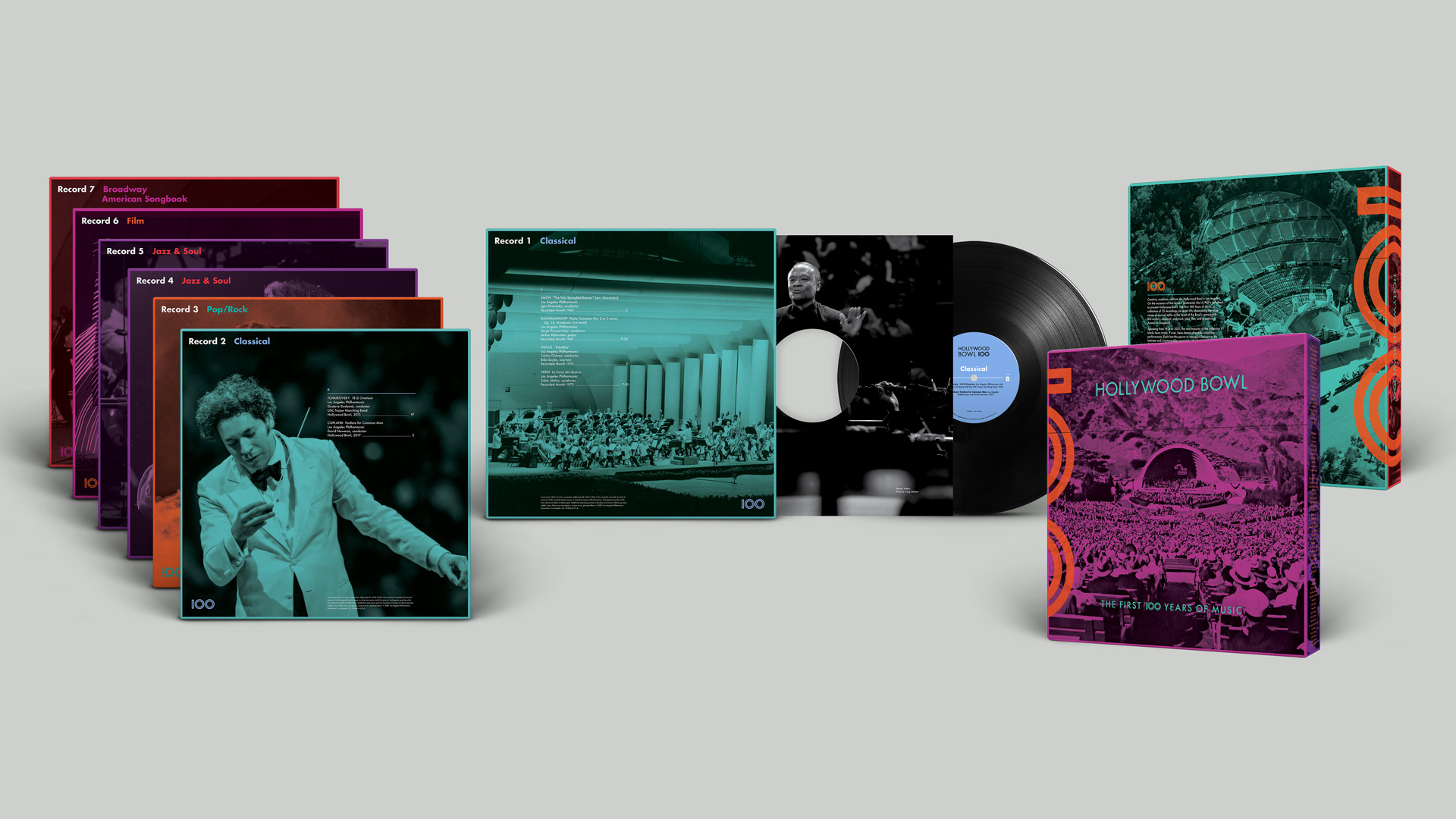 Featured Musicians
---
Fred Astaire • Vladimir Bakaleinikoff • Louie Bellson • Leonard Bernstein • James Brown • Dave Brubeck Quartet • Café Tacvba • Carol Channing • Carlos Chávez • Kristin Chenoweth • Nat King Cole and King Cole Trio • Common • Barbara Cook • Count Basie and His Orchestra • Death Cab for Cutie • The Doors • Gustavo Dudamel • Jack Everly • Ella Fitzgerald • Flying Lotus • Sutton Foster • Paul Gemignani • Eugene Goossens • Herbie Hancock • George Hearn • Sarah Hicks • Billie Holiday • Hollywood Bowl Orchestra • Hollywood Bowl Pops • Cheyenne Jackson • José James • Serge Koussevitzky • Natalia Lafourcade • Los Angeles Philharmonic • Patti LuPone • MARIACHI USA • Ziggy Marley • John Mauceri • Christian McBride Big Band • Audra McDonald • Zubin Mehta • Vince Mendoza • Ann Miller • Brian Stokes Mitchell • David Newman • Randy Newman • Conan O'Brien • Pentatonix • Pink Martini • Don Pippin • PJ • Dianne Reeves • Miklós Rózsa • Arthur Rubinstein • Esa-Pekka Salonen • Cécile McLorin Salvant • Bidu Sayão • Frank Sinatra • Kevin Stites • Igor Stravinsky • Donna Summer • Bramwell Tovey • USC Trojan Marching Band • Thomas Wilkins • John Williams • Meredith Willson • Victor Young
Tracklist by Genre
---
Listening Samples
▶️ DVOŘÁK Carnival Overture, Op. 92
Los Angeles Philharmonic (Eugene Goossens, conductor)
Recorded August 31, 1928
▶️ PONCE "Estrellita"
Bidu Sayão, Los Angeles Philharmonic (Carlos Chávez, conductor)
Recorded August 18, 1955
▶️ BERLIOZ Symphonie fantastique: mvt 2, "A Ball"
Los Angeles Philharmonic (Zubin Mehta, conductor)
Recorded August 1, 1961
▶️ TCHAIKOVSKY 1812 Overture
Los Angeles Philharmonic (Gustavo Dudamel, conductor), USC Trojan Marching Band
Recorded July 24, 2015
▶️ "Hello, I Love You"
The Doors
Recorded July 5, 1968
▶️ "Last Dance"
Donna Summer
Recorded August 22, 2008
▶️ "I Will Be Glad"
Ziggy Marley
Recorded August 1, 2021
▶️ "Take the A-Train"
Dave Brubeck Quartet
Recorded August 19, 1955
▶️ "Billie's Blues (I Love My Man)"
Billie Holiday
Recorded August 19, 1955
▶️ "Blues in Frankie's Flat"
Count Basie and His Orchestra
Recorded October 2, 1959


▶️ "Wives and Lovers"
Cécile McLorin Salvant
Recorded September 15, 2015
▶️ "They Can't Take That Away From Me" from Shall We Dance
Fred Astaire, Los Angeles Philharmonic (Victor Young, conductor)
Recorded September 9, 1937
▶️ RÓZSA Prelude to Ben-Hur
Hollywood Bowl Symphony Orchestra (Miklós Rózsa, conductor)
Recorded September 25, 1963
▶️ MANCINI "Moon River" from Breakfast at Tiffany's
Los Angeles Philharmonic (Sarah Hicks, conductor)
Recorded July 20, 2012
▶️ "You've Got a Friend in Me" from Toy Story
Randy Newman, Hollywood Bowl Orchestra (David Newman, conductor)
Recorded August 12, 2018
▶️ John WILLIAMS "Flight to Neverland" from Hook
Los Angeles Philharmonic (John Williams, conductor)
Recorded September 4, 2016
▶️ "Night and Day" from The Gay Divorcee
Frank Sinatra, Los Angeles Philharmonic (Vladimir Bakaleinikoff, conductor)
Recorded August 14, 1943
▶️ "Happy Days Are Here Again" / "Get Happy"
Patti LuPone & Audra McDonald, Hollywood Bowl Orchestra (John Mauceri, conductor)
Recorded July 8, 2000
▶️ "Razzle Dazzle" from Chicago
Carol Channing, Hollywood Bowl Orchestra (Thomas Wilkins, conductor)
Recorded September 15, 2007
▶️ BERNSTEIN West Side Story Overture
Los Angeles Philharmonic (Gustavo Dudamel, conductor)
Recorded July 14, 2016
▶️ GERSHWIN (arr. Bruce Healey) Strike Up the Band
Hollywood Bowl Orchestra (Thomas Wilkins, conductor)
Recorded July 4, 2021