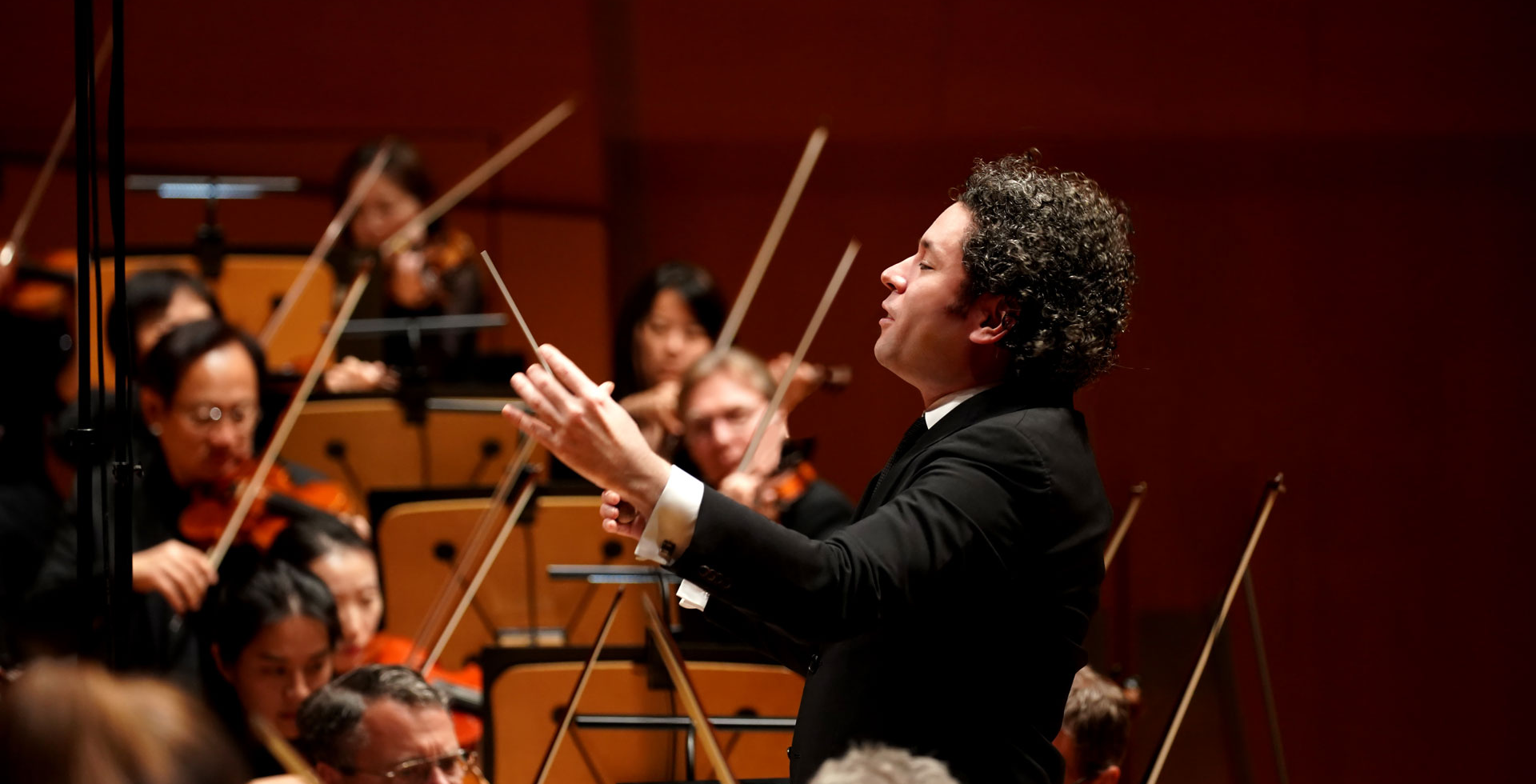 Between May 10 and June 2, 2019, Music & Artistic Director Gustavo Dudamel led the Los Angeles Philharmonic through 12 concerts, featuring a quantity and range of music that strains credulity.
If a month like this feels like business as usual, that is only because Dudamel has changed the definition of the word usual over the past 10 years.
Since arriving in 2009 as a young conductor with extraordinary ambition and a commanding presence on and off the podium, Dudamel has made every one of his 10 seasons here live up to everyone's outsized expectations. For May's Centennial Reflections, we'll review a small handful of historic moments in the LA Phil's first decade of Dudamel.
Get Watch & Listen Updates
Join the Watch & Listen newsletter list!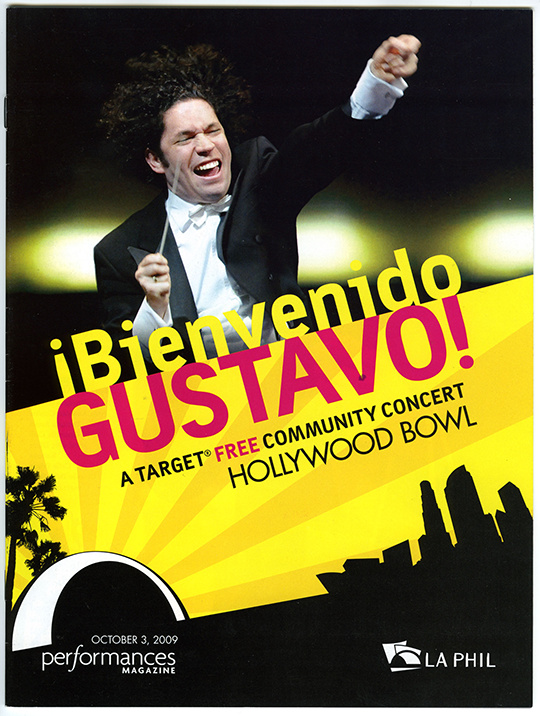 ¡Bienvenido Gustavo!
A city-wide bilingual marketing campaign announced the arrival of Gustavo Dudamel and his debut concert at the Hollywood Bowl. Dubbed ¡Bienvenido Gustavo!, the free event drew a crowd of nearly 18,000 on October 3, 2009. If the populist message of his arrival wasn't clear enough, it was underscored by the first musicians he conducted: students in the LA Phil's Youth Orchestra Los Angeles (YOLA) program.
Mark Swed, Los Angeles Times:
"Most important, this was Beethoven for all ages. Dudamel made his first appearance on stage with the nearly 100 children of YOLA's Expo Center Youth Orchestra, who have had instruments in their hands only a little more than a year. As they sawed through a version by Steven Venz of Beethoven's "Ode to Joy" from the Ninth's last movement, they showed determination and pride. They had something to prove and they proved it, and that was an indescribable thrill."
No Idea is Too Big
Dudamel's unique brand of community building and cultural diplomacy reached another peak in January 2012. His two orchestras – the Los Angeles Philharmonic and the Simón Bolívar Symphony Orchestra of Venezuela (SBSOV) – joined forces to perform one of classical music's most herculean feats: a complete Mahler symphony cycle. For the Mahler Project, the Los Angeles Philharmonic played Nos. 1, 4, 6, and 9 and the SBSOV Nos. 2, 3, 5, and 7. Together – along with 813 singers from 16 local choruses and eight soloists – the two orchestras performed No. 8, the so-called "Symphony of a Thousand," at the Shrine Auditorium
Deborah Borda, then President and Chief Executive Officer, said of him:
"One of the wonderful things about Gustavo: No idea is too big. [Take] this rather insane Mahler Project. When we started talking about it, I knew that he could do it. I never questioned that he could do it. If there was any part of it that didn't go well, first of all, I knew it would be a small part. But the other fact that was clear to me was that this was how he would grow as an artist. That he had to take those risks. And if he was willing to take them, we had to support them. Because in the end he's got to make that magic happen on stage."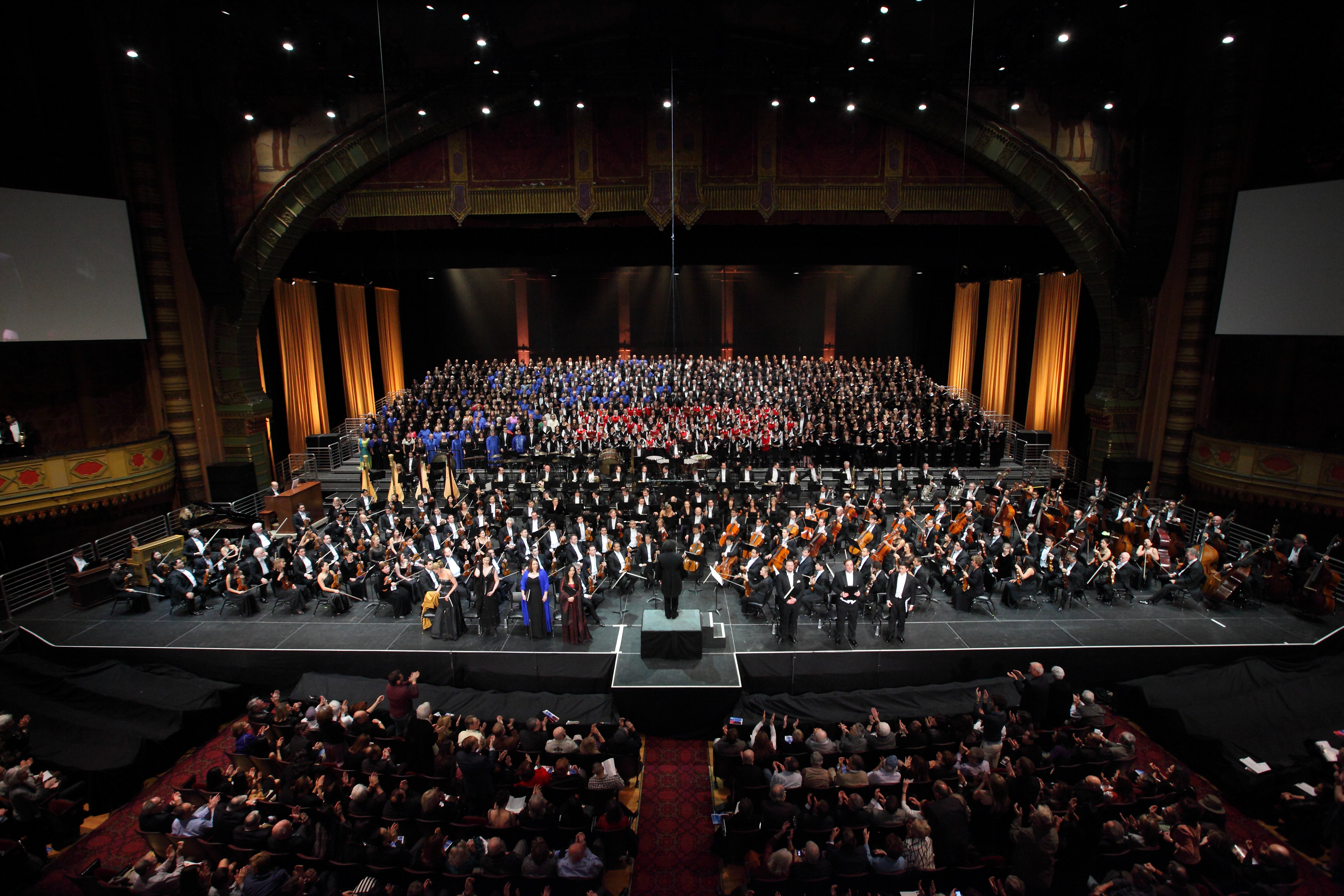 A Mahler symphony cycle is one of the most difficult undertakings an orchestra can tackle. Doing it in just two weeks is practically unheard of. But even that wasn't enough for Dudamel. After the concerts in Los Angeles, the two orchestras boarded planes and did the whole thing again in Caracas, Venezuela.
Of the experience, Dudamel said:
"The Los Angeles Philharmonic and the Simón Bolívar Symphony Orchestra of Venezuela, they got the chance to interact, to live together, a very special moment that changed their lives completely in the best way and in the best human way, you know. Because I believe that when you understand the human connection through the arts, you get the real sense of what you do in music. It was not a moment to just play together or to give master classes, to share your knowledge with people. It's not. The power of music is the passion, the feeling that you get, that kind of magic feeling that the music is giving to you. If you understand that, it's not only to play and to feel inspired, it's also to understand why you feel inspired. What is taking you to that level that you give the best of you to bring to the people. It was a transitional moment for all of us."
The power of music is the passion, the feeling that you get, that kind of magic feeling that the music is giving to you.
Breaking Down Barriers of Genre and Geography
Dudamel continued Conductor Laureate Esa-Pekka Salonen's mission to push the limits of Walt Disney Concert Hall's performance space. In 2012, he began a cycle of semi-staged productions of Mozart's and Lorenzo Da Ponte's opera collaborations (Don Giovanni, The Marriage of Figaro, and Così fan tutte). The sets were designed by Pritzker Prize-winning architects and costumes came from leading fashion designers.
For Dudamel, the three-year Mozart / Da Ponte Trilogy was a way of continually challenging himself and the musicians of the Los Angeles Philharmonic.
"When you play an opera as a symphonic orchestra, you get another dimension of what music is about. You have to listen, you have to know what the singer is telling you, because especially in Mozart, the relationship between the melody, the harmony, and the rhythm, and the text is perfect. Especially in the Da Ponte operas. When we finished Don Giovanni, the orchestra came to me, and they said 'Thank you. Thank you for getting us to play this music because it's very important.'"
Dudamel's artistic explorations also bridged gaps between continents. His recurring Americas & Americans Festival, spotlighting music of North and South America, began at Walt Disney Concert Hall in his debut season and was repeated twice at the Hollywood Bowl.
"What we try to do is to show that our music and our culture is one. There is no speaking about countries or South or North. We started this festival at Disney Hall. It was beautiful to see how composers like Aaron Copland, or Alberto Ginastera, or Carlos Chávez, how they were so connected. The beautiful thing about American classical is that it's inspired from one culture: the landscape, the people, the folklore of the countries. That is a beautiful connection."
It is no mystery how Los Angeles feels about Dudamel, but how does the conductor feel about his audiences in Los Angeles?
Of conducting in L.A., Dudamel said:
"Audiences in Los Angeles have more access to the visual aspects of conducting than most venues. At Walt Disney Concert Hall, there are some seats that face me, and the orchestra have their backs to the audience, and at the Hollywood Bowl, my conducting is projected on huge screens for all to see. This is not typical and offers special insight to our audience, who have proven themselves to be among the most sophisticated in the world."
Of his adopted home city, Dudamel said in a recent interview:
"For years I have felt that Los Angeles is home. This is a community, where wow! You know you can build so many things. It's always open. You only have to look at the history of Los Angeles to see it. How many great artists moved here? It's an inspirational place. It' s a place full of light, of course, but, not only physically, also in the spirit."
With a stellar Hollywood Bowl season and the first year of the LA Phil's second century beginning this fall, it's clear that the brightest days for Dudamel and the LA Phil are the ones ahead.