Nobody knew it was Miles Davis' last gig, but Wayne Shorter had a feeling. The star saxophonist was celebrating his 68th birthday on August 25, 1991, watching Miles perform with his new sextet at the Hollywood Bowl. Perhaps as a nod to his old sideman, Miles slipped a bit of "Happy Birthday" into one of his solos. After the concert, Shorter headed backstage to say hello. "He was tired," he told People magazine a couple of months later of the meeting. "I had a feeling he was going straight to his resting place."
For Shorter, it must have been a poignant moment. He'd been on the Bowl stage with Miles before, as a member of what would become known as the Second Great Quintet. This group – which also featured Herbie Hancock on piano, Ron Carter on bass, and Tony Williams on drums – helped to reshape jazz in the mid-1960s. Their "time, no changes" approach, which incorporated ideas from free jazz without falling into discord, brought greater flexibility to the group and allowed their individual contributions to shine more brightly.

On September 4, 1964, the Second Great Quintet made their debut at the Bowl, on a bill straight out of a jazz fan's wildest dreams. The concert, which was dubbed Modern Sounds '64, also included the Gerry Mulligan Quartet featuring Chet Baker, the João Gilberto Quartet, and the Nina Simone Quartet. While Baker was a no-show, the bossa-nova master Gilberto – who is nearly as influential in his home country of Brazil as Miles is in the U.S. – stunned the crowd, "command[ing] the eyes and ears of every individual in the Bowl," according to the Van Nuys News' Mike Davenport. Simone, who had just released the iconic single "Mississippi Goddam," was hailed as "one of the greatest performers I have ever seen" by the same writer. As for Miles? While the Second Great Quintet lived up to the billing, their leader was "rather unrelaxed and erratic."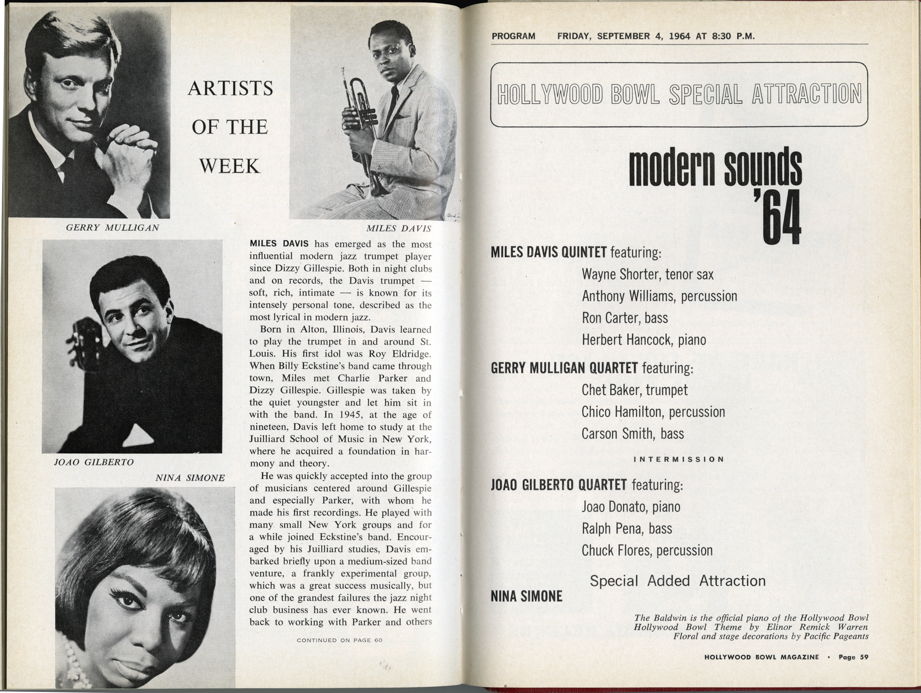 Twenty-seven years and at least as many transformations later, Miles was still confounding expectations. Following a retreat from the music world in the late 1970s, he made waves – and scored radio hits – with his 1985 smooth-jazz album You're Under Arrest, perturbing purists with his covers of then-current pop hits such as Cyndi Lauper's "Time After Time.". Even worse – in the minds of some – he was beginning to experiment with hip-hop, which his posthumous 1992 album Doo Bop made plain. Still, he remained a popular touring artist, and was true to his innovative spirit all the way to the end.
So while it's not surprising that the sextet he brought to the Bowl that night in 1991 didn't have a superlative in their name, that doesn't seem to have mattered to their leader. "Argument has raged over whether Miles was merely coasting or whether he was still producing music that was equal to that played in other periods of his life," the critic George Cole writes of the trumpeter's late career. "But that night in Hollywood, these arguments seemed light years away as Miles stood on the band with his stage, seemingly so full of life." The L.A. Times' Tomm Carroll, who referred to Davis as "usually militantly aloof," noted, "he seemed to be in a good mood."

The concert began with the snippet "Don't Cry, It's Only the Rhythm," with the group quickly moving into British pop group Scritti Politti's "Perfect Way," which Miles had covered on 1986's Tutu. The Davis originals "Star People" and "Hannibal" followed, but rather than take his own excursions, he ceded the spotlight to the sextet, allowing them to take both tunes beyond fifteen minutes. The eagle-eyed might have noticed that something was amiss. Cole says that while "Hannibal" stretched to just under eighteen minutes, Miles himself hung back, not blowing a note until the final five, and what was typically a showstopper, "Time After Time," "lasted just four and a half minutes and Miles' playing seemed to run out of steam near the end."
While the concert has never been officially released and unofficial recordings are impossible to come by, the eighteen-minute "Hannibal" was trimmed down and included on the posthumous compilation Live Around the World, giving us our only taste of how the group sounded that night. His tone is sharp, his melodies are clear, and he even spars with saxophonist Kenny Garrett, attacking the theme before handing it off to his bandmate.
A few days after the concert, he'd check in to St. John's Hospital in Santa Monica, where he suffered an intracerebral hemorrhage before slipping into a coma. On September 28, removed from life support, he passed away at the age of 65.
Whether anyone at the Bowl that August night besides Wayne Shorter knew what kind of shape Miles was in doesn't seem apparent; he was an expert musician to the end, who cultivated an audience that was willing to follow wherever he led. The crowd "just rode with" the night as it moved from "techno-jazz-funk" to mellower fare over the course of the evening, as Carroll writes. Still, the sextet called it a night early, ending things after 90 minutes instead of laying out for their usual three-hour set time, and closing with "Penetration," an instrumental written by Prince. The crowd, it seems, was ecstatic. "It was short," keyboardist Deron Johnson told Cole. "But the people loved it."
Get Watch & Listen Updates
Join the Watch & Listen newsletter list!