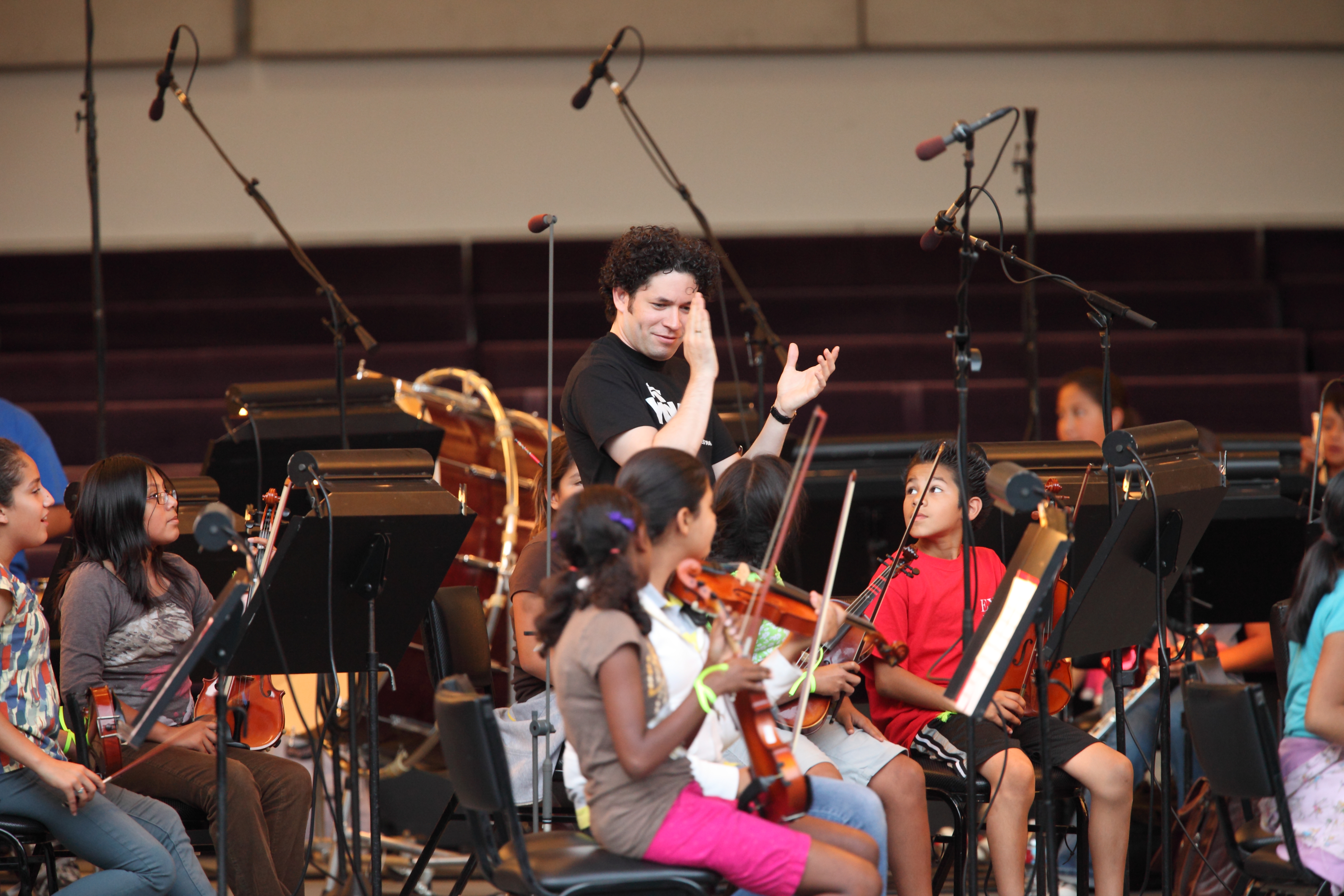 LA Phil Music and Artistic Director Gustavo Dudamel says that music is his vocation—but children are his mission. The most well-known product of Venezuela's El Sistema youth orchestra movement, Dudamel has carried its message of progressive social change through music education to every corner of the globe.
In Los Angeles, that message came to life with the Youth Orchestra Los Angeles (YOLA) program, which provides children in underserved communities with a free, after-school instrumental education. Founded in 2007, YOLA now boasts four sites, serves more than 1,000 students, and will be getting its own Frank Gehry-designed home as part of the LA Phil's centennial initiatives.
When thinking about the future of classical music, YOLA and programs like it have an important role to play in diversifying who is playing, making, listening to, and leading orchestral music in America. One of the students with a part to play is Liliana Morales, a YOLA veteran, who started with the program in 2007. She interviewed Dudamel about his own experience in El Sistema and his hopes for the future of YOLA.
MORALES: What do you think YOLA signifies, because obviously it's more than just an orchestra. It's more than just an organization. What is it?
DUDAMEL: It's a symbol of a community. It's the idea of a society that is beautiful and that identifies itself with art, with culture. And one that is always open to transforming the next generation and the next.
MORALES: Would you say every community should have more arts programs?
DUDAMEL: Completely. The Spanish writer and philosopher Miguel de Unamuno said that the freedom that we have to give to the people is the culture. Culture is freedom. Culture is identity. Culture is beauty.
MORALES: That's powerful. So, why is it important to give back to the community?
DUDAMEL: Because the community owns the orchestra. That is the role of art. It's not that people just come here to see a show and be entertained. Art has to be thought of as an essential right for communities. Art can transform the lives of the musicians and the audience. That transformative power is what the orchestra gives back to its community. When a community feels the orchestra represents their identity and their spirit, in those moments, everything can change.
Get Watch & Listen Updates
Join the Watch & Listen newsletter list!
Art has to be thought of as an essential right for communities. Art can transform the lives of the musicians and the audience. That transformative power is what the orchestra gives back to its community.
MORALES: You played an instrument before you became a conductor. How would you say the rules are different?
DUDAMEL: Playing the violin gave me a lot of knowledge of what I can do on the podium. Because I was looking to a lot of conductors, watching them, what they were doing, how they were producing a sound with a movement. And I learned a lot. But there's not a lot of difference. As a conductor, you are playing an instrument that is the orchestra.
MORALES: So, who are some mentors that have helped you along the way to get where you are today?
DUDAMEL: My family, of course, were very important. But I will say maestro José Antonio Abreu, because without him, this idea of El Sistema, this program where you are and where I came from, would not exist. He's a father to me, intellectually and as a human being. You cannot imagine how much I learned from him. Claudio Abbado, a great conductor, Simon Rattle, Daniel Barenboim, they have also been so generous with me. But maestro José Antonio Abreu—in the areas of culture, art, the future, the community—it's him.
All of us, we are his children. This was his dream. What he did changed the world in music. Imagine: everybody not only talks about what he did but works to make it happen in their own country. Amazing. A magic man.
MORALES: When I first started with YOLA I was eight years old, and you walked in and everyone was like, "Gustavo!" But I was like, "Who's Gustavo?" Now I feel like, "Yeah, that's Gustavo." When people say your name, it's not just one way. When we think of your name, it's like, "Gustavo, he is more than just a conductor."
DUDAMEL: Even I didn't know who Gustavo was ten years ago! But it's beautiful and important what an orchestra or choir shares as a team and how you want to help one another individually. The end result is something that is of the group, but also the individual.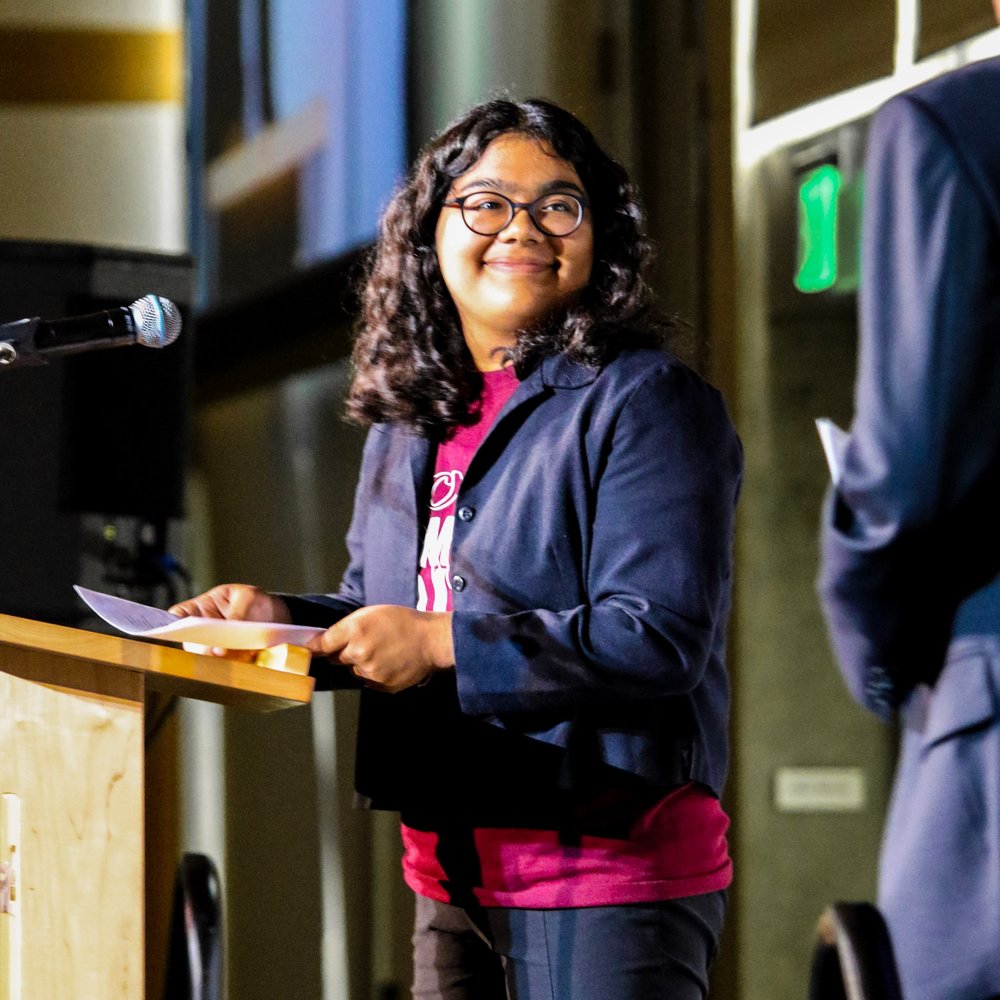 MORALES: What role does a conductor have in attracting new listeners to an orchestra?
DUDAMEL: When I became music director here, I was very young and came from a country that maybe nobody expected—so that was really intriguing to people. But it's not only the conductor who builds the audience; you do it with the orchestra. If you inspire the orchestra, that will inspire the people listening, too. When young people see other young people playing classical musical instruments—like when YOLA played with pop musicians during the Super Bowl halftime show—that also attracts new people. And you are part of this effort too, because YOLA also brings young people to classical music.
MORALES: What accomplishments would you say you're most proud of?
DUDAMEL: To be papa.
MORALES: To be a dad?
DUDAMEL: It is beautiful to see, because when you have a son, you understand things better. It gives me the desire to do more things, because I think of him and I want to build a better world. And of course, being a musician, an artist, is accomplishment enough. You know, I won a competition, I won some awards, and that kind of thing—but those are not the most important. For me, every time I do something with an orchestra, like today rehearsing Brahms, I conquer a new Everest. But it's not about personal ambition, it's an ambition to share.
MORALES: What do you want to do in the next ten years?
DUDAMEL: I want to do the same. I want to have more children at home and also in El Sistema programs around the world. I hope I will see art being taken seriously as a right for the people. And I will work for that. In ten years, I want to see art embraced in the community and have the community identify with the culture around them.
MORALES: YOLA really extends beyond the music program. I feel like my duty is also to give back to the community.
DUDAMEL: It's an act of generosity. Music gives a lot to us and is generous with us, letting us be part of it and create it. And that is why we want to share it. We don't keep anything a secret. I don't have any secret that I don't tell to the orchestra or to a musician or to a person every day. And then you create more and more, and then you give more and more.
MORALES: It's like a chain reaction.
DUDAMEL: The infinite.
Music gives a lot to us and is generous with us, letting us be part of it and create it. And that is why we want to share it. We don't keep anything a secret.
MORALES: What's the most important thing you feel like you've ever learned?
DUDAMEL: To be open. To be flexible. Nothing in life is rigid. Things move. Sometimes the movements are controversial for you or others. It's not easy to understand, you have to live through it. Change is a wave that is taking you to different levels in your life, to different steps. I started to learn this when I was very young because I was given a lot of responsibility. I was conductor of the conservatory's orchestra when I was eleven years old and had to teach. I needed the flexibility to understand new things. I think you have to be open, to believe, and to have hope all the time. Even in the most difficult times, never lose your spirit.
MORALES: If you could tell everyone in the world one thing, what would you tell them?
DUDAMEL: We have to love each other. We have to get together as brothers and sisters and put aside ideologies, religions, and everything and to see each other as citizens of this planet. That's it. I think we do that with music, we unite people all the time.
I think it's really beautiful that an institution like the Los Angeles Philharmonic embraces and is a champion of work with the community. This is part of our mission: reaching the community, the children, the children with no access to art. And that we can, with art, build a model for cities, for countries, and for the world. It sounds a little bit too utopian, too abstract—but you see the results. You are a beautiful result of this, you are a beautiful flower of this garden. I'm also a flower of this garden. It's a garden of beautiful flowers, and I hope that multiplies.