Chef Suzanne Goin and Restaurateur Caroline Styne Introduce Updated Offerings
in Celebration of the Hollywood Bowl's 100th Season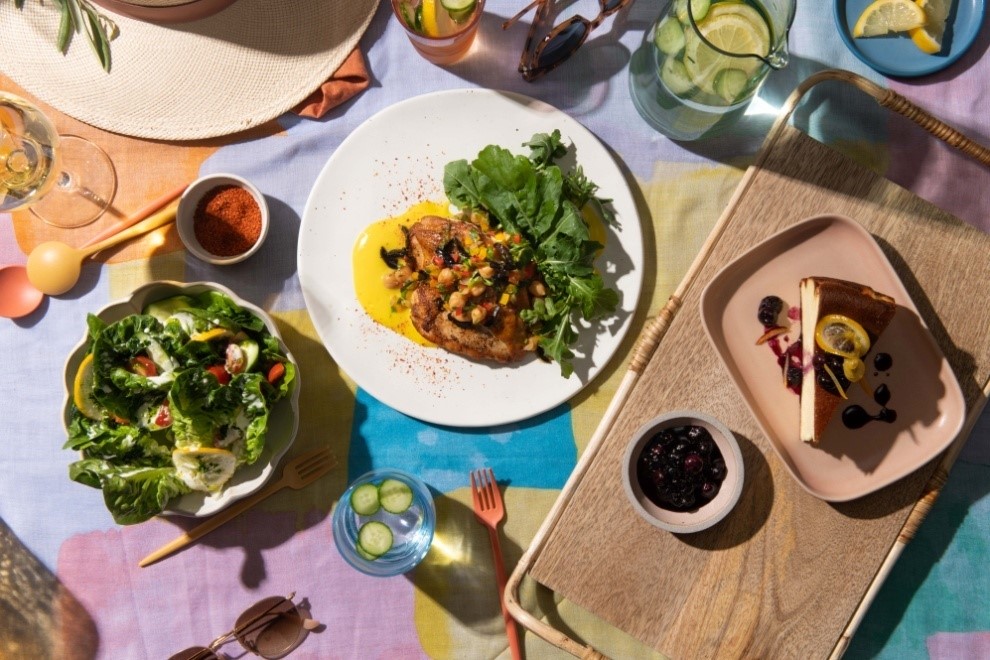 LOS ANGELES (May 11, 2022) ­– The Los Angeles Philharmonic Association announced today details of the menus for the 2022 Hollywood Bowl Food + Wine season in celebration of the Bowl's 100th anniversary milestone. Now into the seventh year with award-winning chef Suzanne Goin and restaurateur Caroline Styne, Hollywood Bowl Food + Wine promises exceptional dining for visitors to the iconic venue. Goin and Styne's culinary history has defined Los Angeles tastes since 1998 when they opened Lucques, their legendary first restaurant. At the Hollywood Bowl, their California-inspired offerings include three restaurants and three marketplaces. Additionally, menus for the Terrace and Garden Boxes, which can be ordered a day in advance, are created by four-time James Beard Foundation award-winner Suzanne Goin. Goin's vibrant new summer dishes pair beautifully with the exceptional wine and beer programs curated by Caroline Styne, the recipient of the James Beard Foundation's 2018 Outstanding Restaurateur of the Year award. Overseeing the broad range of dining options serving Hollywood Bowl Food + Wine's thousands of nightly guests is Executive Chef Jeff Rogers.
Returning for the 2022 season are the fan-favorites Winemaker Wednesdays and Sunday Market Tastings – an eight-week program of complimentary wine tastings at the Plaza Marketplace with guest winemakers, importers, sommeliers, and breweries hand-selected by Caroline Styne. Caroline also introduces a broad selection of vegan and organic wines this year that can be discovered in the marketplaces with other new natural wines on the restaurants' lists, including Scribe, Broc Cellars and Perichor.
Hollywood Bowl Food + Wine's many dining options include three sit-down restaurants, street-food kiosks, pre-ordered picnic boxes, and a full-service dinner delivered to your box seat. For private events, Hollywood Bowl Food + Wine provides catering at several locations for groups both large and small.
New additions for the 2022 Hollywood Bowl Food + Wine portfolio are highlighted below:
Supper in Your Seats – Available by pre-order online until 4PM the day before a performance, Supper in Your Seats offers curated three-course dinners or customized meals from à la carte selections delivered right to your box seats.
Menu Highlight: The 101 – red and green little gems with cucumbers, meyer lemon, cherry tomatoes and basil buttermilk; choice of torchio pasta with heirloom tomatoes, pancetta, parmigiano reggiano and garlic breadcrumbs (vegan option) or chicken under a brick with chickpeas, piperade, black olive and saffron; and basque cheesecake with blueberries and candied lemon.
Newly available Supper in Your Seats items for 2022 include:
smashed carrots and marinated beets with tahini yogurt, dandelion and toasted seeds

seared albacore with weiser potatoes, braised leeks, salsa verde and dijon

sea bass with white beans, rapini, coriander crushed almonds and piri piri

veal osso buco with saffron risotto, asparagus, pea shoots and meyer lemon salsa
Ann's Wine Bar by A.O.C. – Showcasing a wine list personally curated by Caroline Styne, Los Angeles' favorite wine bar comes to life at the Hollywood Bowl with a wine-friendly menu of artisanal cheese and charcuterie, farmer's plates, grilled flatbreads, market-fresh salads and A.O.C.-style fish and meats. There are also craft brews and farmers' market-driven cocktails made with soju and other wine-based liquors.
Newly available Ann's Wine Bar by A.O.C. items for 2022 include:
grilled flatbread

with asparagus, wilted leeks, tallegio, mint, and pistachios

prawns with yellow tomato confit, sofrito and parsley aioli

halibut with green rice, rajas, crème fraiche and squash blossoms
the backyard– The al fresco dining area, adjacent to the amphitheater, is flanked by two large wood-burning grills and offers an updated seasonal market-driven menu of summer salads, an extensive raw bar, and side dishes in addition to the wood-grilled selection of fresh fish, seafood, organic chicken, chops and steaks.
Newly available items for the backyard in 2022 include:
hungry cat's kampachi with plums, herbs and chermoula

pan con tomate with heirloom tomatoes, alorena olives, salsa verde and monte enebro

white trumpet mushrooms with summer vegetables

m

é

choui, harissa and pine nuts

scottish salmon with grilled nectarines, pickled fresnos, crème fraîche and pistachio

za'atar lamb chops with smoked eggplant, cucumber and preserved lemon labneh
Picnic Boxes – All five of Suzanne Goin's complete picnic boxes can be pre-ordered a day before a concert and picked up at the Plaza Marketplace or delivered to your box seats.
Menu Highlight: The Westside Story – grilled chicken breast with almond sofrito; fregola with chickpeas, carrots and spinach; marinated beets with horseradish and parsley; baguette with tapenade; and a Larder Baking Company chocolate chip cookie.
Kitchen 22 – Made-to-order beef and veggie burgers, Suzanne's Spanish fried chicken, grilled comté cheese on larder sourdough and savory sandwiches anchor the Hollywood Bowl's tribute to American classic fare.
Menu Highlight: classic double-bacon cheeseburgers
Marketplaces – Three Marketplace locations – Plaza, East, and West – specialize in "grab-and-go" salads, sandwiches, and farmers' market-driven main courses, as well as charcuterie, cheese plates, desserts, and Magpies Softserve ice cream. The west-side Marketplace includes a sushi bar where chefs prepare premium sushi, available for pre-order or to purchase on-site.
Showcasing the best of Goin and Styne's casual Larder café-marketplace, these Hollywood Bowl venues also feature a large selection of hand-picked wines, craft beers, sodas and waters, as well as salty and sweet snacks including cookies and brownies, candy, nuts and crackers.
Menu Highlight: Endless love for Two – salmon & avocado roll – 4 pieces; spicy shrimp roll – 4 pieces; spicy tuna roll – 4 pieces; and tuna roll – 4 pieces
Lucques at the Circle – This is a full-service dining experience for Pool Circle subscribers, showcasing a seasonal made-to-order menu and exceptional wine list styled from the award-winning cuisine of Lucques.
Menu Highlights: lobster risotto carbonara with pancetta, pea shoots and wild mushrooms; wild striped bass with papa pomodoro, purple tomatoes and smoked paprika butter; and cornmeal shortcake with peaches, strawberries and poured ice cream.
Street Food and Snacks– Authentic street foods can be found throughout the grounds of the Hollywood Bowl, including tacos, artisanal pizzas, pulled pork BBQ sandwich, assorted sandwiches and beverages. The Sweet Shop offers signature desserts, cookies, and brownies, as well as coffee and ice cream. New this year, visitors will find local favorites Magpies Softserve's ice cream pies as well as their mix-in ice creams, which include non-dairy and vegan options.
Please visit Hollywood Bowl Food + Wine for more information about the food and wine experiences available at the Hollywood Bowl. High-res photos can be downloaded HERE. Photo credit Rob Stark.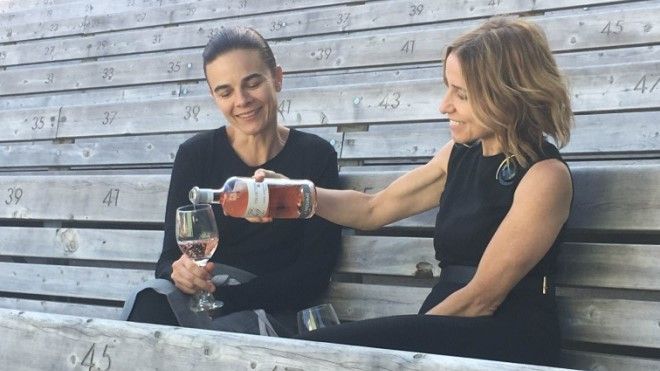 ###
About the Hollywood Bowl
One of the largest natural amphitheaters in the world, with a seating capacity of nearly 18,000, the Hollywood Bowl has been the summer home of the Los Angeles Philharmonic since its official opening in 1922 and plays host to the finest artists from all genres of music, offering something for everyone. It remains one of the best deals anywhere in Los Angeles; to this day, $1 buys a seat at the top of the Bowl for many classical and jazz performances. In June 2021, the Hollywood Bowl was awarded Amphitheater of the Decade at the 32nd Annual Pollstar Awards. It was also awarded the Outdoor Concert Venue of the Year award at the 31st Annual Pollstar Awards, an honor bestowed 14 previous times, as well as Top Amphitheater prize at the 2017 and 2018 Billboard Touring Awards. For millions of music lovers across Southern California, the Hollywood Bowl is synonymous with summer. Hollywood Bowl Food + Wine is presented by the Los Angeles Philharmonic in partnership with The Lucques Group and Sodexo Live!