by Derek Traub
Today, Dorothy Buffum Chandler is best remembered as the founder of The Music Center and the namesake of its first venue: the Dorothy Chandler Pavilion. While the creation of The Music Center was a herculean achievement, building a home for the performing arts in Los Angeles represents just one success in her lifetime of accomplishments.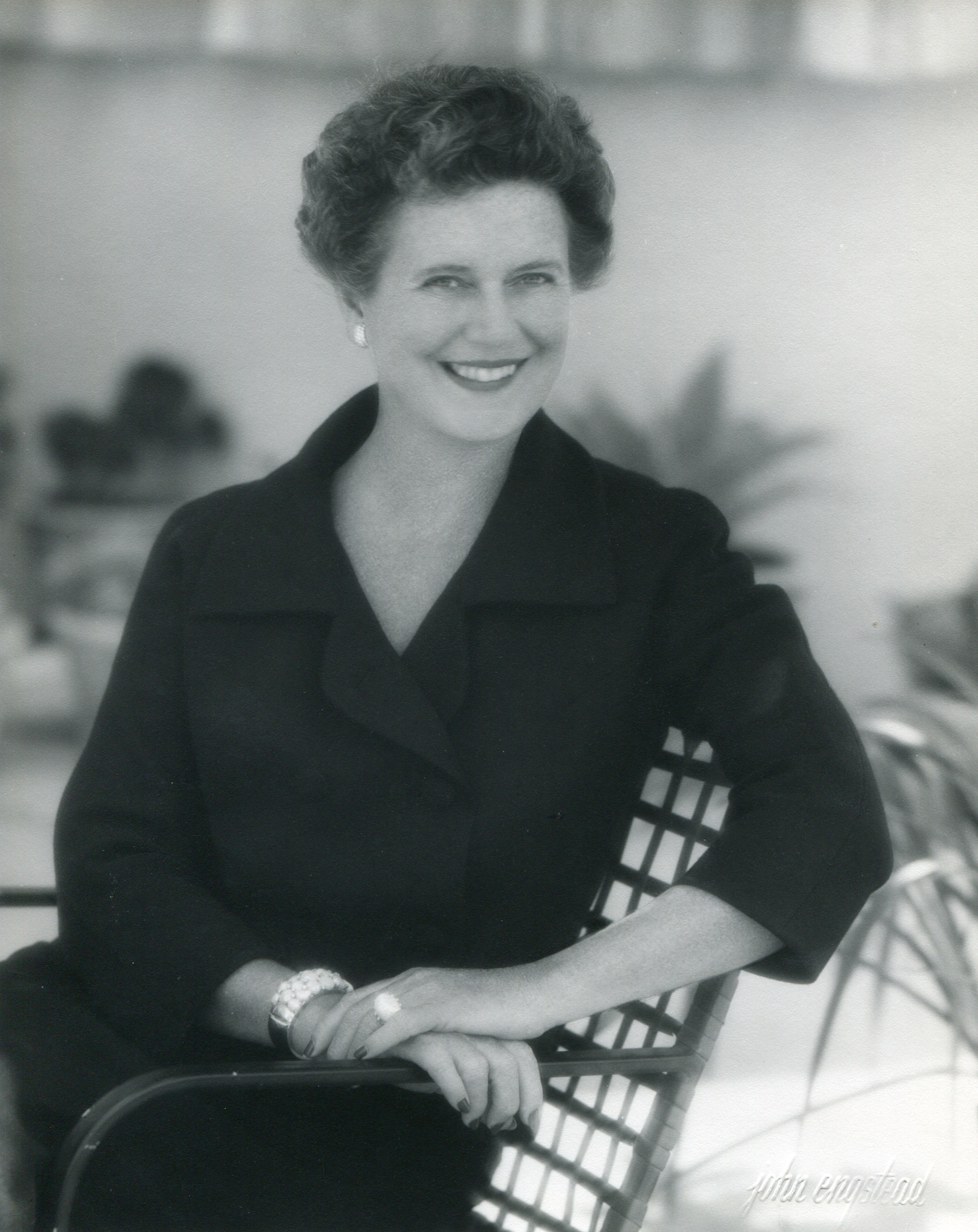 Asked about those accomplishments, she said: "My life wasn't a planned life. It was an organized life in the way I lived it, but I was never playing: I want to be this and I want to be that, and I want to be the head of this, and I want to be the head of that. I just evolved. I'm just what I am by just what I've done."
---
The Hollywood Bowl had been on shaky financial ground for several years when, in 1951, the Bowl's management decided to open the season with an expensive, five-night production of Johann Strauss, Jr.'s Die Fledermaus. Director Vladimir Rosing boasted of 30-foot sets that "will be among the most spectacular ever constructed for the Bowl or for any other stage."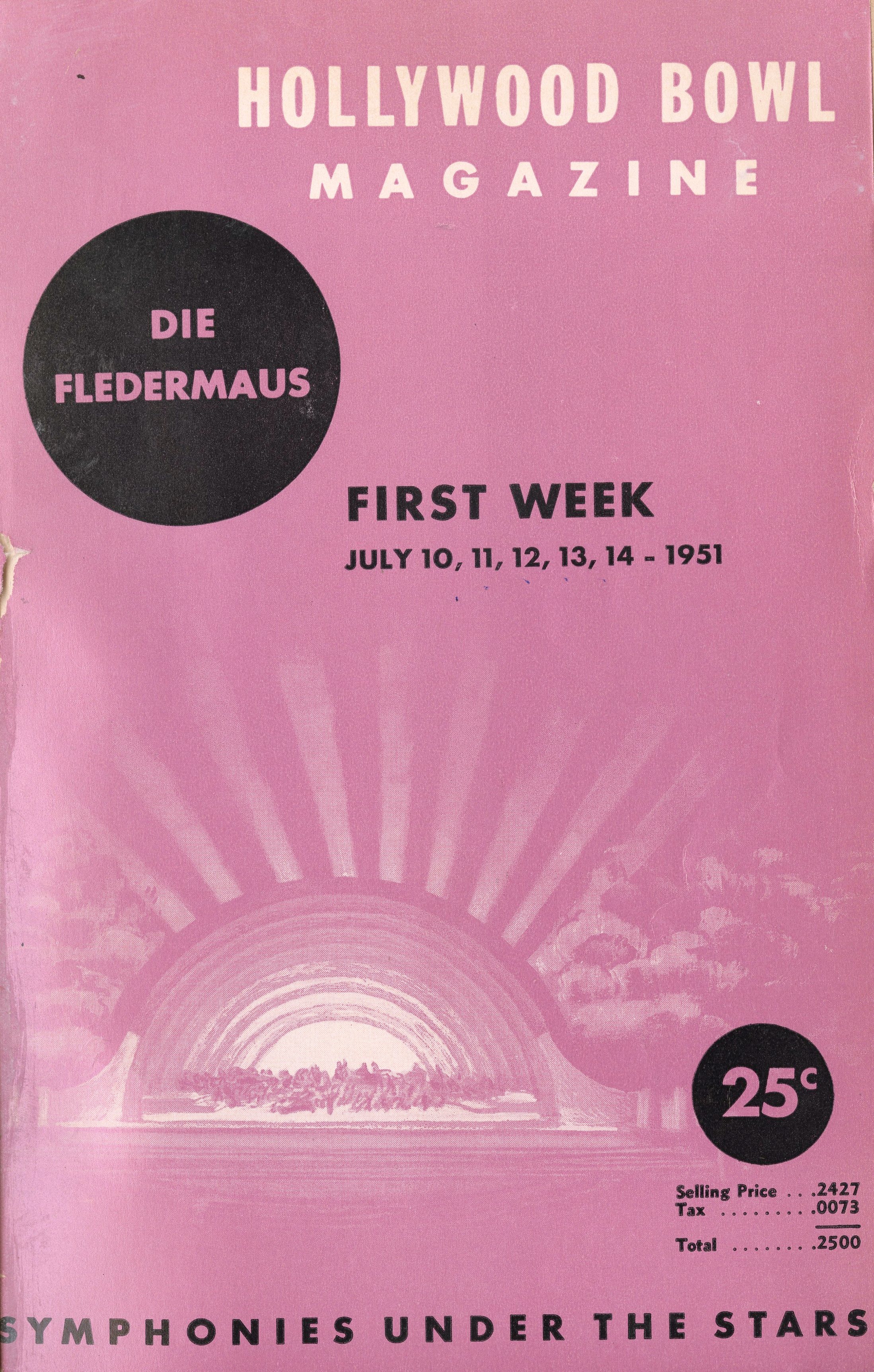 Ticket sales were anemic. Three-quarters of the seats were empty. Mounting debt meant the Hollywood Bowl couldn't pay its artists or staff, and the season had to be suspended. Actor Jean Hersholt (then-president of the Hollywood Bowl Association) and the County supervisors formed an emergency committee. They picked Dorothy Chandler, who'd been on the board for several years, as chair. She leapt into action. Chandler recalled:
"I came into town and stayed at the home of Alfred Wallenstein (he was the downtown music director) for about three nights and days. He had, of course, all these connections. We got on the telephone, and we called every top artist, locally or internationally, that he could get his hands on, and asked them if they would donate their time to come out and do a concert. And so, we had a wonderful response, even [Jascha] Heifetz and [Gregor] Piatigorsky, people like that. They would receive no compensation.
Then I appointed Neil Petree to head a committee to get the public to give the money to pay off $100,000 of the debt, and I organized a women's committee to sell tickets, and we just got the thing going. That started the whole era for the Hollywood Bowl."
Stars donated their time. Articles about the campaign to save the Bowl filled the pages of the Los Angeles Times. Dorothy Chandler had the Hollywood Bowl up and running again in 12 days.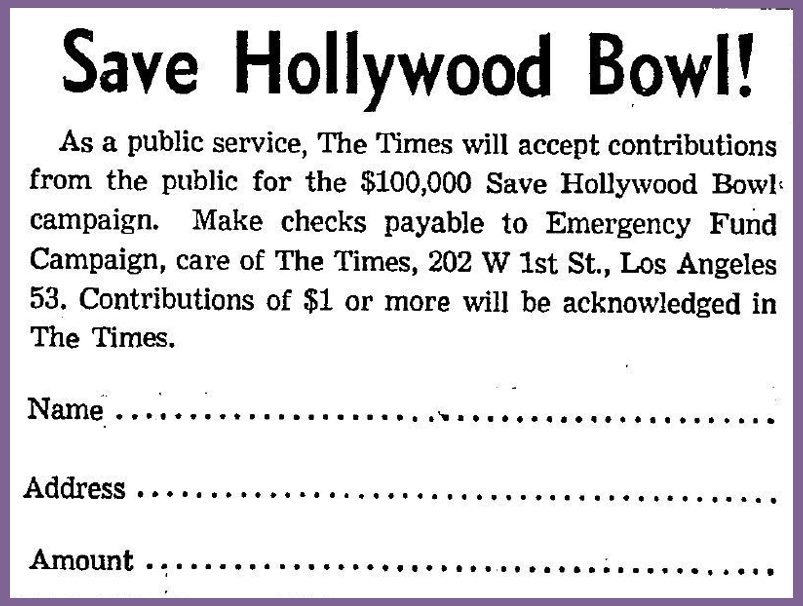 One of the daily fundraising ads that ran in the Times at Chandler's request
Chandler shortly was named president of the Hollywood Bowl Association itself. In that role, she convinced the County Board of Supervisors to assume long-term financial responsibility for the venue, while her corps of volunteers raised money for the programming.
Her leadership ushered in a period of revitalization for the venue after years of neglect dating back to the Depression. In 1952, Chandler appointed a blue-ribbon committee to conduct an extensive study of the Bowl's operations, which became the blueprint for a series of face-lifts. The most striking of them was a reflecting pool and fountain that would be named in her honor.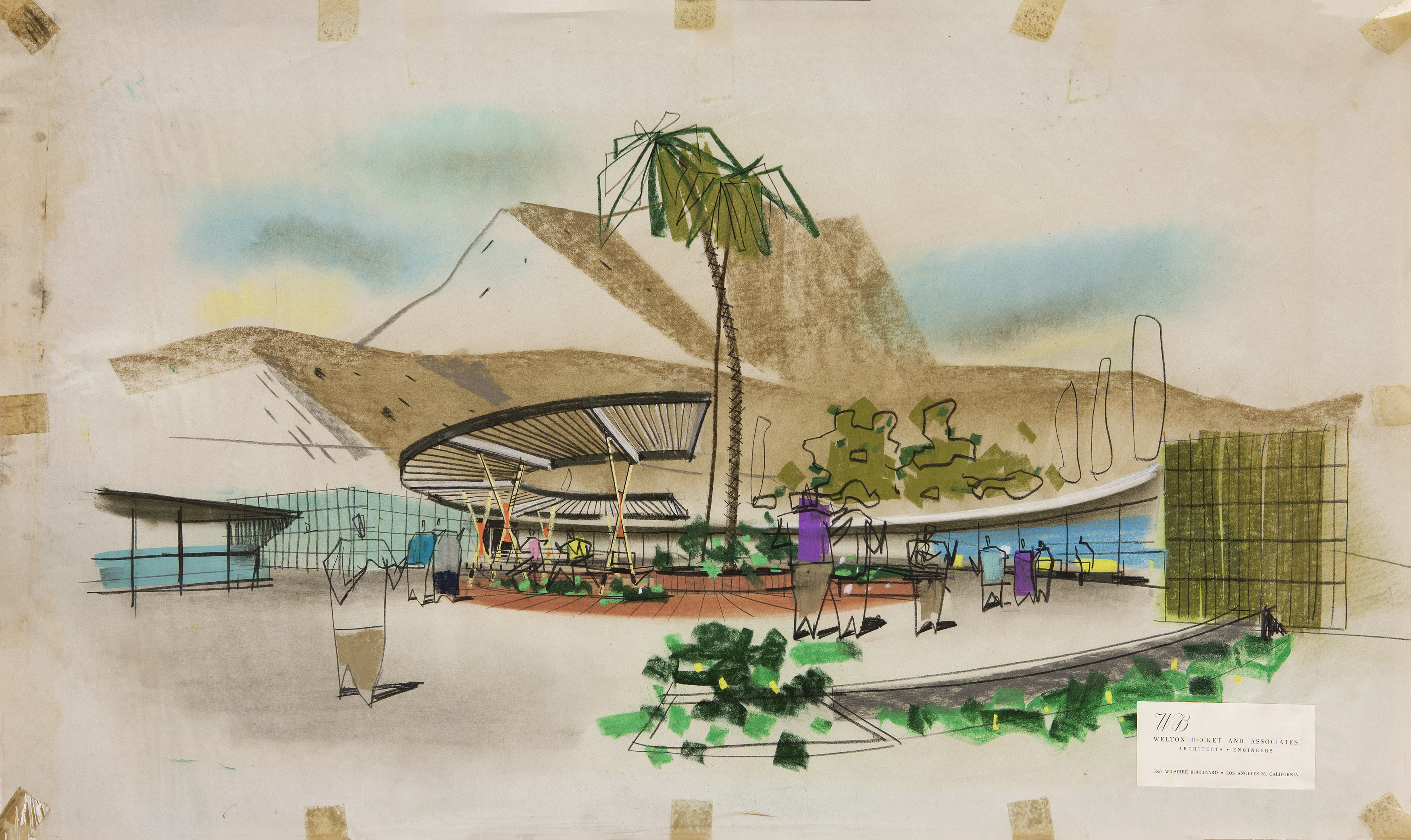 In addition to the physical adaptation of the Bowl, Chandler recognized that the venue needed a new model for management in order to sustain itself. She turned to what she considered the largest untapped market for talent in the city: the thousands of women of Los Angeles who had been historically discouraged from entering the workforce.
A brilliant salesperson, organizer, and leader, Chandler knew that the Bowl's women's volunteer groups had a critical role to play, even as the Hollywood Bowl began to rely increasingly on paid management. In the 1950s, the volunteers formed what could be considered the venue's first marketing department and even took the reins of artistic planning when necessary. Then-Women's Committee President Corinne Frisina recalled, "It was a full-time job. Now that I look back on it, I keep thinking, in those days the volunteers were women who did not necessarily have to work for financial reasons, but we are certainly capable of holding down executive jobs. For the most part, looking back on them, I can see that any number of them could have filled high posts in any business or financial community."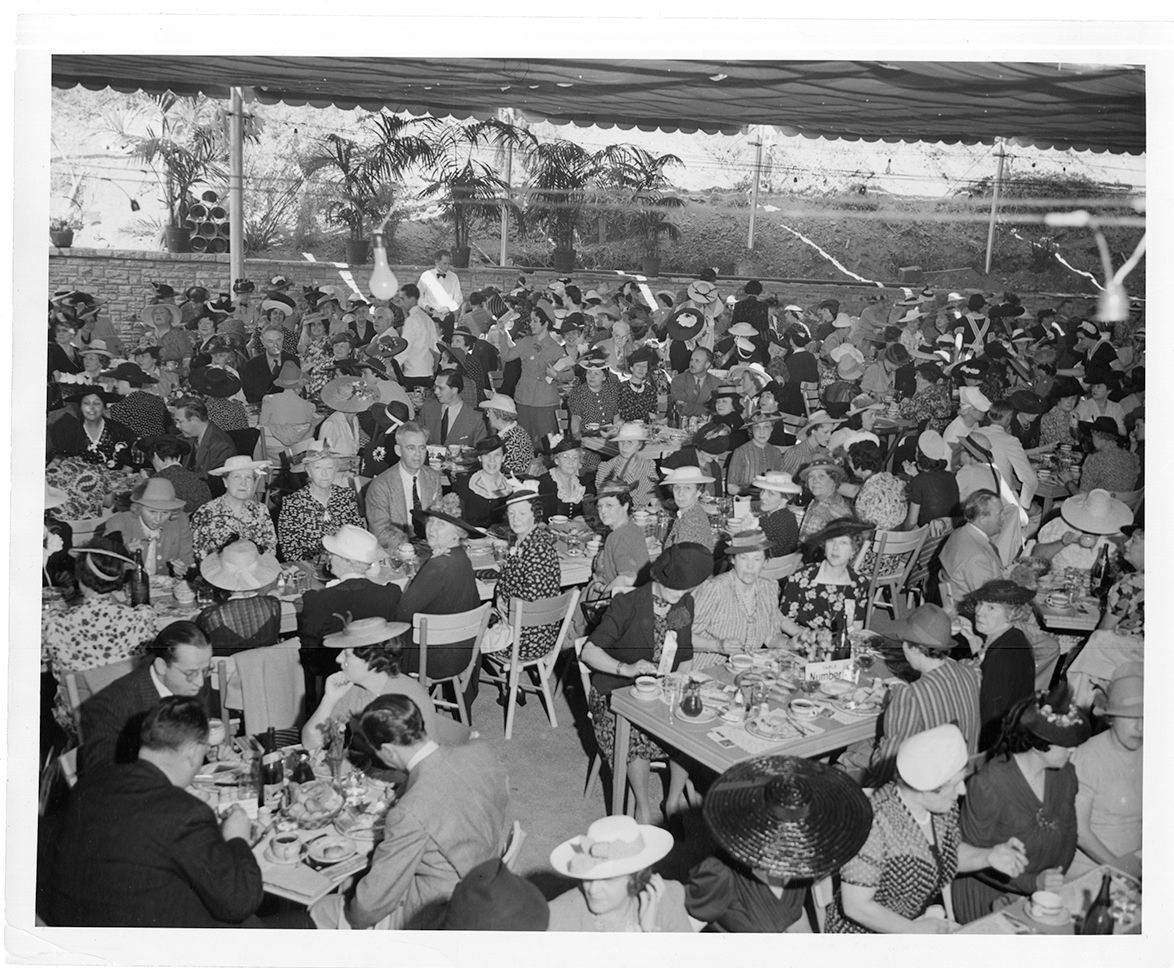 After a decade of leadership, the Bowl was on solid ground—both literally and metaphorically—and Chandler turned to her next challenge. She stepped down from the Bowl's board to become the head of the Los Angeles Philharmonic's board—the Southern California Symphony Association. She headed downtown with one purpose in mind: "to build a home for music."
---
In its second season in 1920, the Los Angeles Philharmonic moved into a temporary winter home—a former Baptist church in downtown Los Angeles which they redubbed Philharmonic Auditorium. Their "temporary" stay lasted 44 years, as city and county leaders failed, year after year, to secure funds for a civic and cultural center for the people of Los Angeles. Committees of powerful businessmen had taken up the task and failed.
Dorothy Chandler did it by herself.
Chandler pushed Los Angeles to create not just an orchestra hall, but a three-venue "Music Center"—one of the largest public performing arts centers in the country. The initial fundraising goal for a new concert hall was $4 million, but in 1961, Chandler persuaded the County to allocate the land for two additional venues. By the grand opening of the Music Center in 1964, Chandler had raised almost $19 million ($146 million in today's dollars) and created a company to float $13.7 million in bonds.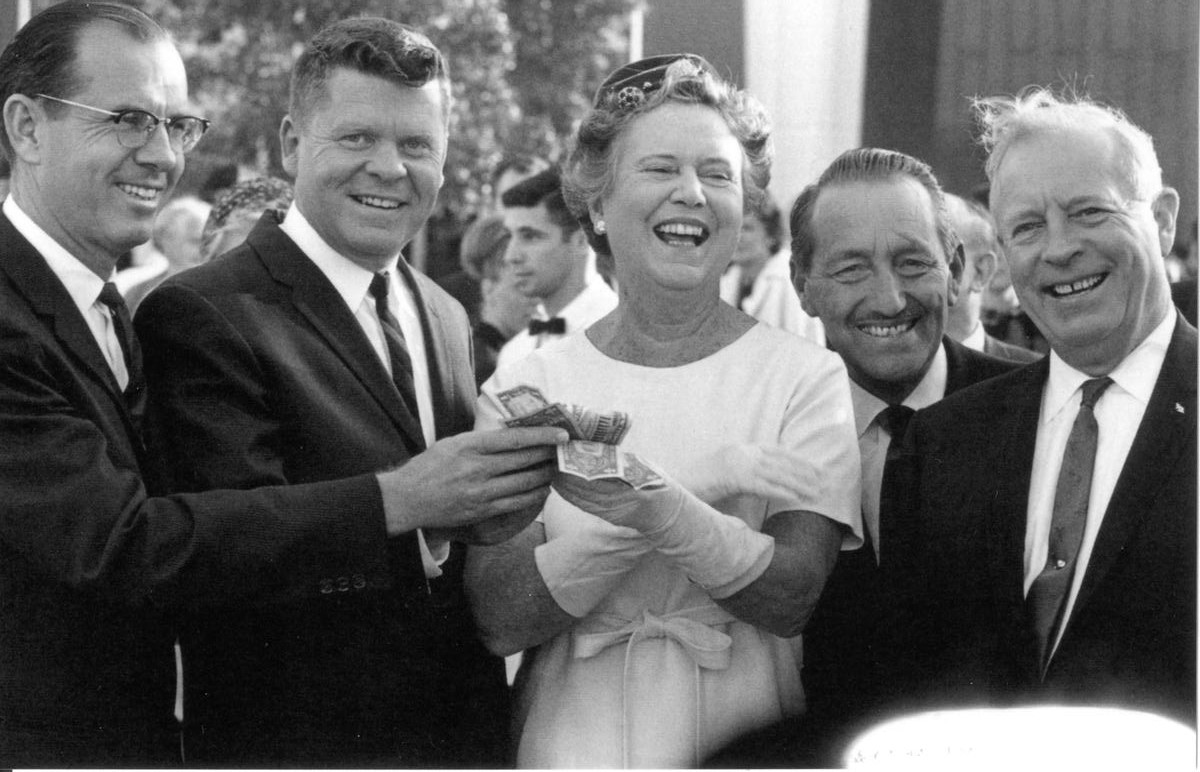 County Supervisor and longtime supporter of the arts Ernest Debs had no doubts about the bonds: "If Mrs. Chandler pledges it, the money is practically in the bank."
Beginning in 1955 and continuing for nearly a decade, Dorothy Chandler managed one of the most successful arts fundraising campaigns in history in support of the Music Center project. Composer Johnny Green called her "the greatest fundraiser since Al Capone." She begged to differ. She was a saleswoman:
"I'm not a fundraiser in the first place. I really am not. I resent being called one. I raised and am raising large amounts of money for the Music Center, but that's because of the conviction in my life of the value of that center and the arts to human beings and to this community... It's a product that I believe in, so, I can sell it. But that's not fundraising. I'm a merchant's daughter, and if I worked in a department store, I'd sell good merchandise that I thought was quality and really work to sell it. It's just merchandising, selling a product and things in which you have conviction."
Her ability to sell music and the performing arts to anyone was crucial to her success. One reason previous Music Center initiatives had failed was because the "old money" and "new money" factions within the city couldn't come together for the common cause of the arts. Dorothy Chandler bridged that gap, most famously between Jewish housing developer S. Mark Taper and financier Howard Ahmanson. Chandler saw their rivalry not as an impediment but as an opportunity: "One wanted to give as much as the other. You had to know when to push and when to shove. It took a lot of understanding, a lot of listening to their personal lives."
Her understanding of donors' motivations and willingness to give was uncanny. Per Chandler, securing a donation required being "at various times a psychiatrist, a psychologist, a marriage counselor, and even a sort of family doctor. You have to know the family situation at all times. Divorce, illness, death—or just a routine change in the family financial situation—can inhibit contribution."
The most frequently told stories about her aggressive fundraising revolve around returning checks she felt were insufficient. Anne Douglas, philanthropist and wife of actor Kirk Douglas, said, "She wrote my husband a letter for some funds, and he obeyed and sent her a $10,000 check. He got the check back with a note: 'Kirk, you can do better.' He sent her $20,000. She did that with everyone."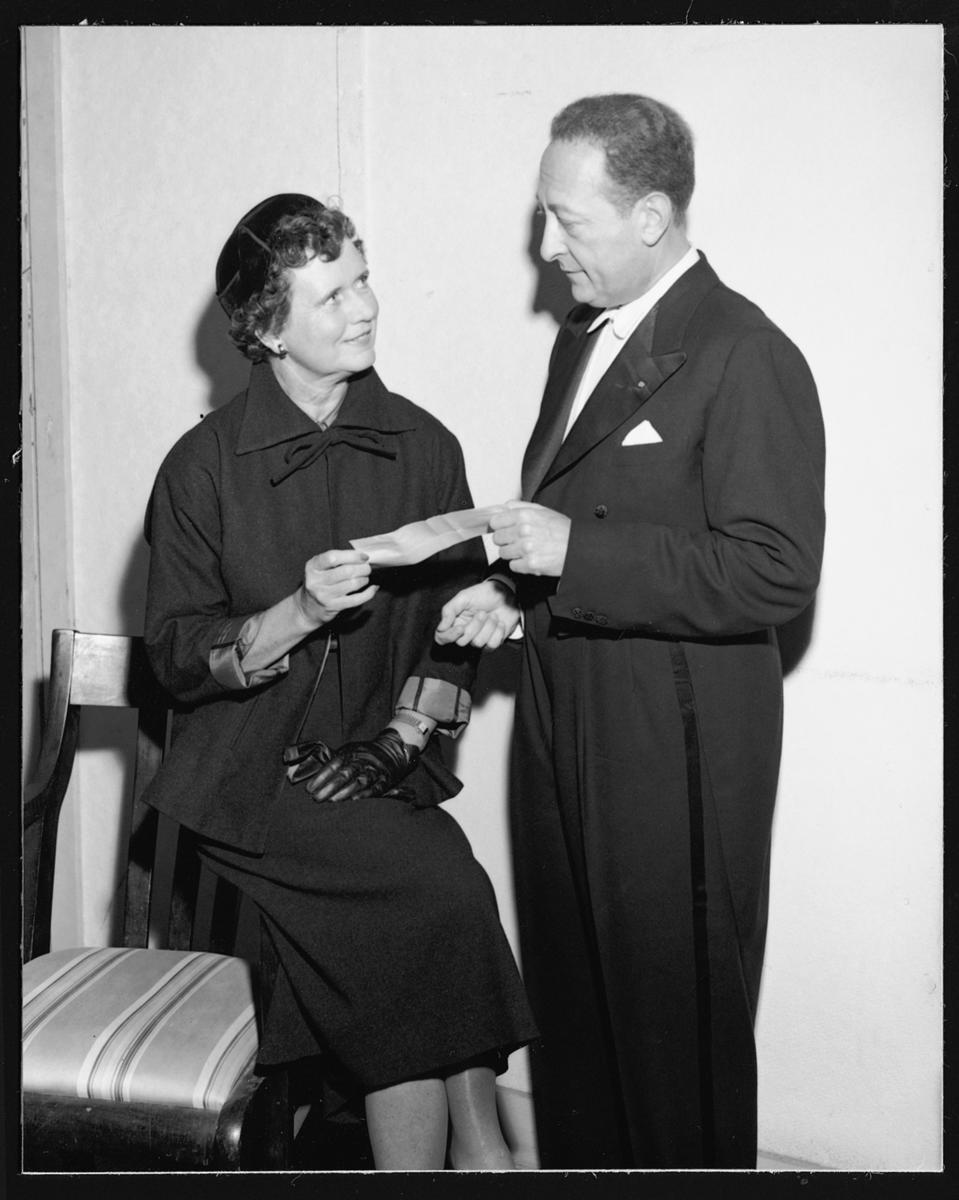 The Music Center was paid for and opened in December 1964. Its star-studded opening made international news and helped Los Angeles take a significant step forward as a cultural center.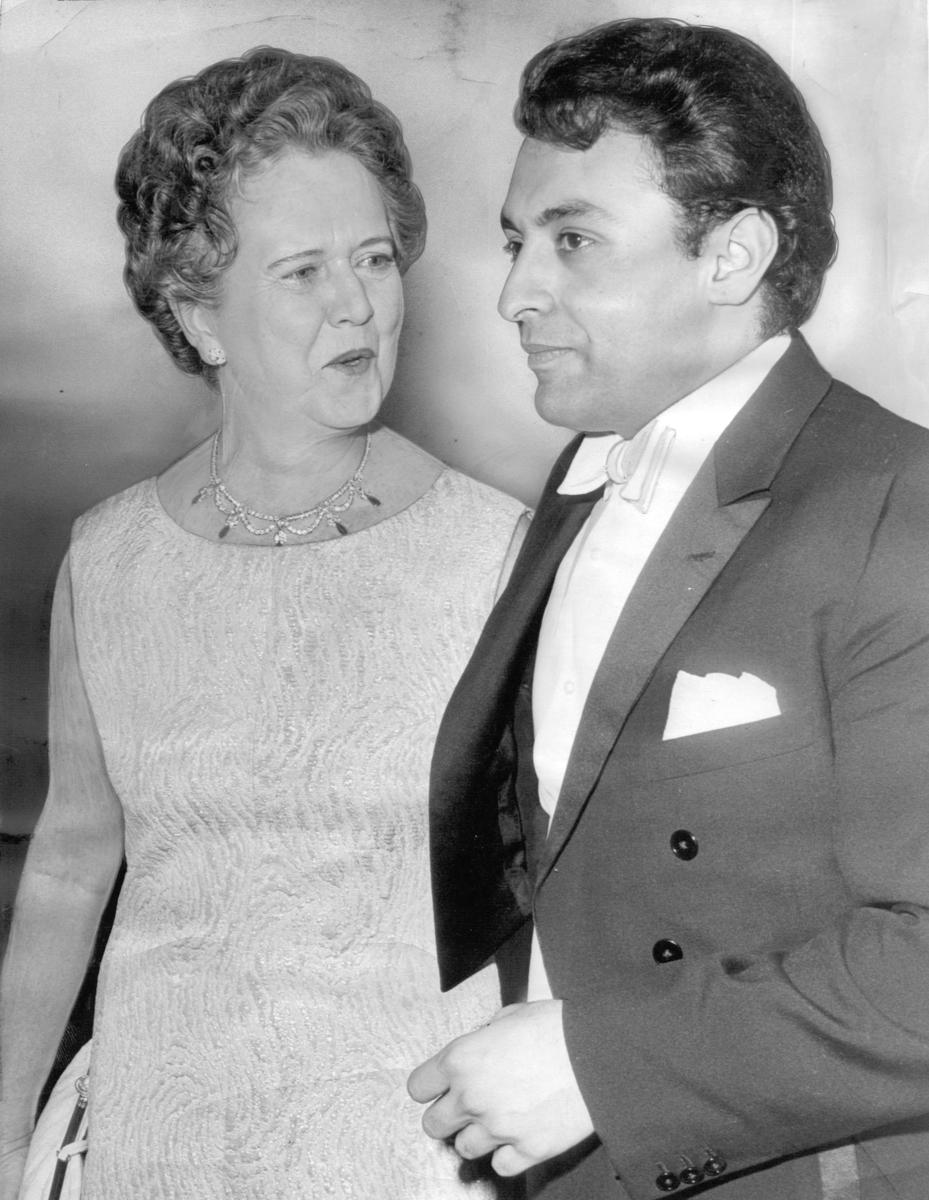 At Dorothy Chandler's insistence, Zubin Mehta was the only person who spoke from the stage that night. His speech was brief:
"Florence had its princes, Egypt had its pharaohs, the City of Los Angeles has this one simple lady and dignified person who has gone about her chores of founding this hall, this very idea, this great edifice, gathering together volunteers with all the phone numbers of all the millionaires. I would now like you to join me in paying homage to this wonderful person who will live on in our hearts, in our graciousness, and our gratefulness. And my colleagues will join me in profusely thanking Mrs. Norman Chandler."
At a post-concert reception, Dorothy Chandler turned the attention away from her accomplishments, saying, "What is important here tonight is not the fundraising or the building that we are in. The only really important thing here tonight is the music we heard performed. That will go on forever."
Within a year, at the insistence of all but her, the name of the Pavilion was changed to the Dorothy Chandler Pavilion. It was the Los Angeles Philharmonic's home for the next 40 years.
---
Chandler's influence over the history and present of the Los Angeles Philharmonic is apparent everywhere you look. The Hollywood Bowl continues to modernize to meet the needs of and remain accessible to Southern California families of all backgrounds. The Music Center remains the winter home of the Los Angeles Philharmonic, though it has moved south into an edifice borne out of the vision, generosity, and determination of a philanthropist cut from the same philosophical cloth as Chandler: Lillian Disney, who gave more than $75 million and fought to champion architect Frank Gehry's design for Walt Disney Concert Hall.
When asked by an interviewer toward the end of her life if she thought of Los Angeles as a "cultural matriarchy," Chandler did not mince words. "Yes, I do. Men were all so glad to have me do all the dirty work. The Music Center never would've been built if men had to do it. No, never would've. The Bowl wouldn't [have] been saved, either. No, women in the best sense of community service or volunteer service, I have found, if they accept a job, and if they are qualified, capable people, they will stay with that job and finish it."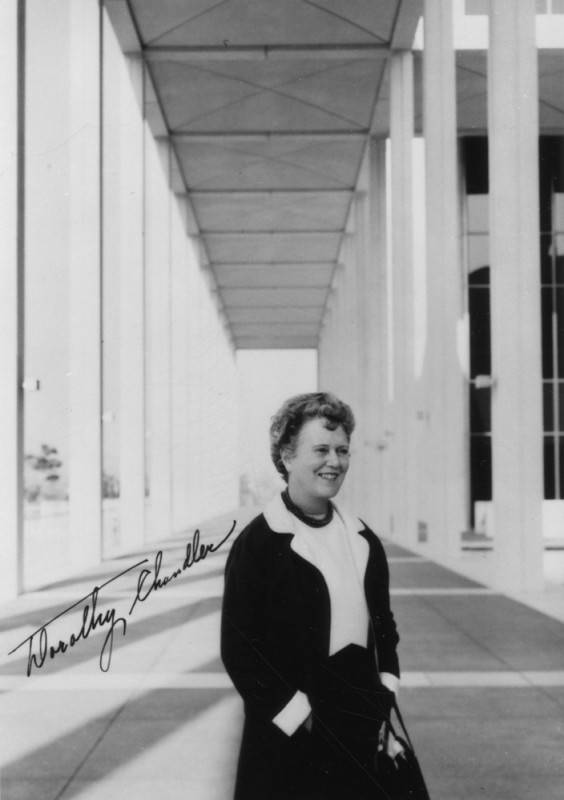 Signed photograph of Dorothy Chandler, standing in The Music Center's plaza
Get Watch & Listen Updates
Join the Watch & Listen newsletter list!