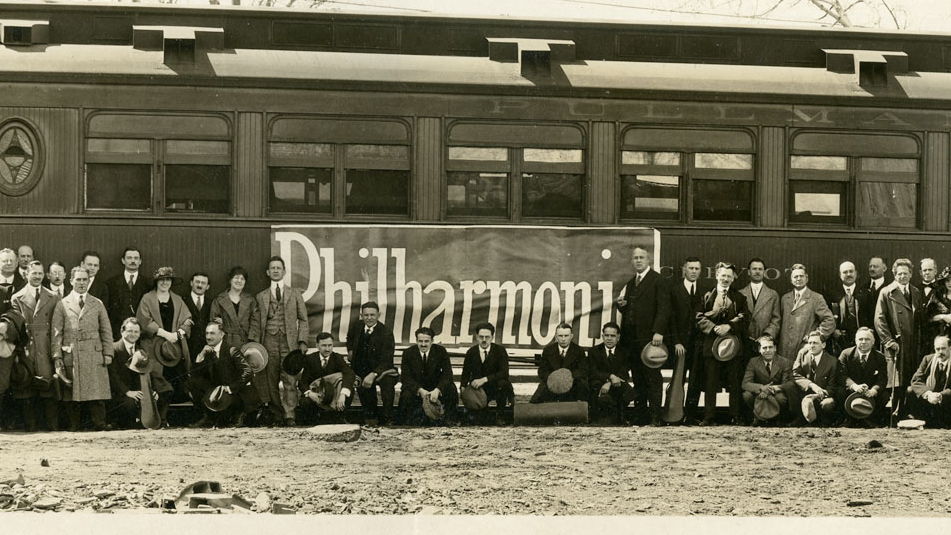 When you hear the stories of the musicians and conductors who have traversed the globe with the LA Phil, the importance of touring becomes remarkably clear.
This month's Centennial Reflections highlights three transformative tours in our history: our first tour across the western United States in 1921, our first international tour to Asia in 1956, and our first – and most ambitious – global tour, a trek that spanned 23 cities and 12 countries, and changed the sound of the LA Phil forever.
The Los Angeles Philharmonic Express
After the completion of its second season in 1921, the LA Phil took the show on the road. Orchestra founder and benefactor William Andrews Clark, Jr. funded a tour, which included 33 concerts in cities from Bakersfield, California to his hometown of Butte, Montana, where a reporter called it "one of the most memorable artistic treats accorded the mining city."
Rather than booking hotels, Clark engaged an entire train consisting of sleeping cars for the men, baggage cars for instruments, and a dining car, as well as private cars for himself, the conductor, the assistant conductor, the librarian, and management.
The tour was a whirlwind. The train pulled into the city's station sometimes less than half an hour before show time.
Philip Kahgan, Principal Violinist:
"I was on that tour, and we worked for seven weeks. We had our own train, we went all over, we went to Canada, Vancouver, and Washington, and Wyoming. It was fun. But it is hard; we slept on the train mostly, all the time. We came into a small town in Colorado for an afternoon concert, and there were very few people in the auditorium. It was the matinee. And Clark came in and looked at the audience, he says to the management, 'Give everybody the money back,' and he says, 'Fellows, let's go on to Colorado Springs and take a bath.'"
Get Watch & Listen Updates
Join the Watch & Listen newsletter list!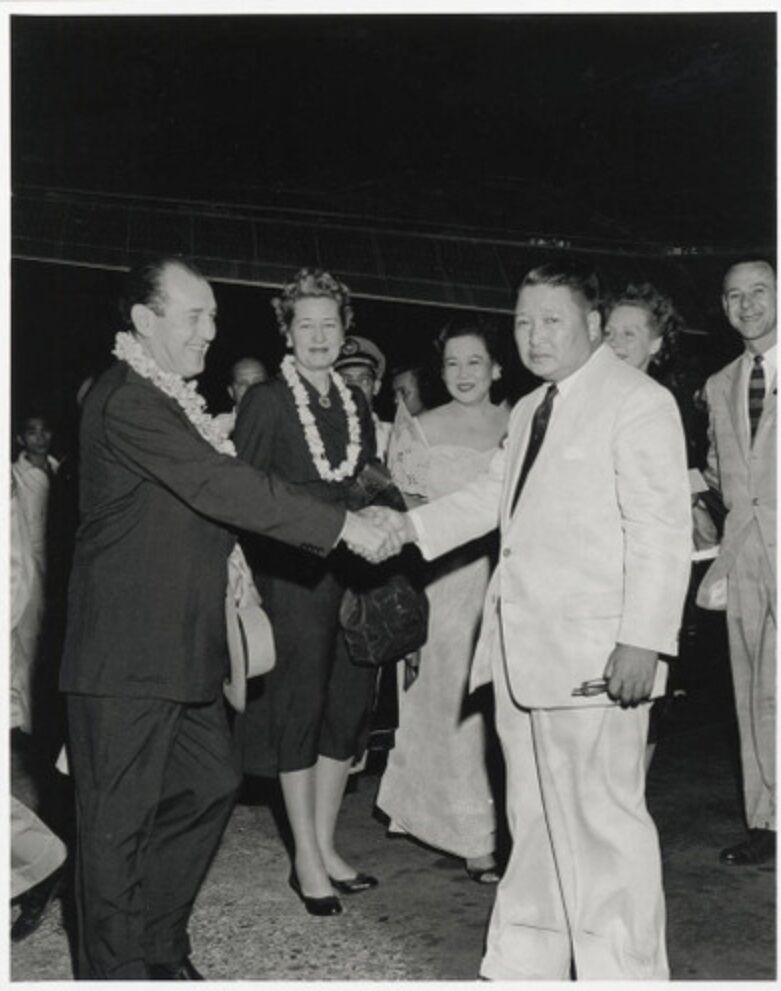 "A Sense of Unusual Responsibility"
The LA Phil didn't leave North America until 1956, when the U.S. State Department sent it on a Goodwill Tour, an international cultural exchange program established by President Dwight D. Eisenhower.
Communist propaganda against the West asserted that Russia had a great tradition of composers and conductors, but that Americans were puritanical philistines without appreciation for high art or culture. Eisenhower sent the LA Phil and its then-Music Director Alfred Wallenstein on a 10-week, 12-country tour of Asia to dispel the myth. Wallenstein – the only U.S.-born conductor of a major orchestra at the time – put the work of an American composer on every one of the tour's 60 programs.
The first stop on the Goodwill Tour was Manila, where the conditions were more sultry than swanky. Pianist Shibley Boyes wrote an illustrated tour diary:
"We rehearsed this afternoon in Mapua Hall, where all six of the Manila concerts will be given, and got our first real taste of the pools of perspiration we will be playing in from now on! Large ceiling fans moved the air, but they could not change its temperature. Yet, after the first few hours one finds oneself accepting this constant humid warmth as a matter of course. This is a happy discovery in view of the fact that we probably will not be dry again for weeks! Personally, I thought we played superbly, and that Wallenstein was in his finest form. We were highly keyed, and I am sure that all of us shared a sense of unusual responsibility."
Ultimately, the tour was a success and provided a happy conclusion to Wallenstein's 13-year tenure as music director. A U.S. Army division stationed near the North Korean–South Korean border built a mock Hollywood Bowl in six weeks expressly for the LA Phil. The shell was named the Wallenstein Bowl.
They Came Back an Orchestra
108 musicians. 41 concerts. 12 countries. 23 cities. 20,000 miles. 23,000 pounds of instruments, wardrobe, and luggage. In 1967, Music Director Zubin Mehta (age 31) and pianist André Watts (age 21) led the LA Phil on their most ambitious world tour – then or since.
Boyes wrote in her diary:
"We were deeply one. Music itself, the concerts, our reception in every country, the desire to be worth the money and energy expended - plus pride in our own achievement and that of our phenomenal conductor, Mehta; these galvanized us into complete unity of spirit, and I can honestly say we traveled the world as an integrated and proud family."
After performing all across western Europe, the LA Phil became one of the first American orchestras to travel behind the Iron Curtain, six years after the Berlin Wall was erected. The tour couldn't proceed into the U.S.S.R. itself as Mehta had offended Russian diplomats at a cocktail party, when he brazenly thanked them for expelling so many talented musicians who now performed in his other ensemble, the Israel Philharmonic Orchestra. Instead, the LA Phil proceeded to Turkey, Cyprus, Greece, Iran, Israel, and finally, India, where Mehta made a triumphant return to his home country after a 14-year absence.
Zubin Mehta:
"I will never forget my first concert in my hometown of Bombay in 1967. It was the first time that I had gone back to Bombay, and we were welcomed royally. We played Tchaikovsky's Fourth Symphony. The visit was all the more joyful because it coincided with the annual Hindu festival of Diwali. We could hear the traditional firecrackers all through Mahler's First Symphony. Everyone had a great time. For the musicians, perhaps, it was just another concert. But for me it was very special."
Late LA Phil Board Member Dudley Rauch – one of the orchestra's strongest champions – had recently become an LA Phil subscriber in 1967. In the orchestra's first concerts back in Los Angeles following tour, Rauch noticed immediately a newfound cohesion among the orchestra's musicians.
"They went away a mob, and they came back an orchestra," Rauch said.