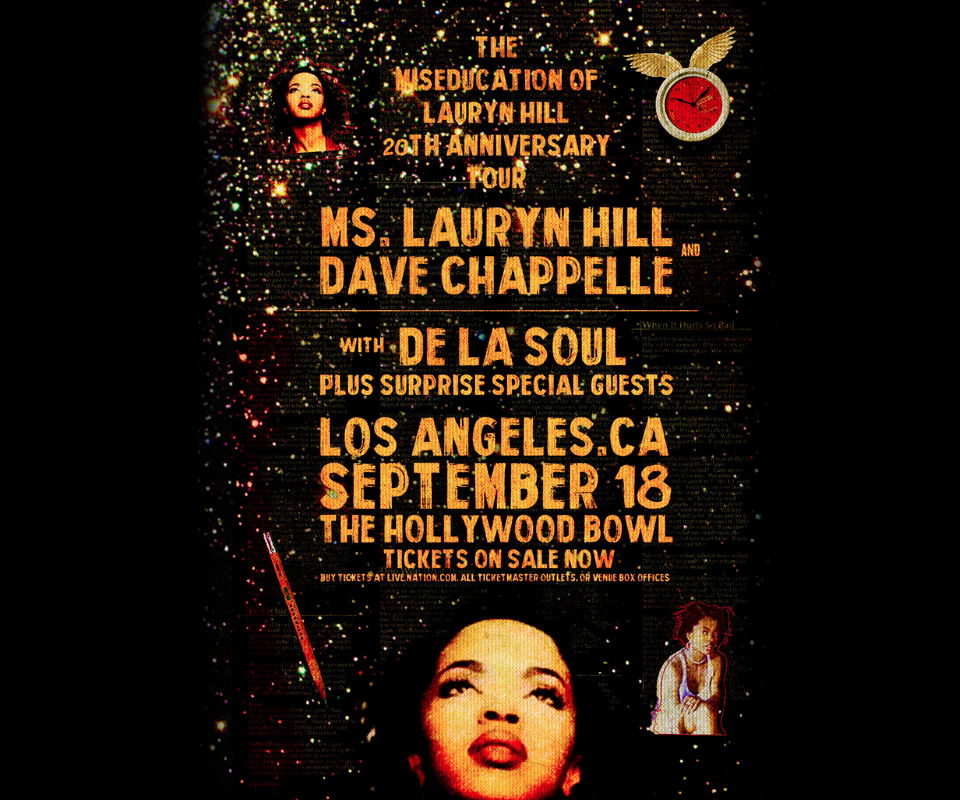 Ms. Lauryn Hill and Dave Chappelle
Tue / Sept 18, 2018 - 7:00PM
No Longer Available
LIVE NATION | ANDREW HEWITT | BILL SILVA PRESENTS
About this Performance
Multi-platinum artist Ms. Lauryn Hill rose to prominence with The Fugees and took the world by storm two decades ago as a solo artist with The Miseducation of Ms. Lauryn Hill. Singles including "Doo Wop (That Thing)" and "Everything Is Everything" catapulted her to superstardom, ultimately lauding her with ten GRAMMY® nominations and five GRAMMY® Award wins.
Ms. Hill uses her platform to raise money and awareness for frontline charity initiatives through touring.  A portion of the ticket sales go towards the MLH Foundation, which directly contributes support for education, health, agriculture, technology, and community based businesses and development initiatives throughout the Diaspora. Your contribution will be put to use through donations made from ticket sales to support community building worldwide.
This is a strict NO CELL PHONES ALLOWED show. No Cameras or recording devices will be allowed. Upon arrival, all phones and smart watches will be secured in Yondr pouches that will be unlocked at the end of Dave Chappelle's set. Guests maintain possession of their phones throughout the night, and if needed, may access their phones at designated Yondr unlocking stations. Anyone caught with a cell phone in the venue will be immediately ejected. We appreciate your cooperation in creating a phone-free viewing experience.
In an effort to ease cut-through traffic by mobile app and ride share users, the Hollywood Bowl in cooperation with LA City Officials, will implement street closures taking place on this concert. Closures will be in place between 5pm and 10pm. Closures include: Camrose at Highland Milner at Highland NO VEHICLE ACCESS TO/FROM HIGHLAND AVENUE WILL BE ALLOWED THROUGH THESE POINTS INCLUDING RESIDENTS During the full closure of these two segments, all traffic (excluding emergency vehicles) will be restricted in/out of Camrose and Milner at Highland, including residents. Area residents will need to enter their neighborhoods from Franklin Ave (or other entry points). Several alternative entry points into the neighborhoods will be staffed, and signage will be posted indicating "NO ACCESS TO HIGHLAND AVE, LOCAL ACCESS ONLY". Utilizing Resident Placards will ease in passing through alternative access points.
Programs, artists, dates, prices, and availability subject to change.