Summer Nights: Jazz at the Bowl
Summer Nights: Jazz at the Bowl took nearly 19,000 patrons on a journey through the history of jazz performance at the Hollywood Bowl from the earliest days of the swing era through the modern age, as jazz - and all its tributaries - is globally embraced and recognized as an original, and originally American, art form.
With a selection of audio recordings from the Los Angeles Philharmonic Archives, this exhibition showcased the instrumental, solo and festival manifestations of the genre.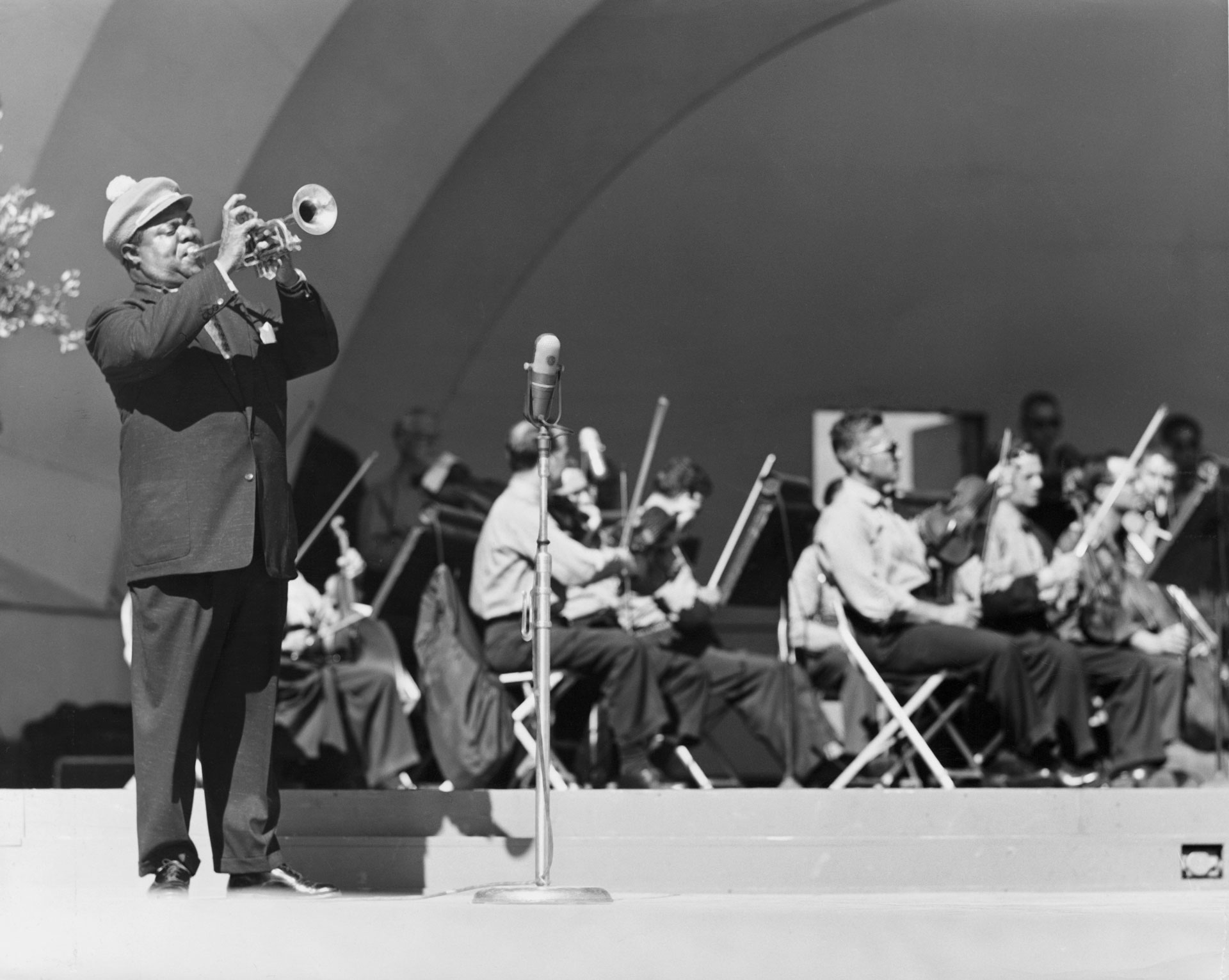 Early Years
---
In the 1950s, Louis Armstrong was lauded as one of the most influential jazz soloists and cultural ambassadors of the era. In 1954, he performed "The Whippenproof Song" on The Colgate Comedy Hour - the first live telecast from the Hollywood Bowl.
Photo credit: Bettmann/Getty Images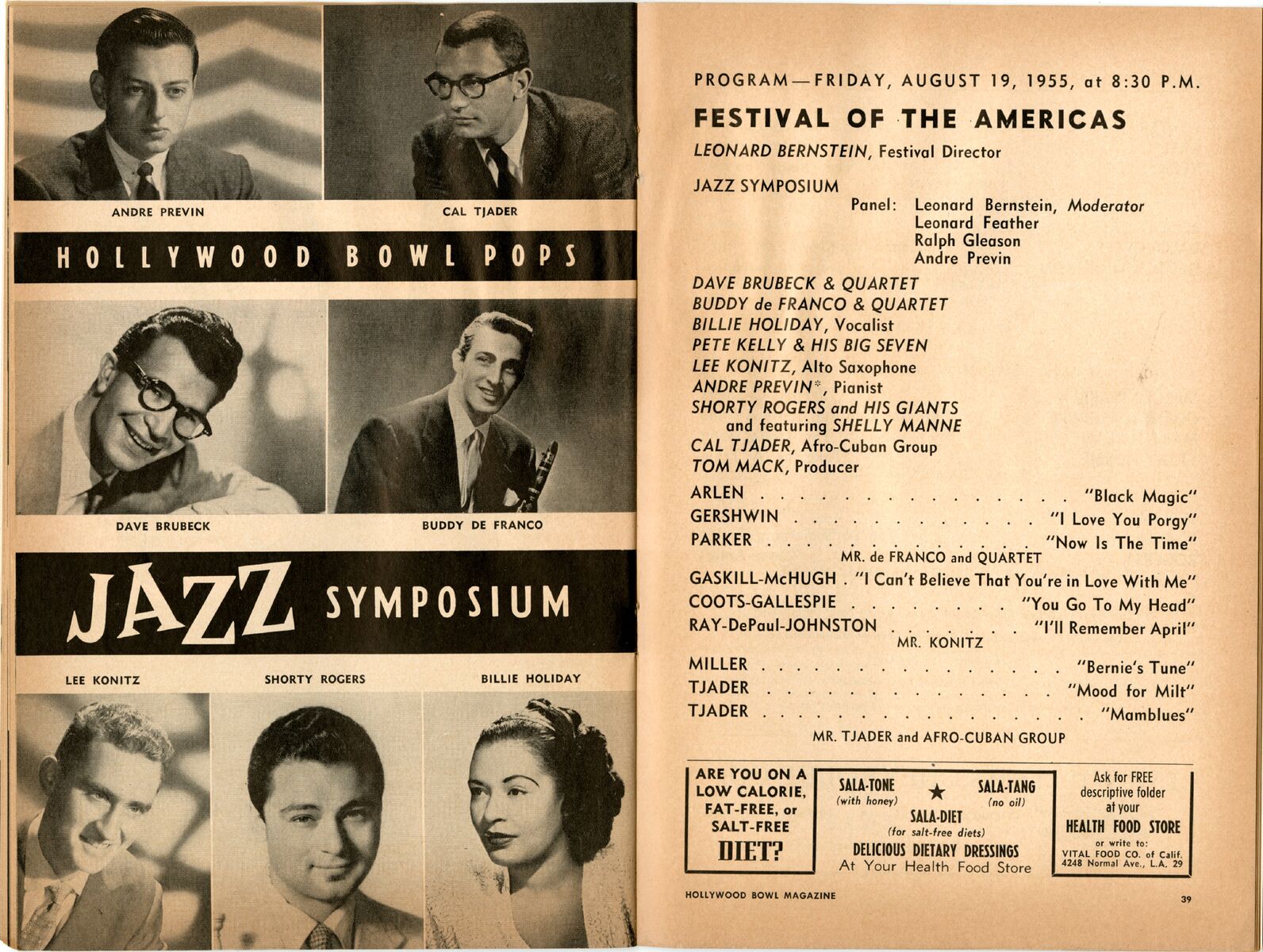 In 1955, Leonard Bernstein produced a week-long "Festival of the Americas," described in the press as Los Angeles' first major music festival. The fourth of the five concerts began with a jazz symposium moderated by Bernstein, with André Previn. The remainder of that evenings concert included performances by: Billie Holiday, Dave Brubeck, Cal Tjader, Buddy DeFranco, and Shorty Rogers.
Photo credit: Hollywood Bowl Museum Collection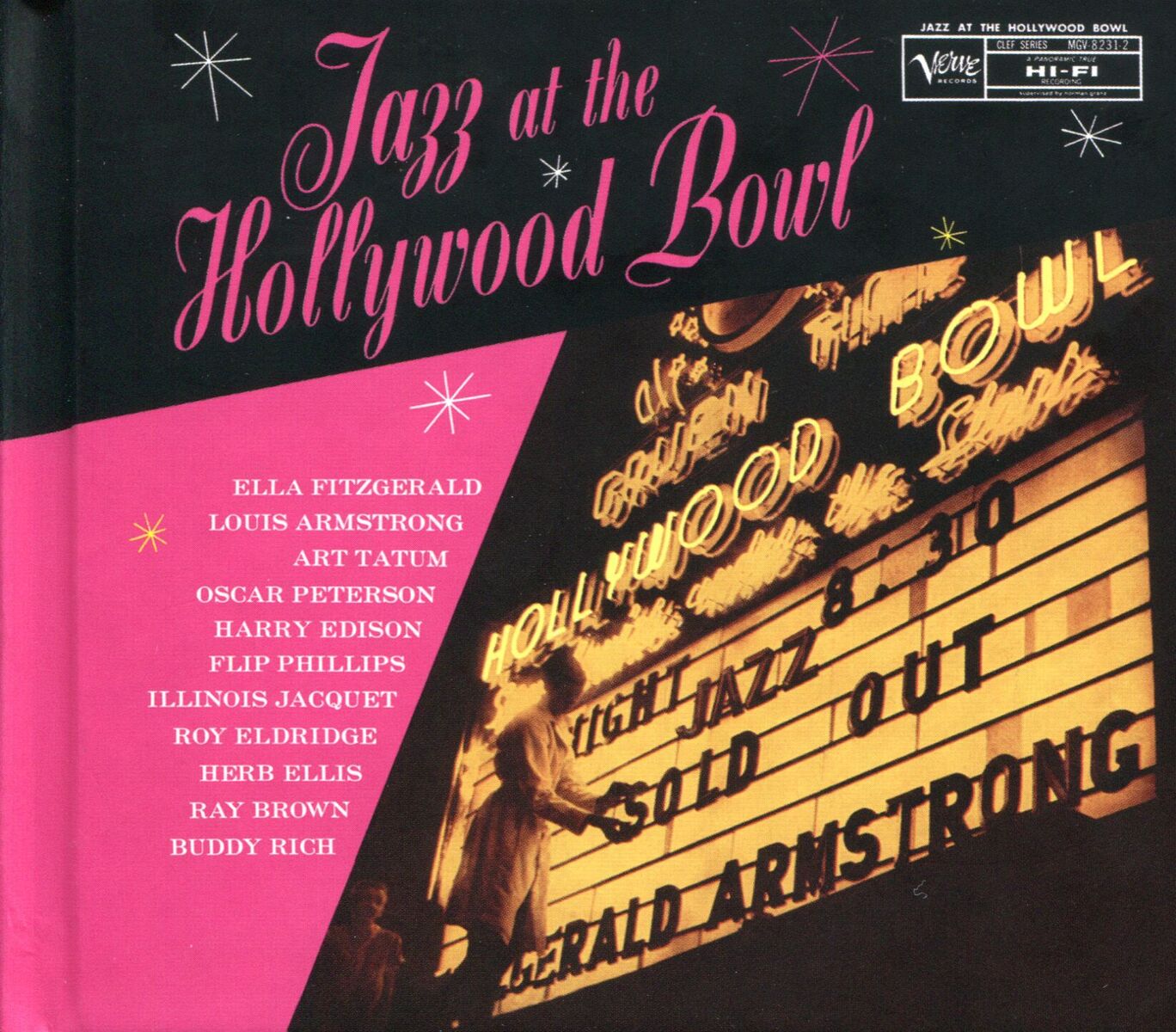 In 1956, jazz entrepreneur Norman Granz produced a blockbuster concert at the Bowl based on two elements: his pioneering Jazz at the Philharmonic touring shows, and new addition to his Verve record label, Ella Fitzgerald. Joining them was Oscar Peterson and his trio, plus Art Tatum for a solo set and Louis Armstrong with his own orchestra. Granz originally issued a double LP recording from the concert, that didn't include Armstrong's set. However, the 2011 double CD reissue from Verve included all the performances in original concert order.
Photo credit: Verve Records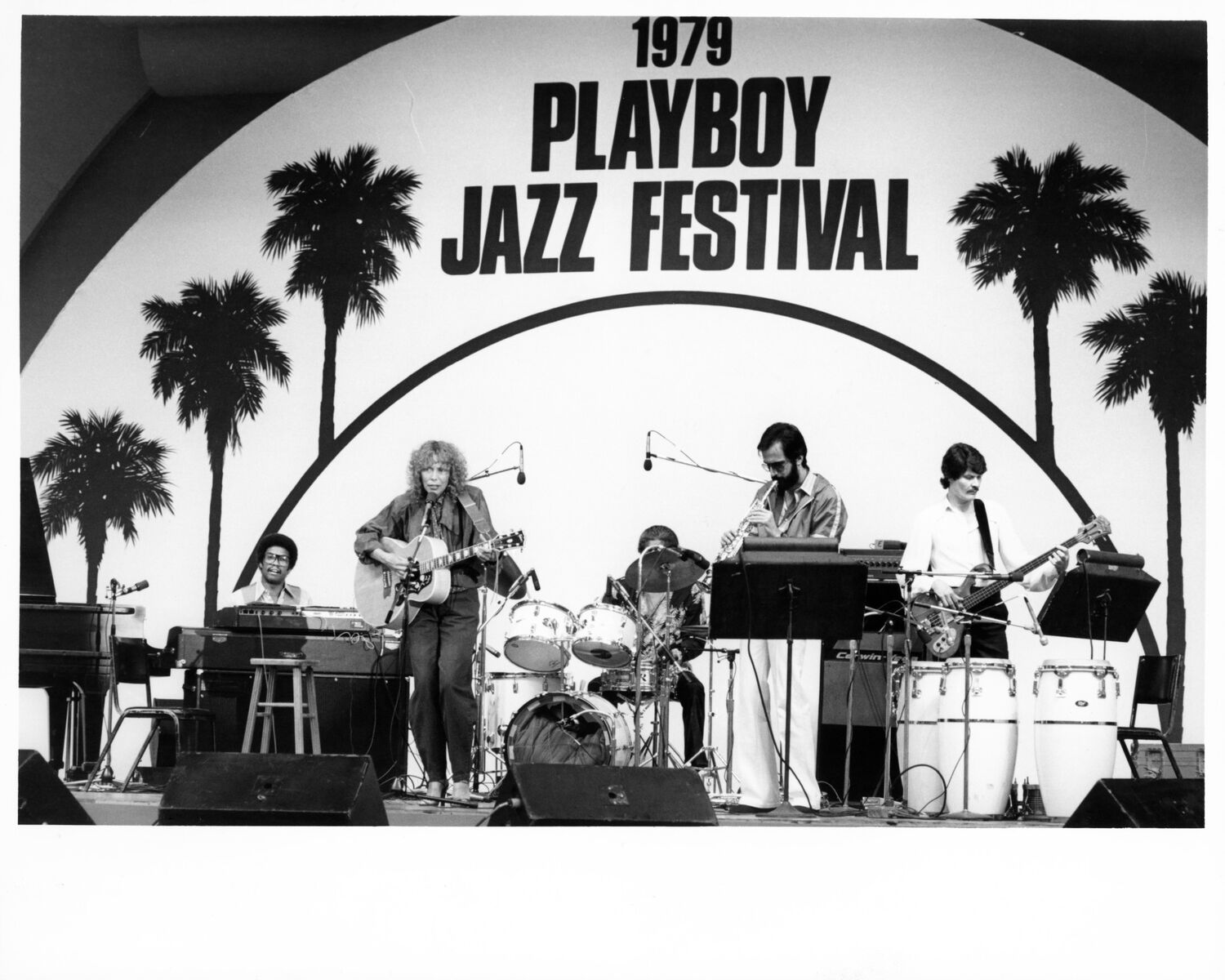 Playboy Jazz Festival
---
Hugh Hefner founded the Playboy Jazz Festival at Chicago Stadium in 1959, but the second festival didn't take place until 20 years later at the Hollywood Bowl, when producer George Wein launched the first Left Coast edition to mark the 25th anniversary of Playboy.
Photo credit: Hollywood Bowl Museum Collection
Jazz Series
---
In 1980, the Jazz at the Bowl (JATB) subscription series began. The format gave the Los Angeles Philharmonic an opportunity to present musicians in complete sets. Since the series' inception, more than 250 concerts have been presented.
Photo credit: Hollywood Bowl Museum Collection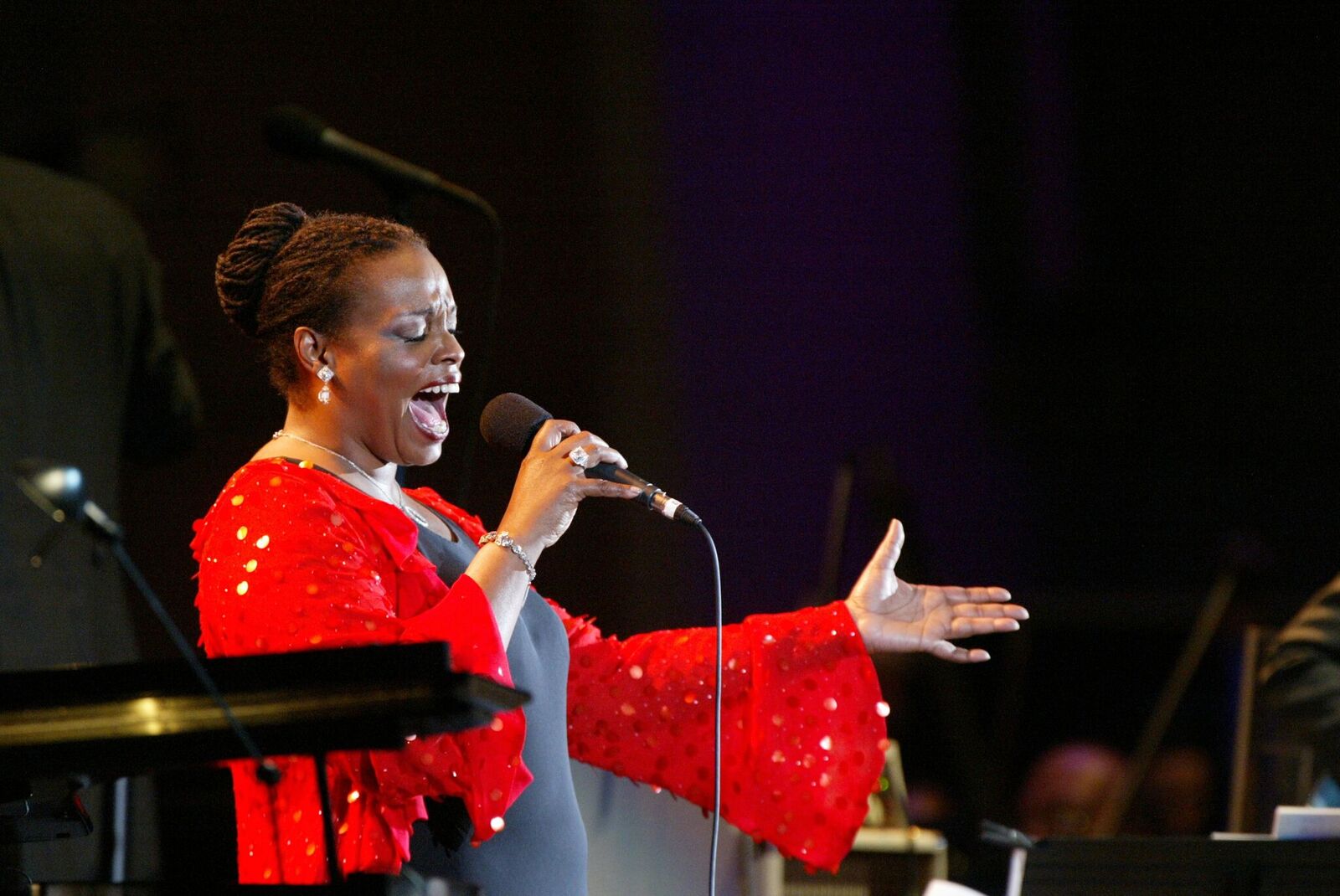 William Powers & Carolyn Powers Creative Chair for Jazz
---
The presentation of jazz in Los Angeles received a major boost when the Los Angeles Philharmonic inaugurated the William Powers & Carolyn Powers Creative Chair for Jazz in 2002. This move was inspired by plans for a regular jazz series at the new Walt Disney Concert Hall, but its impact was first felt at the Hollywood Bowl that summer. Dianne Reeves held the position from 2002-2006, Christian McBride from 2006-2010, and Herbie Hancock from 2010-2021.
Photo credit: Craig T. Mathew/Mathew Imaging