Hollywood Bowl Subscription Packages
Subscribers who renew their subscription packages by December 15 receive a Hollywood Bowl tote bag made from upcycled Hollywood Bowl banners. Each bag is one of a kind. After the December 15 deadline, we cannot guarantee subscription seat locations.
Permalink
We're delighted you're joining us this summer at the Bowl. Subscription packages to the Hollywood Bowl are now available. Renewing subscribers may login to their account to renew their package. If you are a new subscriber, you may select your own subscription seats and purchase your subscription package online through the following steps
Visit hollywoodbowl.com/subscribe and select the subscription package you wish to purchase
Click the BUY SUBSCRIPTION button at the top of the page.
Select the number of seats and section you wish to purchase and click CONTINUE
Review your seat selection. If you would like to change your seats, please add new seats and remove your previously selected seats. Press CONFRIM SEATS
Review your order carefully and confirm that you have the correct amount of seats and locations. Then, accept the Conditions of Sale and press Checkout.
Complete your payment information.
Permalink
After renewing or purchasing a subscription, subscribers may purchase tickets to special concerts immediately by logging into their account— the July 4th Fireworks Spectacular, Smooth Summer Jazz, and Movie Night. Subscribers can add on additional concerts from the season beginning March 12 at 10:00am.
Permalink
Ticket Information
The Hollywood Bowl does not have any official relationship with third party ticket resellers. If you purchased your tickets from a third party ticket reselling channel, contact your original point of sale for their ticket protocols.
Permalink
All sales are final, meaning that there are no exchanges and no refunds. If you find that you are unable to attend a concert that you purchased tickets for, you are free to give those tickets to a friend or acquaintance (instructions on how to share your tickets may be found here) or donate the tickets back to the LA Phil
Permalink
Digital Tickets
You may view your ticket information by logging into your account at hollywoodbowl.com using the email address used to purchase the tickets at anytime. If you paid with Paypal or Apple Pay, and account was created using the email address associated to your Paypal or Apply Pay account.
Step by step guides at hollywoodbowl.com/digital-tickets include photos that show how to use the different options to access and manage your tickets. For easy one touch entrance into the Bowl, we recommend adding your tickets to your Apple Wallet or Google Pay wallet. You may do this on your phone through the website or the Hollywood Bowl app.
Permalink
When you purchased your tickets, an account was created for you. If you have not logged into your account before, click LOG IN in the upper right corner and then click Reset Password to update your password and access your tickets.
Remember, you'll need to log in with the email used to purchase tickets. If you purchased tickets using Paypal or Apple Pay, the email on account is the primary email associated with Apple Pay or Paypal.
Permalink
To aid in accidentally duplicating tickets, a ticket may only be accessed by one individual at a time. If you wish to access tickets that were shared, you may unshare them to access them. There are step by step guides on how to unshare tickets at hollywoodbowl.com/digital-tickets.
To unshare tickets:
1. Log in to your account.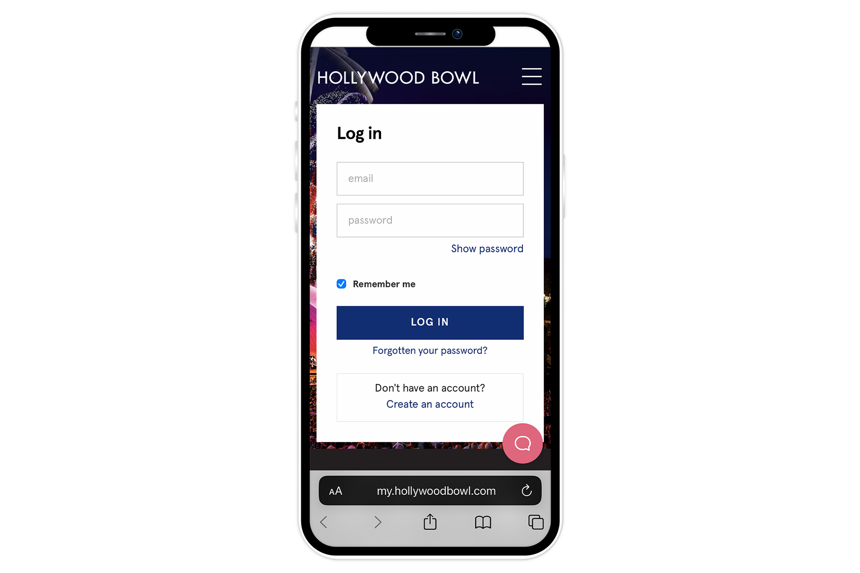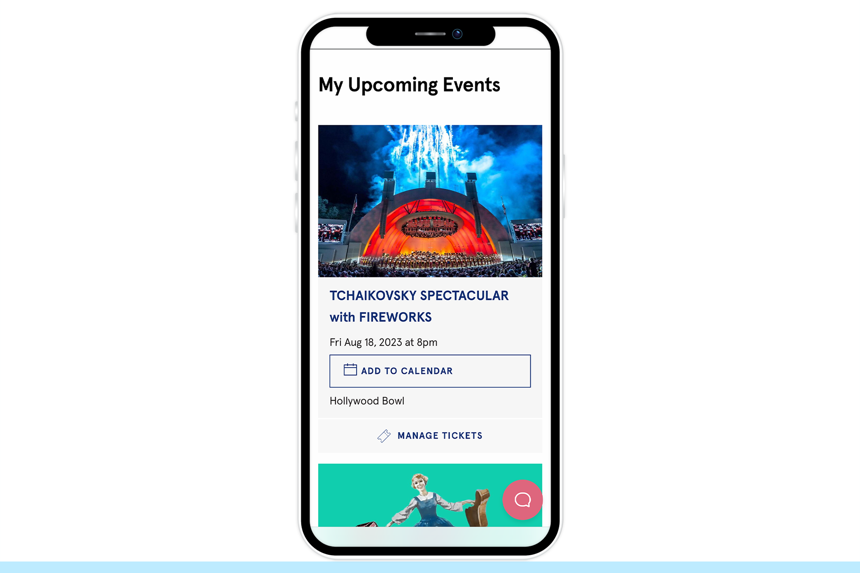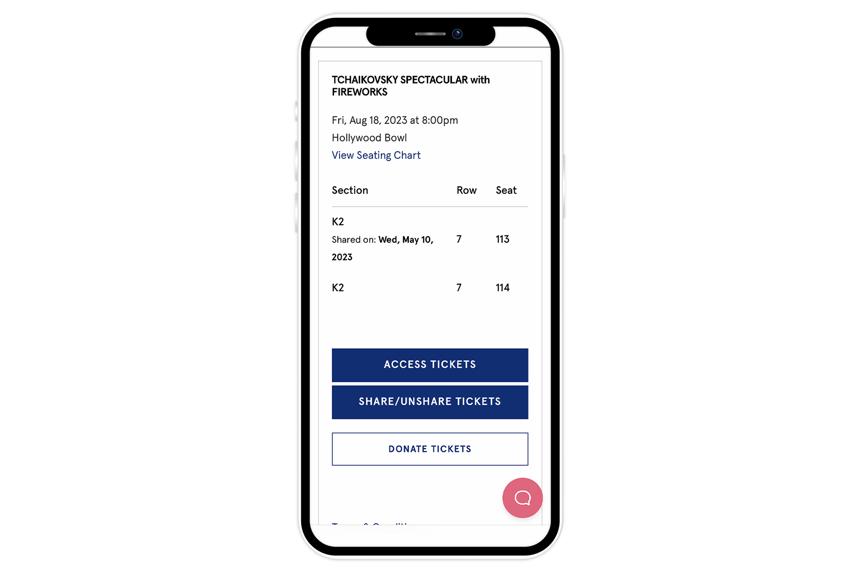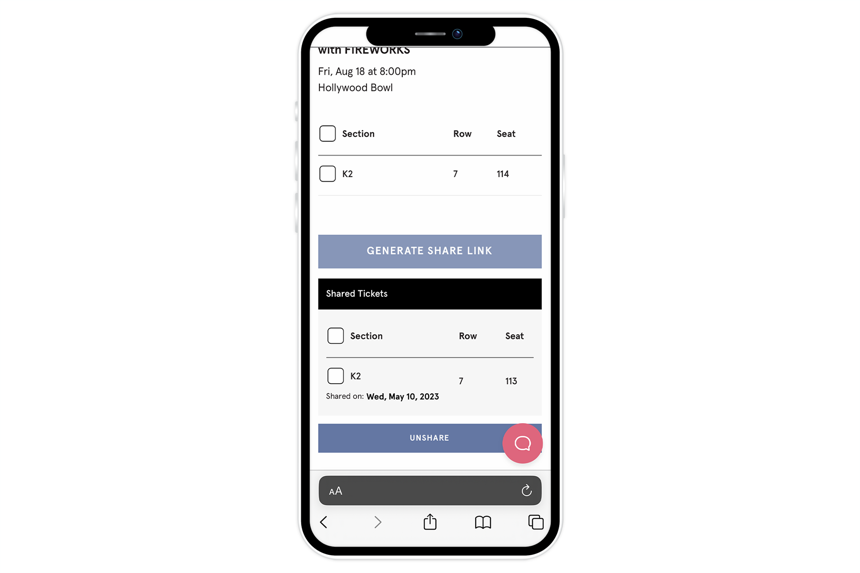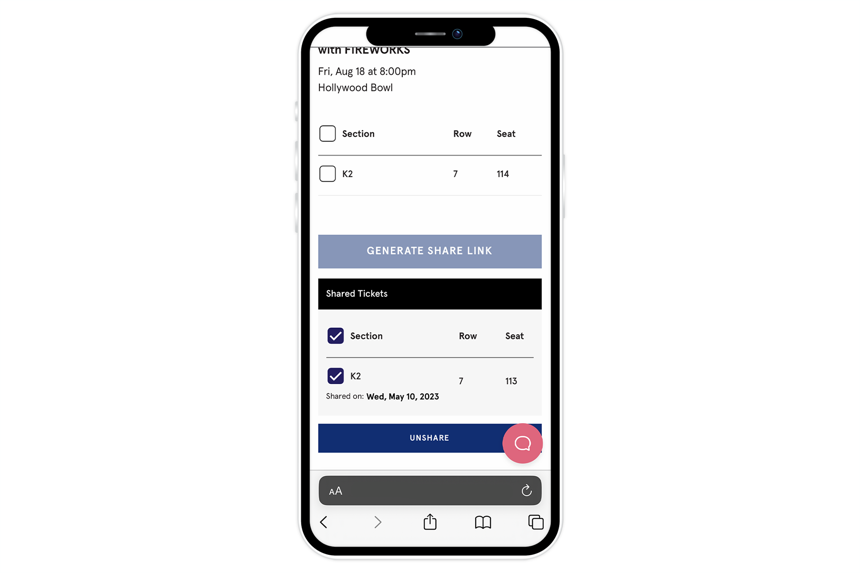 Permalink
Group Services
All you need is 10 people to qualify as a group.
Remember you can take advantage of our payment plan which will give you time to organize the required amount of people while reserving seats early for the best possible seating.  
Permalink
The 30% non-refundable deposit is required at time of booking and final payment is due 6 weeks prior to performance date. If you are booking within 6 weeks of your performance date then payment is due in full at time of booking.
We are happy to offer Schools, Churches, and City or County Park & Recreation Departments wishing to pay by check or requiring a manager's approval to use a corporate credit card a two-week allowance for receipt of check or approval.
Permalink
Yes! Group orders can be adjusted until the time of final payment. However, once final payment has been received; there are no refunds or exchanges.
To make things even easier, you can add additional seats even after you have finalized your order with no additional service charge.
Permalink